New Sounds
#3847: New Sounds Live - The Trimbin Band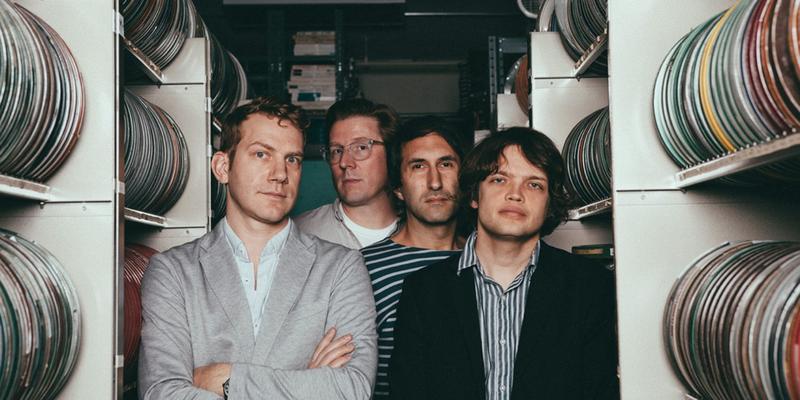 Hear music by the Trimbin Band—Nick Hallett, Mikael Jorgensen, James Merle Thomas, and William Tyler—and their scores to filmic excerpts from Los Angeles-based filmmaker, folk musician, playwright and poet Fred Engelberg. A collaboration between Nashville-based guitarist/composer William Tyler, New York composer/vocalist Nick Hallett, and art historian James Merle Thomas and Wilco keyboardist Mikael Jorgensen (who are Quindar),  the Trimbin Band and its members composed new scores to accompany Engelberg's works, everything from folk records, experimental films and feature-length documentaries of Los Angeles visual artists, 1960s counterculture, religious cults and fringe activist groups, among others.
This New Sounds Live concert was in partnership with the Ecstatic Music Festival, and recorded live at Merkin Concert Hall in March 2016. 
PROGRAM #3847, NS Live w/ Trimbin Band (First Aired 3-30-2016)           
ARTIST: Trimbin Band: William Tyler, Nick Hallett, & Quindar (Mikael Jorgensen & James Thomas)
WORK: One for One [Tyler], Hand Held High [Trimbin Band],
Swap Meet [Trimbin Band, after John Fahey]  [20:41]
RECORDING: NS Live at Ecstatic Music Festival 3/17/2016, from Merkin Concert Hall
SOURCE: These performances not commercially available.
INFO: trimbinband.com , William Tyler's new record is coming in June 2016, on Merge Records.
ARTIST: Quindar
WORK: Six Degrees of Freedom, excerpt [1:00]
RECORDING:  Twin-Pole Sunshade
SOURCE: Butterscotch Records BSR014
INFO: butterscotchrecords.net
ARTIST: Trimbin Band: William Tyler, Nick Hallett, & Quindar (Mikael Jorgensen & James Thomas)
WORK: Horses [Quindar], The Hero [by Fred Engelberg, interpreted by Trimbin Band] [20:11]
RECORDING: NS Live at Ecstatic Music Festival 3/17/2016, from Merkin Concert Hall
SOURCE: These performances not commercially available.
INFO: trimbinband.com 
ARTIST: Trimbin Band: William Tyler, Nick Hallett, & Quindar (Mikael Jorgensen & James Thomas)
WORK: Trimbin: Industrial Films [5:12]
RECORDING: NS Live at Ecstatic Music Festival 3/17/2016, from Merkin Concert Hall
SOURCE: This performances not commercially available.
INFO: trimbinband.com