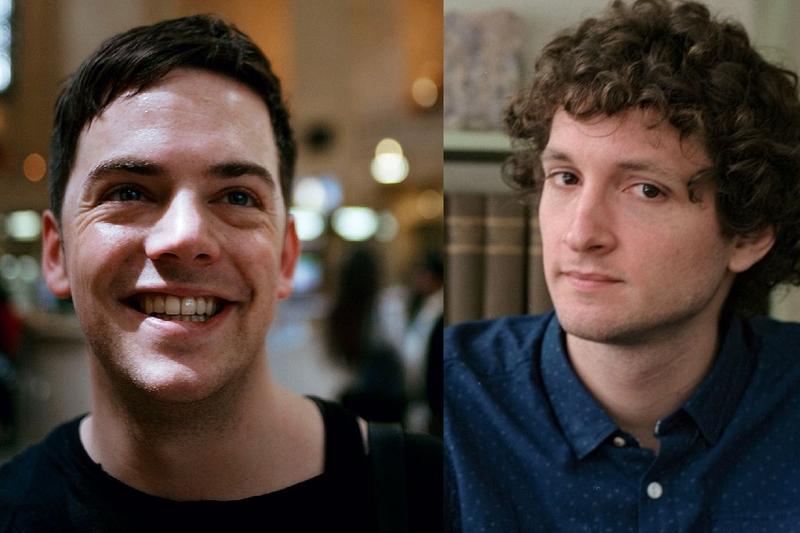 Vermont-born singer/fiddler/banjoist/guitarist Sam Amidon and composer, arranger, and co-founder of the artist-run Bedroom Community record label Nico Muhly join John Schaefer in the studio for this New Sounds.
Sam is an unconventional folk-singer of haunting, apocalyptic tunes - from murder ballads to shape-note songs. He has worked with artists from the Icelandic label Bedroom Community for years, having released two records through that collective. In fact, on his "I See The Sign" (2010) and "All Is Well," (2008), the orchestral arrangements were by composer Nico Muhly.
Muhly is a New York City-based composer and arranger who rides the classical and pop/rock divide. He has written operas "Two Boys," which premiered at the Metropolitan Opera, song cycles, concertos and electro-acoustic records of drones, among many other compositions. He is also one of the co-founders of Bedroom Community Records. His second album, "Mothertongue," (2008) for Bedroom Community, included "The Only Tune," a setting of the murder ballad, "Two Sisters," which featured Sam Amidon.
Both Sam and Nico perform some folk tunes like "Saro,"  "How Come that Blood," "Kedron," and more in our studios for this edition of New Sounds.
PROGRAM #3845, With Sam Amidon & Nico Muhly (First Aired 3-25-2016)         
ARTIST: Sam Amidon
WORK: Nico Muhly: The Only Tune Pt. 3 - The Only Tune [4:47]
RECORDING: Nico Muhly: Mothertongue
SOURCE: Brassland #018 / Bedroom Community HVALUR 5
INFO: brassland.org | bedroomcommunity.net | nicomuhly.com
ARTIST: Sam Amidon & Nico Muhly
WORK: Saro [2:43]
RECORDING: Live, WNYC, 3/22/16
SOURCE: This performance not commercially available. 
INFO: The tune appears on Amidon's "All is Well" available via Bedroom Community HVALUR4CD/LP bedroomcommunity.net
ARTIST: Sam Amidon
WORK: Little Johnny Brown [4:28]
RECORDING: All Is Well 
SOURCE: Bedroom Community HVALUR4CD/LP
INFO: bedroomcommunity.net
ARTIST: Sam Amidon & Nico Muhly
WORK:  How Come That Blood [3:28]
RECORDING: Live, WNYC, 3/22/16
SOURCE: This performance not commercially available.
INFO: The tune appears on "I See the Sign." Bedroom Community Records HVALUR9 
bedroomcommunity.net  OR samamidon.bandcamp.com
ARTIST: Word of Mouth Chorus
WORK: Weeping Mary (LP Version), excerpt [1:00]
RECORDING: Rivers of Delight
SOURCE: Nonesuch 71360
INFO: nonesuch.com
ARTIST: Sam Amidon & Nico Muhly
WORK:  Kedron [3:06]
RECORDING: Live, WNYC, 3/22/16
SOURCE: This performance not commercially available.
INFO: The tune appears on "I See the Sign." Bedroom Community Records HVALUR9 
bedroomcommunity.net  OR samamidon.bandcamp.com
ARTIST: The Gregg Smith Singers, chorus; assisted by The Rooke Chapel Choir of Bucknell University
WORK: William Duckworth: Bozrah [2:03]
RECORDING: Southern Harmony
SOURCE: Lovely Music - #2033
INFO: lovely.com
ARTIST: Sam Amidon
WORK: Fall on My Knees [4:17]
RECORDING: All Is Well 
SOURCE: Bedroom Community HVALUR4CD/LP
INFO: bedroomcommunity.net
ARTIST: Sam Amidon
WORK: Nico Muhly: The Only Tune Pt. 1 - The Two Sisters, excerpt [1:00]
RECORDING: Nico Muhly: Mothertongue
SOURCE: Brassland #018 / Bedroom Community HVALUR 5
INFO: brassland.org | bedroomcommunity.net | nicomuhly.com
ARTIST: Sam Amidon & Nico Muhly, ft. John Schaefer, muting of piano strings
WORK:  Wedding Dress [3:27]
RECORDING: Live, WNYC, 3/22/16
SOURCE: This performance not commercially available.
INFO: The tune appears on Amidon's "All is Well" available via Bedroom Community HVALUR4CD/LP bedroomcommunity.net OR samamidon.bandcamp.com