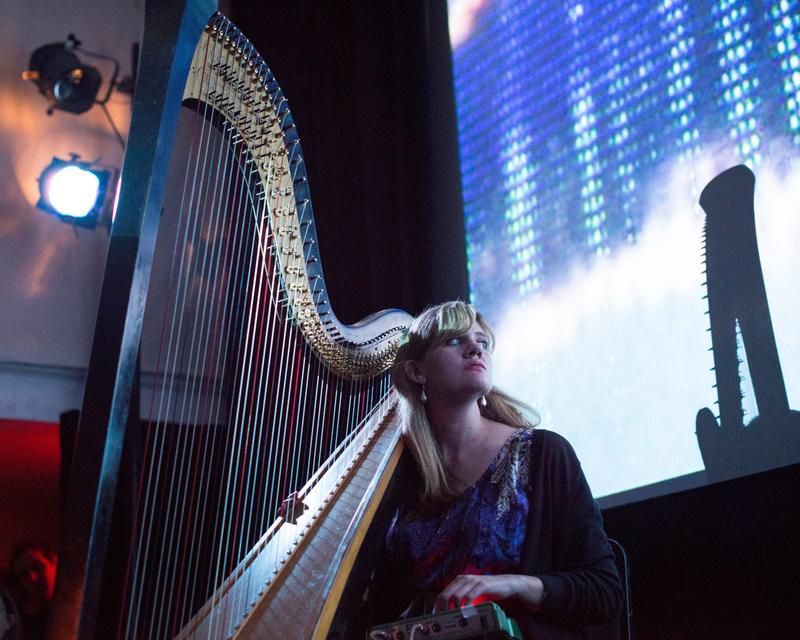 For this New Sounds, listen to works that blur the distinction between the physical reality of things and the more elusive abstract reality of ideas. Hear works from harpist Mary Lattimore, violinist Sarah Neufeld, Nathan Davis, and Anna Thorvaldsdottir.
Icelandic composer Anna Thorvaldsdottir is adept in the use of electronics to alter sounds of familiar instruments to make them into something more abstract. But, on her piece "Ró" for chamber ensemble of 8 performers, no electronics whatsoever were harmed in the making of the piece, rather, her familiarity with electronic music is reflected in the sounds of the eight acoustic instruments.
Hear music from Philadelphia-based harpist/composer Mary Lattimore from her new record, "At the Dam," a travel diary of sorts, named for a Joan Didion essay about the Hoover Dam. Recorded in the settings of Joshua Tree, Marfa, Texas and in the mountains of Altadena, CA, the compositions are mainly her harp and laptop and evoke expansive, otherworldly soundscapes. Plus, hear "pop minimalism" from Montréal-based violinist/composer Sarah Neufeld, who's a member of Arcade Fire, but is also a founding member of Bell Orchestre, and has done a duo record with saxophone innovator Colin Stetson. We'll hear a piece from her most recent electroacoustic, avant-folk release, "The Ridge."
Then there's a work by Nathan Davis – "On the Nature of Thingness," which plays with the ways that words can become abstract, "Vowels." It's from the record of the same name, featuring soprano Tony Arnold and ICE (the International Contemporary Ensmble.) Then, listen to music from San Francisco Bay area composer George Hurd and his electroacoustic ensemble, as well as some classic Brian Eno from "Another Green World," and more.
PROGRAM #3839, Concrete vs. Abstract (First Aired 3-9-2016)       
ARTIST: Young People's Chorus of New York, Francisco J. Nunez, cond.
WORK: Meredith Monk: Things Heaven & Hell, excerpt [1:30]
RECORDING: Transient Glory III
SOURCE: Cantaloupe 21113 
INFO: cantaloupemusic.com
ARTIST: ICE (International Contemporary Ensemble)
WORK: Nathan Davis: On the Nature of Thingness – Vowels [3:41]
RECORDING: ICE: On the Nature of Thingness
SOURCE: Starkland ST 233
INFO: starkland.com
ARTIST: ICE (International Contemporary Ensemble)
WORK: Nathan Davis: On the Nature of Thingness – An outside with an inside in it [3:38]
RECORDING: ICE: On the Nature of Thingness
SOURCE: Starkland ST 233
INFO: starkland.com
ARTIST: Brian Eno
WORK: Zawinul/Lava [3:00]
RECORDING: Another Green World
SOURCE: E.G. Records # 21 (Originally released 1975) 
INFO: Download or purchase from Amazon.com
ARTIST: Caput Ensemble, Gudni Franzson, conductor
WORK: Anna Thorvaldsdottir: Ró [10:37]
RECORDING: Anna Thorvaldsdottir: Aerial
SOURCE: Deutsche Grammophon / Universal Music Classics 140889
INFO: universalmusicclassics.com
ARTIST: Mary Lattimore
WORK: Jaxine Drive [10:53]
RECORDING: At the Dam
SOURCE: Ghostly Int'l GI 260LP
INFO: theghostlystore.com
ARTIST: Sarah Neufeld
WORK: Chase the Bright and Burning [4:53]
RECORDING: The Ridge
SOURCE: Paper Bag Records
INFO: paperbagrecords.com
ARTIST: George Hurd
WORK: Hummingbird [5:28]
RECORDING: Navigation Without Numbers
SOURCE: Innova 937
INFO: innova.mu
ARTIST: Young People's Chorus of New York, Francisco J. Nunez, cond.
WORK: Meredith Monk: Things Heaven & Hell [5:39]
RECORDING: Transient Glory III
SOURCE: Cantaloupe 21113 
INFO: cantaloupemusic.com