New Sounds
#3836: New Releases, February 2016 (Leap Day Edition)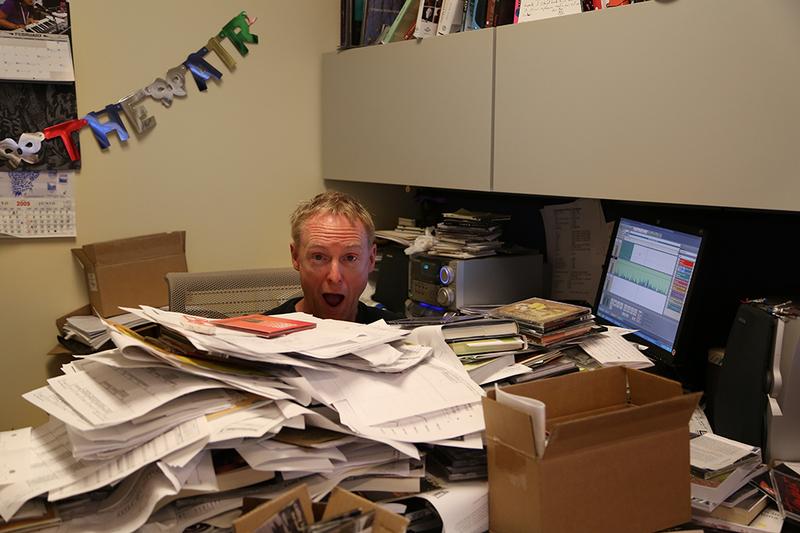 It's that time again for the monthly program of new releases. John Schaefer picks through the piles of CDs, the odd cassettes, 8-tracks, LPs, mini-CDs, and all other things that are not digital audio and scrolls through the downloads (and their cryptic notes) that have flooded his inbox to find new releases worthy of showcasing in tonight's program.
Rest assured that there is super-exciting stuff, along the lines of hard-to-label music from Dallas & New York-based large instrumental jazzfunkworld band Snarky Puppy, French trumpeter Ibrahim Maalouf, electro-acoustic chamber music from San Francisco Bay area-based composer George Hurd, and more. 
Listen to music from Cuban pianist/composer Alfredo Rodriguez, featuring the French-Cuban twin sister act Ibeyi, from his record "Tocoroco." Tocoroco is Cuba's national bird - if you cage one, it will quickly die – a metaphor that Rodriguez chose with purpose. "Because of its many restrictions, Cuba was my cage," says the now California-based pianist. 
Then, there is more music from the Norwegian doom-jazz outfit, Splashgirl, along with a preview of a brand-new work from John Luther Adams - "Soundwalk 9:09." Plus hear Afro-Columbian-infused electro-groove music from dance band collective Sidestepper (UK DJ/producer Richard Blair and Colombian singer-songwriter and producer Iván Benavides) and new music for toy pianos, music box, and piano by Phyllis Chen. 
PROGRAM #3836, New Releases, February 2016 (First Aired 2-29-2016) 
ARTIST: Oum Kalthoum
WORK: Hedeeth al rouh, excerpt [1:00]
RECORDING: Oum Kalsoum, The Star of the East
SOURCE: MLP / World Music Office 
INFO: Appears on other digital compilations as well.
ARTIST: Ibrahim Maalouf
WORK: Movement II [7:26]
RECORDING: Kalthoum
SOURCE: Impulse! / Universal Music Classics / Decca #4749696
INFO: impulse-label.com | ibrahimmaalouf.com

ARTIST: Snarky Puppy ft. Salif Keita, Carlos Malta, Bernardo Aguiar
WORK: Soro (Afriki) [8:17]
RECORDING: Family Dinner Volume Two
SOURCE: Universal Music Classics B0024506-00
INFO: universalmusicclassics.com

ARTIST: Alfredo Rodriguez featuring Ibeyi
WORK: Sabanas Blancas [4:06]
RECORDING: Tocororo
SOURCE: Mack Avenue MAC1109
INFO: mackavenue.com | alfredomusic.com
Due out March 4, 2016

ARTIST: Sidestepper
WORK: Fuego que te llama [4:42]
RECORDING: Supernatural Love
SOURCE: Real World Records 
INFO: realworldrecords.com

ARTIST: George Hurd
WORK: Four Went Down [6:00]
RECORDING: Navigation Without Numbers
SOURCE: Innova 937
INFO: innova.mu

ARTIST: Phyllis Chen, piano,toy pianos, music boxes / Cory Smythe, piano
WORK: Phyllis Chen: Hush, excerpt [1:00]
RECORDING: ICE On the Nature of Thingness
SOURCE: Starkland ST-223
INFO: starkland.com
ARTIST: Splashgirl
WORK: Scorch [6:33]
RECORDING: Hibernation
SOURCE: Hubro HUBROCD2559 /HUBROLP3559
INFO: hubromusic.com
ARTIST: John Luther Adams
WORK: Soundwalk 9:09 Uptown, excerpt [4:00]
RECORDING: metmuseum.org
SOURCE: wqxr.org

ARTIST: Phyllis Chen, piano,toy pianos, music boxes / Cory Smythe, piano
WORK: Phyllis Chen: Hush, excerpt [1:00]
RECORDING: ICE On the Nature of Thingness
SOURCE: Starkland ST-223
INFO: starkland.com