New Sounds
#3832: East, Central, and West Asian-inflected Music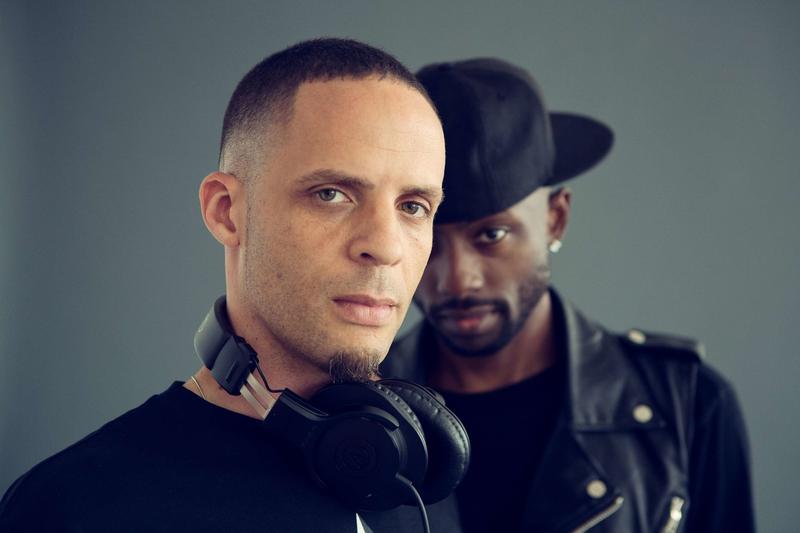 Listen to music that draws on traditions from both East and West Asia as well as Central Asia on this New Sounds. From the latest record by New York drummer Jaimeo Brown, "Work Songs," the second installment in the Jaimeo Brown Transcendence series, hear the piece, "Stonemason." In many of his pieces in this series, Brown builds pieces around samples of old recordings of road gangs, churches, quilters, but on this particular track, he has the recordings of Japanese stonemasons singing as they work, which becomes the rhythm track for the piece.
Then listen to music from jazz flutist Herbie Mann, and the classic 1970's recording, "Gagaku and Beyond," which fuses the royal court music, called gagaku, featuring traditional instruments played by an ensemble led by Japanese flute player Minuro Muraoka - shamisen, koto, shakuhachi, and taiko drums - with groove and Mann's "family of Mann" ensemble. Hear the piece which also incorporates chanting of Zen Buddhist monks by Modern Shomyo Study, on "Shomyo."
Then there's music by Israeli composer Betty Olivero, based on the biblical Song of Songs, and which employs modes used in Arab/Palestinian and Israeli/Sephardic singing, all sung by the Norwegian vocal group, Trio Mediaeval. Plus, listen to Central Asian-inspired works from the early 20th century mystic, composer, and philosopher Armenian G.I. Gurdjieff and his disciple, the Russian composer Thomas De Hartmann. Hear these works in arrangements by the Gurdjieff Ensemble who use Armenian folk instruments. That, and more.
PROGRAM #3832, East, Central, and West Asian-inflected music (First Aired 2-18-2016) 
ARTIST: Trio Mediaeval
WORK: Betty Olivero: en la mar hai una torre, excerpt [1:00]
RECORDING: Louth Contemporary Music Society: Song Of Songs
SOURCE: Louth Contemporary Music Society 1502
INFO: louthcms.org , Available at Amazon.com and iTunes
ARTIST: Jaimeo Brown Transcendence
WORK: Stonemason [3:57]
RECORDING: Work Songs
SOURCE: Motema Music
INFO: motema.com
ARTIST: Herbie Mann
WORK: Shomyo  [10:31]
RECORDING: Gagaku & Beyond
SOURCE: Finnadar #9014. 1976 LP, reissued in 2001.
INFO: Available at Amazon.com
ARTIST: Jaimeo Brown Transcendence
WORK: Somebody's Knockin [4:01]
RECORDING: Transcendence
SOURCE: Motéma Music 233715
INFO: motema.com
ARTIST: Bert Lams & Fabio Mittino
WORK: Gurdjieff/De Hartmann arr. Lams/Mittino : Hindu Melody [2:24]
RECORDING: Long Ago
SOURCE: mittinolams.com
ARTIST: Levon Eskenian  & Gurdjieff Folk Instruments Ensemble
WORK: G.I. Gurdjieff & Thomas de Hartmann: Chant From A Holy book [5:05]
RECORDING: Music of Georges I. Gurdjieff
SOURCE: ECM 2236
INFO: ecmrecords.com
ARTIST: Trio Mediaeval, Garth Knox, Agnes Vesterman, Sylvain Lemetre, cliona doris
WORK: Betty Olivero: en la mar hai una torre [13:11]
RECORDING: Louth Contemporary Music Society: Song Of Songs
SOURCE: Louth Contemporary Music Society 1502
INFO: louthcms.org , Available at Amazon.com and iTunes
ARTIST: Levon Eskenian  & Gurdjieff Folk Instruments Ensemble
WORK: Sayyid chant & Dance #29 [4:47]
RECORDING: Music of Georges I. Gurdjieff
SOURCE: ECM 2236
INFO: ecmrecords.com