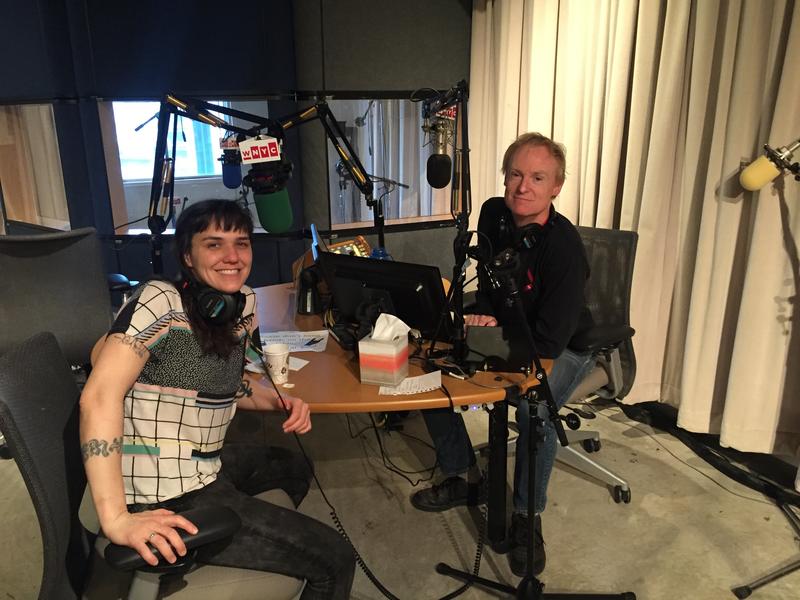 Multi-instrumentalist, composer and producer Emily Wells joins John Schaefer live in the studio to talk through and perform songs from her brand-new album, Promise. The music comes across as a startling mix of styles; there's live loops and samples as in electronic music – all analog, no laptop, yet there are also classical strings, but everything is layered in a way that might be more akin to hip-hop production than anything else.
Emily Wells grew up in the church, and has classical roots. Her music, she admits, draws from the ultimate musical architect: J.S. Bach. But she also cites as influences Tori Amos, Vivaldi, and Terry Riley. (Wells was part of his giant 80th birthday celebration in 2015.)  
She's basically a one-woman orchestra with her voice, and violin -live-looped- along with half of a drum kit and sampler pads: 
Listen to the full-body dance choreographed between all of the sound sources performed by just one person, as these impossibly sad songs by Emily Wells take shape. There's also music by Julianna Barwick and her many layers, as well as a song from Ben Folds and yMusic to round out the show. 
PROGRAM #3825, with Emily Wells (First Aired 2-2-2016)    
ARTIST: Emily Wells
WORK: Take it Easy [6:53]
RECORDING: Promise
SOURCE: Thesis + Instinct Records
INFO: emilywellsmusic.com
ARTIST: Emily Wells
WORK: Light is Drainin / Antidote [16:28]
RECORDING: Live, WNYC, Feb. 2016
SOURCE: This performance not commercially available. 
INFO: These songs appear on "Promise." emilywellsmusic.com
ARTIST: Emily Wells
WORK: Don't Use Me Up [4:27]
RECORDING: Live, WNYC, Feb. 2016
SOURCE: This performance not commercially available. 
INFO: These songs appear on "Promise." emilywellsmusic.com
ARTIST: Ben Folds & yMusic
WORK: Capable of Anything [3:46]
RECORDING: So There
SOURCE: New West Records
INFO: benfolds.com/music-store
ARTIST: Julianna Barwick
WORK: Forever, excerpt [4:12]
RECORDING: Nepenthe
SOURCE: Dead Oceans DOC 069
INFO: scdistribution.com