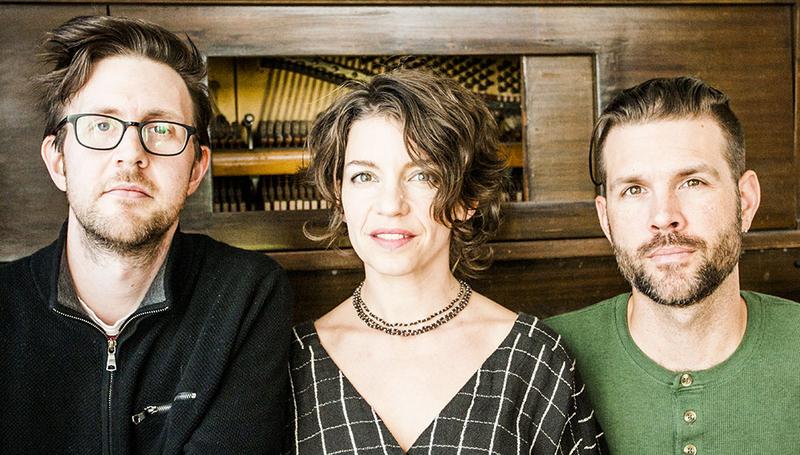 For this New Sounds, multi-instrumentalist and composer Jeremy Flower presents his song cycle for large chamber ensemble "The Real Me." In addition to acoustic compositions, Flower has also worked with electronics and with electronic producers in experimental, ambient and minimal techno genres. Echoes of his experience in the electronic world as well as his firm roots in prog rock, peek through in "The Real Me."
The work features violinist/vocalist/composer Carla Kihlstedt (and the rest of Rabbit Rabbit) and was written for a core group of guitar, bass, drums, and electronics, plus chamber ensemble (winds, brass, and strings), from the worlds of new music, jazz, and rock. 
Also on the show is the conclusion from Carla Kihlstedt's song cycle, "At Night We Walk In Circles And Are Consumed By Fire," which got its world premiere with the International Contemporary Ensemble at the Ecstatic Music Festival in 2013, and is based on the recounting of dreams. 
PROGRAM #3817, with Jeremy Flower, The Real Me (First Aired 1-07-2016)       
ARTIST: Jeremy Flower
WORK: Mushtari [3:43]
RECORDING:  Accompanies the film from Neri Oxman's Mediated Matter Lab, MIT
SOURCE: keepalive.org
INFO: soundcloud.com/keepalive/mushtari
ARTIST: Jeremy Flower, with Carla Kihlstedt, Matthias Bossi, et al
WORK: Take [5:03]
RECORDING: The Real Me
SOURCE: jeremyflower.bandcamp.com
INFO: Due out Jan. 8, 2016
ARTIST: Jeremy Flower, with Carla Kihlstedt, Matthias Bossi, et al
WORK: Ichabod [4:10]
RECORDING: The Real Me
SOURCE: jeremyflower.bandcamp.com
INFO: Due out Jan. 8, 2016
ARTIST: Jeremy Flower, with Carla Kihlstedt, Matthias Bossi, et al
WORK: Blow Up [7:09]
RECORDING: The Real Me
SOURCE: jeremyflower.bandcamp.com
INFO: Due out Jan. 8, 2016
ARTIST: Jeremy Flower, with Carla Kihlstedt, Matthias Bossi, et al
WORK: Stay With Me [6:32]
RECORDING: The Real Me
SOURCE: jeremyflower.bandcamp.com
INFO: Due out Jan. 8, 2016
ARTIST: Jeremy Flower, with Carla Kihlstedt, Matthias Bossi, et al
WORK: False Comfort [7:23]
RECORDING: The Real Me
SOURCE: jeremyflower.bandcamp.com
INFO: Due out Jan. 8, 2016
ARTIST: Carla Kihlstedt & ICE (International Contemporary Ensemble)
WORK: Kihlstedt: At Night We Walk In Circles And Are Consumed By Fire
 - IX. Gæst [5:35]
RECORDING: New Sounds Live / Ecstatic Music Festival @ Merkin Hall, 1/26/13
INFO: This performance not commercially available. 
Carla's website is: http://www.carlakihlstedt.com