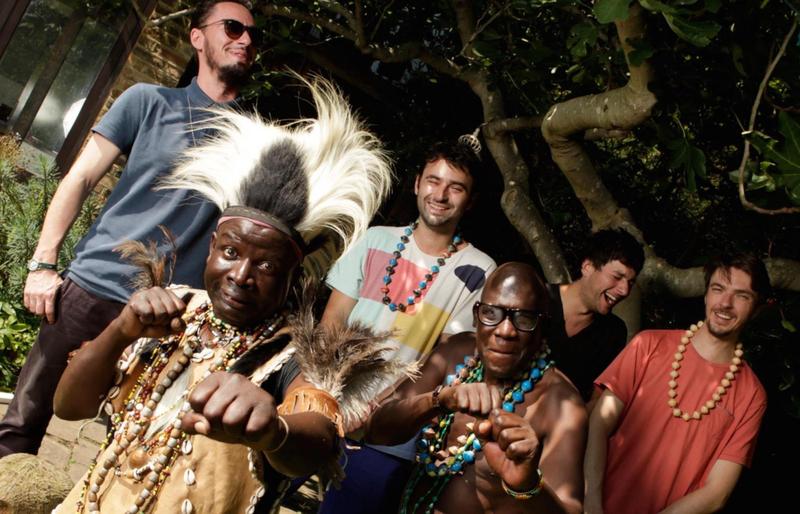 Sample music from several corners of the world, including Anglo-Kenyan, Anglo-Indian collaborations and an Italian band who take their own world tour through music of the Balkans, sub-Saharan Africa, and the Middle East within one single song.
Listen to music from the Anglo-Kenyan collaboration, Owiny Sigoma Band, who travelled to the Nyanza Province of Western Kenya for their most recent record.  Hear a mesmerizing quiet song, 'Owour Won Gembe" from nyatiti master Joseph Nyamungu; the nyatiti is a five to eight-stringed plucked lyre - played by the Luo people of Western Kenya. From the same record, "Nyanza," also listen to the dance floor hit, "Changaa Attack," featuring fisherman's kids from up in the hills near Lake Naivasha.  Changaa is a homebrew which supposedly contains jet fuel and battery acid, and is also called 'Kill Me Quick.' (gillespetersonworldwide.com)
There's also music from the Italian band Migala, who have taken the concept of a global village to heart. They bring in Afro-Mediterranean, Irish folk, Latin & Balkan music to their South Italian roots. Incidentally, their name migala / mygale is a type of spider also nicknamed the "bird (-killing) spider" similar to the tarantula. Then, listen to a requiem from Italian percussionist/composer Alessandra Belloni, which incorporates accelerated ecstatic drumming usually associated with the Tarantella - one of the world's great surviving ecstatic trance traditions.
Next, hear Indian classical music interspersed with influences from West African, Arabic and western traditions in music from London-based guitarist Giuliano Modarelli and santoor player Kamaljeet Ahluwalia, accompanied by Bhupinder Singh Chaggar on the tabla.  Plus, listen to music from the Argentinian producer Chancha via Circuito, from a recent mix tape, along with music from Naba TT, who is the younger sister of Malian singer, songwriter and guitarist Rokia Traoré.
PROGRAM #3810 World Music (First Aired 12-15-2015)        
Rokia Traoré - Ka moun kè, excerpt [1:00]
Beautiful Africa
Nonesuch 534863
nonesuch.com

Owiny Sigoma Band - Owour Won Gembe [4:24]
Nyanza
Brownswood Recordings
owinysigomaband.bandcamp.com

Naba TT - Talibé [3:39]
The Rough Guide To The Best World Music You've Never Heard
World Music Network RGNET1340CD
worldmusic.net

Chancha via Circuito - Encantamiento [6:03]
Vuelta al mundo en globo Vol 2 (curado x Chancha Vía Circuito - Cassette blog 5
cassetteblog.bandcamp.com

Owiny Sigoma Band - Changaa Attack [2:58]
Nyanza
Brownswood Recordings
owinysigomaband.bandcamp.com

Simo Lagnawi - Sandika [4:36]
The Rough Guide To The Best World Music You've Never Heard
World Music Network RGNET1340CD
worldmusic.net

Alessandra Belloni - Requiem per Mama Elvira [6:46]
Requiem per Mama Elvira
Not commercially available. 
Check www.alessandrabelloni.com

Migala - Rotta A Levante [8:26]
The Rough Guide To The Best World Music You've Never Heard
World Music Network RGNET1340CD
worldmusic.net

Giuliano Modarelli & Kamaljeet Ahluwalia - Raag charukeshi, excerpt [10:58]
The Rough Guide To The Best World Music You've Never Heard
World Music Network RGNET1340CD
worldmusic.net