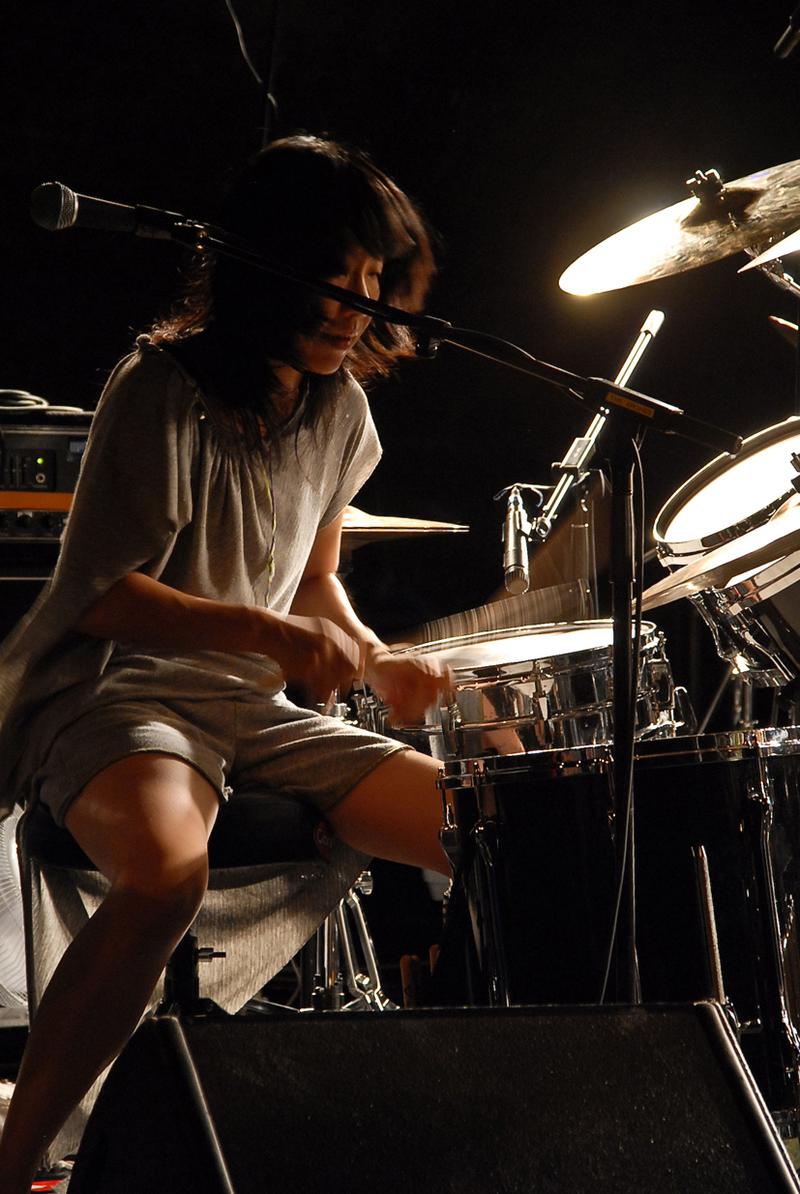 Listen to percussion-based music, including music from the Kraken Quartet, a percussion group based in Austin, TX, gamelan-driven Celtic-influenced work from composer Matthew Welch, music from composer Andy Akiho, who specializes in the Caribbean steel pan, and more.
Listen to an off-kilter waltz, "Kiiro," which means yellow in Japanese, and is part of Akiho's larger work, Synesthesia Suite. The enveloping texture includes woodwinds, pitched keyboard percussion, and harp, along with steel pan, strings and drums. Then, prepare for the Kraken Quartet! This band goes all-out with an arsenal of melodic percussion instruments – bells, marimba, xylophone, and perhaps glockenspiel -together with drums to create wordless minimalistic art rock.
There's also music from Japanese artist, Yoshimi P-We, known for her work as the longest standing / sitting drummer in the Boredoms; she also records and performs as Yoshimio, and appeared on the Flaming Lips record, "Yoshimi Battles the Pink Robots." Listen to gamelan-rooted music from her percussion-heavy band, OOIOO, and their recent, "Gamel."
Plus, listen to music from bagpiper/composer Matthew Welch's band Blarvuster, an outfit that combines Indonesian gamelan and Celtic traditions, with cool repeated rhythmic patterns and a rock attitude. 
PROGRAM #3807 Percussion-Based Music (First Aired 12-08-2015)
ARTIST: Matthew Welch's Blarvuster
WORK: Canntaireachd Masolah iii, excerpt [1:00]
RECORDING:Matthew Welch: Blarvuster
SOURCE: Tzadik 8077
INFO: tzadik.com
ARTIST: Andy Akiho
WORK: Kiiro (Yellow) from Synesthesia Suite [5:10]
RECORDING: No One to Know One
SOURCE: Innova 801
INFO: innova.mu
ARTIST: The Kraken Quartet
WORK: Jalapeno Chips [5:25]
RECORDING: The Kraken Quartet
SOURCE/INFO: thekrakenquartet.bandcamp.com

ARTIST: Matthew Welch's Blarvuster
WORK: High Street [4:31]
RECORDING:Matthew Welch: Blarvuster
SOURCE: Tzadik 8077
INFO: tzadik.com
ARTIST: OOIOO (Yoshimi P-We)
WORK: Shizuku Gunung Agung [7:41]
RECORDING: Gamel
SOURCE: Thrill Jockey 371
INFO: thrilljockey.com
ARTIST: Matthew Welch's Blarvuster
WORK: Canntaireachd Masolah iii [11:36]
RECORDING:Matthew Welch: Blarvuster
SOURCE: Tzadik 8077
INFO: tzadik.com
ARTIST: OOIOO (Yoshimi P-We)
WORK: Gamel Ulda [4:09]
RECORDING: Gamel
SOURCE: Thrill Jockey 371
INFO: thrilljockey.com
ARTIST: The Kraken Quartet
WORK: Sandy [8:50]
RECORDING: The Kraken Quartet
SOURCE/INFO: thekrakenquartet.bandcamp.com