New Sounds
#3803: Tan Dun's "Water Passion," Live from the Temple of Dendur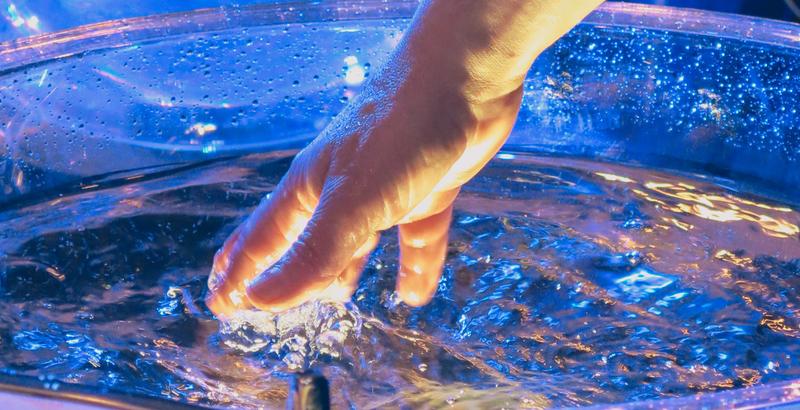 For this New Sounds, listen to Chinese-born American composer Tan Dan's "Water Passion after St. Matthew," recorded live at the Metropolitan Museum of Art's Temple of Dendur, and conducted by the composer himself.
Written in 2000 to commemorate the 250th anniversary of the death of Johann Sebastian Bach, the "Water Passion" is in the tradition of Bach's Passions; the text is from the Gospel of Matthew, and something of a response to Bach's St. Matthew Passion (listen for the chimes.) But that is where the similarities might end. In various interviews, Tan Dun said that the inspiration for the ritualistic work came while listening to his own unborn child. He had just received the commission and decided to start with water – the sound that all humans hear first in the womb.
The "Water Passion" is scored for a "Water-Instruments-Orchestra," which incorporates the sound of water, whether poured or splashed.  There are 17 transparent bowls of water, arranged in a cross pattern and illuminated from below, whose sounds open and close the piece. Percussionists splash water with their hands from these bowls, and shake "water stones" (specified to have been taken from a river or the ocean) in the bowls. There is a water phone and other acoustic and electronic instruments, as well as gongs (struck and then immersed in water to alter the pitch), and other Chinese folk instruments – like the Xun, and ancient ceramic flutelike egg-shaped aerophone. The score also calls for violin, cello, two choruses (one of sopranos and altos, another of tenors and basses), along with a soprano, and a bass-baritone who use overtone singing, in addition to shouting and intoning some of the text.
There is too much of the work to fit in just one New Sounds hour, so the full concert performance of the work, originally webcast on November 14, 2015 on Q2music, is archived there:  www.wqxr.org 
PROGRAM #3803  Tan Dun's Water Passion (First Aired 11-24-2015)
ARTISTS: Tan Dun, conductor
Elizabeth Keusch, soprano; 
Stephen Bryant, bass baritone; 
Alexandrina Boyanova, violin; 
Felix Fan, cello; 
Yuanlin Chen, keyboard and digital sampler; 
David Cossin, percussion; 
Ian Antonio, percussion; 
Michael Lipsey, percussion; 
Manhattan School of Music Chamber Choir, Kent Tritle, director and Ronnie Oliver, Jr., associate director

WORK: Water Passion after St. Matthew, excerpts 
Opening [18:41]
portion of Act I [17:25]
portion of Act II [14:48]

RECORDING: Live, Metropolitan Museum's Temple of Dendur, Nov. 14, 2015
SOURCE: This performance not commercially available.
INFO: The work has been recorded on Sony Classical Sony Classical #89927 www.tandun.com