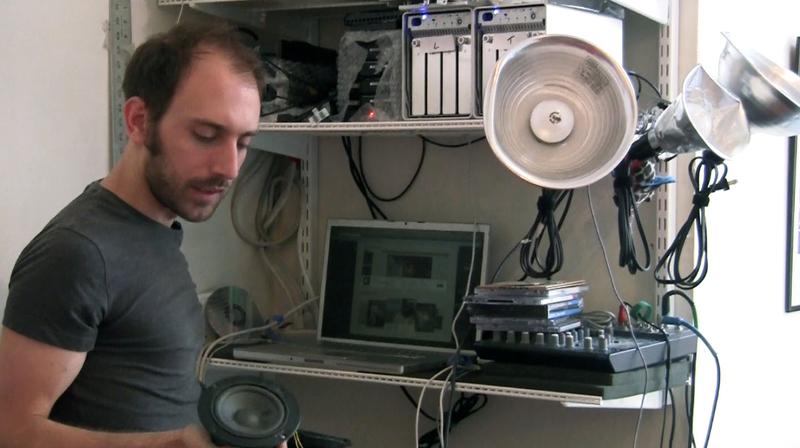 For this show, sample the highly rhythmic approach of orchestral strings in motion. Listen to the tremolando, or "trembling," shaking effect of the bow on the strings in music by American composer Tristan Perich, who is best known for his 1-bit electronic compositions. From a 2015 recording, hear Perich's "Active Field," which features 10 violinists of Ensemble Signal, conducted by Bradley Lubman, and 1-bit electronics.
Then, hear an early work by John Adams, which uses that same rapid reiteration of the bow on the strings – his "Shaker Loops," (1978.) The piece might conjure the direct association of both the bow- shaking as well as the religious community of Shakers of 18th and 19th Century New England. (The Shakers branched off from the Quakers, and were known as "Shaking Quakers" because they danced and spoke in tongues during worship services.)
There's also music with that trembling effect by English composer Donna McKevitt. Plus a Lois V. Vierk work which combines both the shaking and sliding of the bow: tremolo and glissando. 
PROGRAM #3802  a whole lotta shakin' going' on - music for strings (First Aired 11-23-2015)  
ARTIST: Ensemble Signal, dir. By Bradley Lubman
WORK: Tristan Perich: Active Field, excerpt [9:57]
RECORDING: Tristan Perich: Compositions
SOURCE/INFO: physicaleditions.com
ARTIST: The Ridge String Quartet plus Dan Smiley, violin/ Judiyaba, cello/ Gary Lowendusky, bass
WORK: John Adams: Shaker Loops I [8:16]
RECORDING: John Adams: Shaker Loops; Light Over Water
SOURCE: New Albion 014
INFO: Out of print, but Amazon.com will burn you a CD

ARTIST: Donna McKevitt
WORK: Donna McKevitt: Suite III [4:59]
RECORDING: Private recording
SOURCE: Suite III's instrumental music later became "Gush" from her EP, "Cut," available at iTunes.
INFO: donnamckevitt.com

ARTIST: The Ridge String Quartet plus Dan Smiley, violin/ Judiyaba, cello/ Gary Lowendusky, bass
WORK: John Adams: Shaker Loops III [6:55]
RECORDING: John Adams: Shaker Loops; Light Over Water
SOURCE: New Albion 014
INFO: Out of print, but Amazon.com will burn you a CD
ARTIST: Ensemble Signal, dir. By Bradley Lubman
WORK: Tristan Perich: Active Field, excerpt [3:43]
RECORDING: Tristan Perich: Compositions
SOURCE/INFO: physicaleditions.com
ARTIST: Lois V. Vierk
WORK: River Beneath the River [12:59]
RECORDING: River Beneath the River
SOURCE: Tzadik Records - #TZA-7056
INFO: tzadik.com