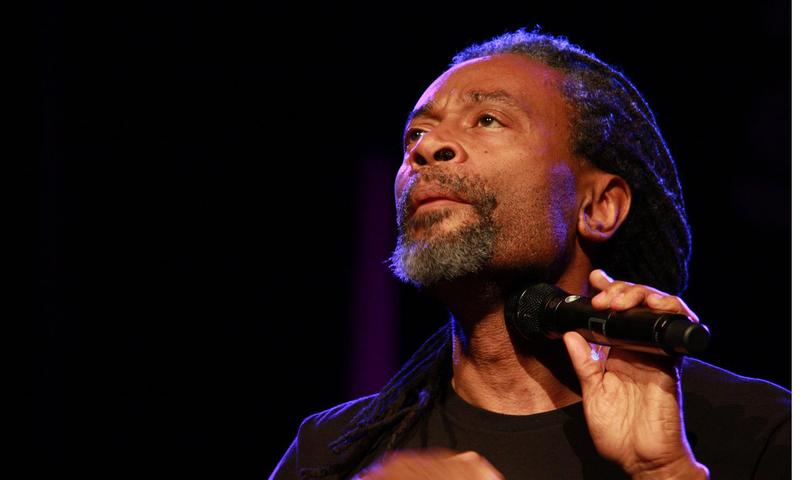 Listen to a cappella music with just a few support instruments here and there from around the world: Estonia, Ireland, Cuba, Bulgaria, Taiwan, Korea, Italy and Germany, plus music by a Belgian band whose members hail from France, Guyana, Morocco, Zaire. There's a selection from the Estonian vocal group Greip (translates as "grapefruit"), who only do a capella music, whether calm ballads, jazzy pieces, pop/rock songs and also their own creation. Hear their inspired contemporary rendition of  an Estonian folk song, "Vihma Loits," (Rain Spell) featuring only their voices and beatboxed percussion.
Listen to another work where the voice acts as percussion instrument from vocal innovator, conductor, and improviser Bobby McFerrin and friends. It's an extension of his "voice-estra" – from an improvisation session, and appears on his record, "Circlesongs."
Then, hear music from Finland, inspired by the Balkans, from the Tipsy Gypsy duo, who are also members of Varttina. Sample a work by Belgian-based Tam Echo Tam whose members are from France, Guyana, Morocco, and Zaire. There's also music by the mystery of the Bulgarian Voices, from their mid-80s recording, along with vocal polyphony of the Wulu Bunun people of Taiwan, anchored by David Darling's cello and other soundscapes.  Plus, musical settings of the biblical Song of Songs for an Italian vocal trio, and two by John Zorn for a vocal quintet. And much more. 
PROGRAM #3800 Mostly A Cappella Music (First Aired 11-18-2015)
ARTIST: Various: Trinovox
WORK: Shir Hashirim, excerpt
RECORDING: Voices
SOURCE: Alula ALU-1001
INFO: Out of print. However, the song appears on "Incanto"  Jaro 2789 CD 
singers.com
ARTIST: Greip
WORK: Vihma Loits (Rain Spell) [2:59]
RECORDING: Üks Viis
SOURCE: Available at muusika24.ee  
INFO: greip.eu 
ARTIST: Bothy Band
WORK: Fionnghuala [1:26]
RECORDING: Best Of
SOURCE: Green Linnet 3043
INFO: greenlinnet.com
ARTIST: Grupo Vocal Sampling
WORK: Congo Yambumba [3:28]
RECORDING: Cuba Classics series, Vol. 3, Diablo al Infierno!
SOURCE: Luaka Bop - #0010
INFO: luakabop.com

ARTIST: Le Mystère Des Voix Bulgares
WORK: Erghen Diado [2:54]
RECORDING: Le Mystère Des Voix Bulgares
SOURCE: Nonesuch 79165
INFO: nonesuch.com

ARTIST: Bobby McFerrin
WORK: Circlesong 6 [7:50]
RECORDING: Circlesongs
SOURCE: Sony #62734
INFO: Available at Amazon.com

ARTIST: John Zorn / The Sapphites
WORK: John Zorn: Kiss Me [4:07]
RECORDING: Shir Hashirim (Song of Songs)
SOURCE: Tzadik Records - #TZ 8310 
INFO: tzadik.com

ARTIST: Various: Trinovox
WORK: Shir Hashirim [3:53]
RECORDING: Voices
SOURCE: Alula ALU-1001
INFO: Out of print. However, the song appears on "Incanto"  Jaro 2789 CD 
singers.com
ARTIST: John Zorn / The Sapphites
WORK: John Zorn: At Night In My Bed [3:46]
RECORDING: Shir Hashirim (Song of Songs)
SOURCE: Tzadik Records - #TZ 8310 
INFO: tzadik.com
ARTIST: David Darling & Wulu Bunun
WORK: Pis Lai, excerpt [4:00]
RECORDING: Mudanin Kata
SOURCE: Riverboat/World Musiv #TVGCD 1032
INFO:worldmusic.net

ARTIST: Tipsy Gypsy
WORK: Gatzi-Ma [4:23]
RECORDING: Arctic Paradise 2016
SOURCE: musicfinland.fi
INFO: arcticparadise2016.tumblr.com

ARTIST: Earborn (Grace Yoon, Roman Bunka) with Trinovox
WORK: Scolopendra [3:21]
RECORDING: Voices
SOURCE: Alula ALU-1001 Out of print.
INFO: the track appears on a different Jaro Records compilation, downloadable at Emusic.com 

ARTIST: Tam Echo Tam
WORK: L'ultima danza [3:52]
RECORDING: Dawn
SOURCE: Jaro Records
INFO: download at iTunes