New Sounds
#3797: Electronic and Electronically-Altered Music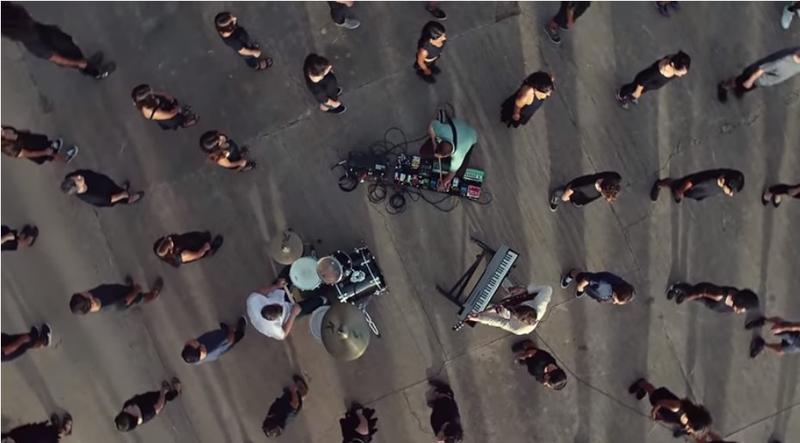 Hear music that incorporates electronic sounds, along with digitally looped and processed acoustic instruments, and purely electronic music on this New Sounds.  Listen to the latest from the band, Battles, who craft intricate music with highly choreographed electronic sounds – their "La Di Da Di." Ostensibly the trio is guitar, bass, & drums, but has evolved to incorporate plenty of looped effects, created with either analog pedals, or digitally with Abelton. 
There's also synthesizer music by Kaitlyn Aurelia Smith, inspired by Euclidian geometry, written on a the pad-based digital instrument system called a Buchla Music Easel. (See video.) In addition to geometry, Smith cites as inspirational sources things like mbira music, and early electronic music pioneers like Suzanne Ciani, Laurie Spiegel, and Terry Riley. 
Also hear sliced and diced computer music by Carl Stone, partially based on a Mozart opera – "Sonali" (Most titles of his works are named for favorite Asian restaurants.) Stone built this work around software which was designed to intentionally produce glitchy effects not unlike when a CD gets stuck. (Remember that 1990's sound?)  
Then, there's music by Squarepusher, the moniker of UK-based Tom Jenkinson, who combines electronic sound sources, live instruments and digital and/or "liquid effects" processing. Plus, hear a work by digital violinist Todd Reynolds with West Coast beatboxer and singer Kid Beyond, from his fabulous record "Outerborough." And more.
PROGRAM #3797 Electronic and Electronically-Altered Music (First Aired 11-12-2015)
ARTIST(S)

RECORDING

CUT(S)

SOURCE

Battles

La Di Da Di

Tyne Wear [1:50]

Warp Records- #WARPLP 263/ WARPCD 263
warp.net

Kaitlyn Aurelia Smith

Euclid

Labyrinth VII [2:55]

Western Vinyl 130
westernvinyl.com

Battles

La Di Da Di

Dot Net [3:00]

See above.

Kaitlyn Aurelia Smith

Euclid

Labyrinth II [3:05]

See above.

Carl Stone

Four Pieces

Sonali [16:58]

EAM Discs #201. 
sukothai.com

Battles

La Di Da Di

Luu Le [6:53]

See above.

Squarepusher

Damogen Furies

Stor Eiglass [4:32]

Warp Records - #WARPLP 264/WARPCD 264
warp.net

Todd Reynolds, feat.Kid Beyond

Outerborough

Transamerica [5:08]

Innova 741
innova.mu

Mark McGuire

Along the Way

In Search of the Miraculous, excerpt [2:48]

Dead Oceans 077
deadoceans.com