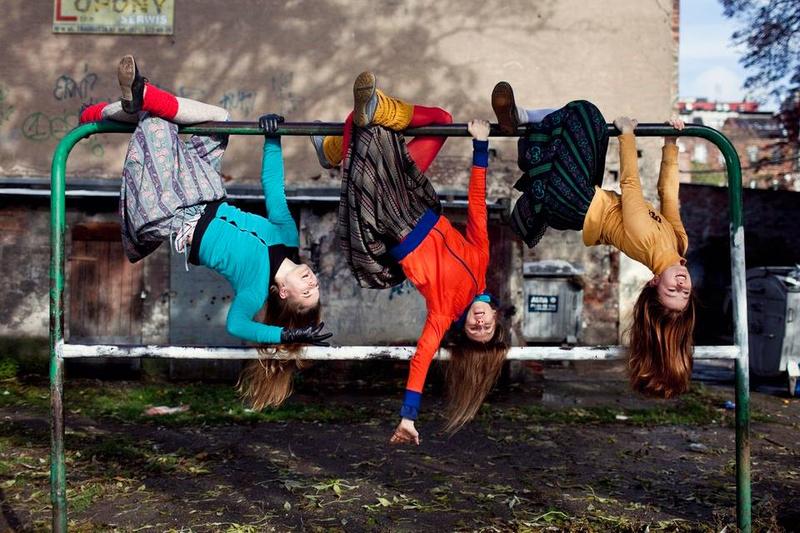 Listen to new music from Poland, including traditional and non-traditional sounds, like electroacoustic music and hardcore, centuries old rural Polish punk, along with experimental-folk kitchen music. Hear music by Sutari, who are a trio of women who sing and play everyday kitchen gadgets (blender, grater, or kitchen board) as percussion. Their work is generally based on folk songs from Poland, or Lithuanian sutartines songs – those sung only by women, in perfect harmony.
There's also music by the Warsaw Village Band, in collaboration with Galician multi-instrumentalist and experimental artist Mercedes Peón, along with music by R.U.T.A., a band who use Middle Eastern lutes, archaic fiddles and a battery of percussion to make their hardcore punk. Then, listen to Polish post-jazz from bass player/composer/instrument inventor Odo Walicki based on the Albanian poetry of Luljeta Lleshanaku. Sample music by Polish cellist/singerduo Tara Fuki who live in Czech Republic, but sing mainly in Polish.
Hear the folk/world music of Dikanda, a six-piece band led by vocalist/accordionist Anna Witczak. Dikanda mixes together the sounds of Macedonian, Bulgarian and Rajasthani folk music, sometimes coupled with African rhythms, but all rooted in the traditional Polish folk songs that her grandmother used to sing. Plus, electroacoustic music from Jacaszek inspired by Olivier Messiaen's' bird songs.  The soundscapes began as acoustic sounds from the Kwartludium ensemble's  piano, clarinets, violin and percussion parts. Those parts were sampled and electronically processed, turned into, as the composer writes, "forgotten songs performed secretly by my beloved trees."
PROGRAM #3796 New Music from Poland (First Aired 11-9-2015)
ARTIST: RUTA
WORK: Na przystawce (For the slave driver) [1:37]
RECORDING: Gore: Songs of Rebellion and Misery 16-20th Century
SOURCE: Karrot Kommando KK 39
INFO: www.karrot.pl/ruta
ARTIST: Dikanda
WORK: Sadila moma [3:21]
RECORDING: Ajotoro
SOURCE/INFO: dikanda.com
ARTIST: Olo Walicki
WORK: Luljeta Lleshanaku, pt. 2 [7:20]
RECORDING: Kot (czy też kotka?) / "cat or also cat"?
SOURCE: Instytut Kultury Miejskiej
INFO: Amazon
ARTIST: Warsaw Village Band feat. Mercedes Peón
WORK: Midsummer Rain Song [4:40]
RECORDING: Midsummer Rain Song single
SOURCE: karrot.pl
INFO: Available at iTunes | warsawvillageband.net
ARTIST: Karolina Cicha & Spotka
WORK: Umirzaya [4:07]
RECORDING: 9 Languages
SOURCE: Available at iTunes
INFO: karolinacicha.eu
ARTIST: Tara Fuki
WORK: Lecimy [3:59]
RECORDING: Winna
SOURCE: Indies Records
INFO: indies.eu/us
ARTIST: Sutari
WORK: Kalina Malina [6:54]
RECORDING: Wiano
SOURCE/INFO: sutari.bandcamp.com
ARTIST: Karolina Cicha & Spotka
WORK: Za rieczkaju [4:12]
RECORDING: 9 Languages
SOURCE: Available at iTunes
INFO: karolinacicha.eu
ARTIST: RUTA
WORK: Jak to dawni dobrze belo  (How good it used to be in the days of yore) [2:22]
RECORDING: Gore: Songs of Rebellion and Misery 16-20th Century
SOURCE: Karrot Kommando KK 39
INFO: www.karrot.pl/ruta
ARTIST: Janusz Prusinowski Trio
WORK: Persyjan [3:00]
RECORDING: Knee-deep in Heaven / Po Kolana W Niebie
SOURCE: Słuchaj Uchem/Oriente Music 
INFO: oriente.de, available at iTunes and Amazon.com
ARTIST: Jacaszek & Kwartludium
WORK: A Book of Lake (Roseliere) [5:28]
RECORDING: Catalogue Des Arbres
SOURCE: Touch TO 094CD
INFO: forcedexposure.com