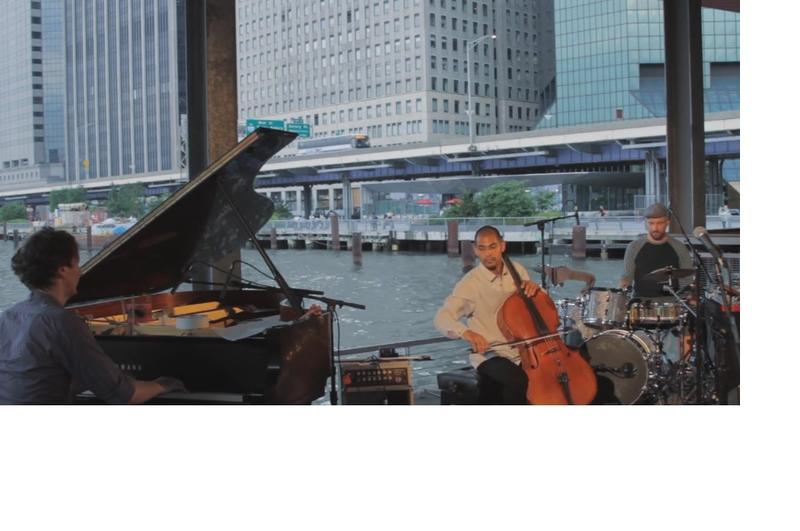 Listen to brand-new, just-created electro-acoustic music by the HKZ Trio, recorded in the New Sounds studio for this program. The "H" is for German pianist/composer Hauschka, the "K" is Finnish-Icelandic percussionist Samuli Kosminen, and the "Z" is cellist/improviser/collaborator Jeffrey Zeigler. These three experimenters combine prepared piano, electric cello, drums, and an arsenal of live electronics to make music in the moment. 
Hauschka (aka Volker Bertelmann), is a tinkerer with and sculptor of pianos, adding Ping pong balls, aluminum wrappers off votive candles, and other detritus to the insides of a piano, as preparations. "He can do noise, and he can do pounding, techno-influenced rhythms, but he's still a trained classical musician," says percussionist Kosminen, of his collaborator in an interview from Music Finland.
Samuli Kosminen is a member of Icelandic experimental glitch-pop band múm, who started out as a drummer, but regularly incorporates toys, junk, other world instruments like kalimba and samples into his percussive array. Kosminen has also done soundtrack work in both Finland and Iceland, and has previously collaborated with Kronos Quartet & the accordionist Kimmo Pohinen.
Jeffrey Zeigler is a cellist and improviser (who was with Kronos Quartet for eight seasons), and is a curator at the venue, National Sawdust. Zeigler confides that he actually had to overcome shyness about improvising, and confesses to feeling "new and green" about it. In his days with Kronos, there was little improvisation, but cites a night at John Zorn's venue, The Stone, working with Zorn himself, as the beginning of his exploration.
Each player brings his musical experience into the improvisational music-making, and it helps inform how the music is shaped. Listen to several wide-ranging creations by the HKZ trio, which explore territory that explores steady pulses, plucking and pounding, glitches and scrapes, plus staccato bowing, and plenty of samples, all looped and crafted before your ears.  
PROGRAM #3795 HKZ (First Aired 11-6-2015)
ARTIST(S)

RECORDING

CUT(S)

SOURCE

Hauschka, Samuli Kosminen

Transcendentalism EP 

Spark, excerpt [:45]

Fat Cat DA13-19
fatcat.com

Samuli Kosminen, Kimmo Pohjonen, Kronos Quartet

Uniko

Sarma, excerpt [:30]

Ondine #1185
www.ondine.net

HKZ Trio

(Hauschka, Samuli Kosminen, Jeffrey Zeigler)

Live, WNYC, 10/29/15

Live improvisation (Jeffrey Zeigler), "We Love John," part 1 [5:46]
Live improvisation (Samuli Kosminen), "We Love John," part 2 [8:29]
Live improvisation (Hauschka), "We Love John," part 3 [10:08]

These performances not commercially available.

Samuli Kosminen, Kimmo Pohjonen, Kronos Quartet

Uniko

Sarma [5:34]

Ondine #1185
www.ondine.net