New Sounds
#3793: New Sounds Live Concerts 2015, Part 1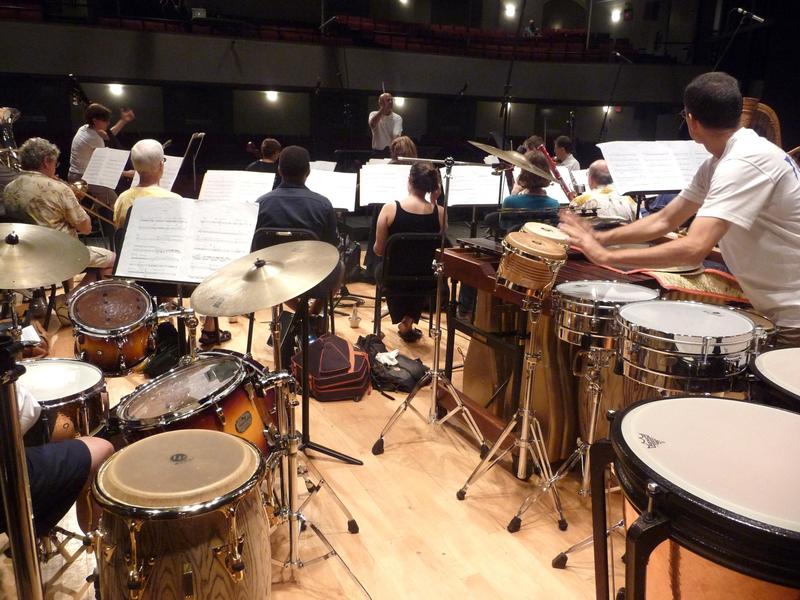 Listen to selections from the New Sounds Live Concert Series, recorded this past October at Brookfield Place on this program, including music by David Lang, electric guitar quartet Dither, and more. 
Hear a world premiere work by Angélica Negrón -"Me he perdido" (I've Gotten Lost) for the American Composers Orchestra and mechanical instruments, which were site-specific, and positioned throughout Brookfield Place, in and amongst the palm trees. The contraptions themselves were crafted in collaboration with instrument builder Nick Yulman, and are robotic modules which incorporate traditional gamelan (Indonesian-inspired tuned percussion) together with samples of woks and pans from Negrón's kitchen.
There's also music by Pulitzer Prize-winning composer, David Lang, as performed by young musicians from the Third Street Music School, which was celebrating its 121st anniversary. Hear short pieces by David Lang, his "Before Gravity" and "After Gravity" both written for one piano, and four hands, along with "Wavy" for one piano, and three pianists/six hands, as performed by some of the music students.  Also, listen to Lang's "Little Eye" for cello and four "non-percussionists," which comes from his larger work, "Child." The name comes from the road-trip game, "I spy with my little eye," that folks sometimes play with small children to distract them on long car rides. However, as Lang wryly notes, "in my experience this does work, not in a very subdued way - it is not the most exciting way to pass the time. Eventually, however, time does pass." 
Plus, listen to highlights from electric guitar quartet Dither playing music by David Lang and John Zorn, and more. 
PROGRAM #3793 NS Live, Brookfield Place, Part 1 (First Aired 11-3-2015)
ARTIST: Angelica Negron, instruments by Nick Yulman
WORK: Angélica Negrón: Pulsar, excerpt [2:27]
RECORDING: Live, Brookfield Place, Oct. 16, 2015
SOURCE: This performance not commercially available.
INFO: Angélica Negrón
ARTIST: Members of Dither Quartet-  Taylor Levine, James Moore
WORK: David Lang: Warmth [6:32]
RECORDING: Live, Brookfield Place, Oct. 15, 2015
SOURCE: This performance not commercially available. 
INFO: Dither

ARTIST: Third Street Music School Musicians
WORK: David Lang: Little Eye [13:08]
RECORDING: Live, Brookfield Place, Oct. 14, 2015
SOURCE: This performance not commercially available.
INFO: Third Street Music School

ARTIST: Third Street Music School Musicians
WORK: David Lang: Wavy [3:24], Before Gravity [2:17], After Gravity [6:04]
RECORDING: Live, Brookfield Place, Oct. 14, 2015
SOURCE: This performance not commercially available.
INFO: Third Street Music School
ARTIST: American Composers Orchestra
WORK: Angélica Negrón:"Me he perdido" (I've Gotten Lost) [6:04]
RECORDING: Live, Brookfield Place, Oct. 16, 2015
SOURCE: This performance not commercially available.
INFO: American Composers Orchestra

ARTIST: Dither Quartet
WORK: John Zorn: Hockey [2:38]
RECORDING: Live, Brookfield Place, Oct. 15, 2015
SOURCE: This performance not commercially available. 
INFO: Dither