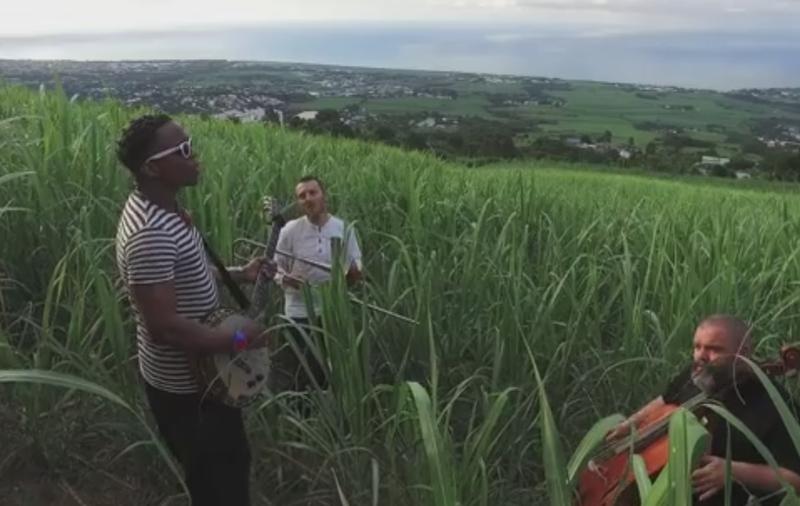 On this New Sounds, explore the unexpected musical combination of cello and trombone: with electronics, in an African music setting, in a post-rock way, as a chamber pop song, and in loud and bombastic ways as well. Listen to intimate Bassa songs by the Cameroonian guitarist, Blick Bassy, (he now resides in rural France) together with co-conspirators cellist Clément Petit, and trombone player Fidel Fourneyron from Bassy's latest record, Akö.
The record was intended to be an homage to the Mississippi bluesman Skip James, yet the music on Akö manages to limn folk and jazz, as delicate falsetto vocal lines are sung in Bassy's mother tongue over elegant and minimal cello and trombone accompaniment. There might be nods to other heroes as well, like the Malian guitarist Ali Farka Toure, perhaps even the Brazilian singer-guitarist Caetano Veloso.  Listen to both "Tell Me" and  "Ndjè Yèm" from Bassy's magic record Akö.
Also, hear grand post-rock involving guitar, bass, and drums, plus cello & trombone from Finnish band, Oddarang. Then hear music by Danish quartet, Flod and their special guests, which include a cello and/or trombone, making music inspired by the dramatic paintings of the 19th century mixed with traditional Japanese drawing.  Then, hear chamber pop music from Italy, sung in French, from the singer Flo, involving South American charango, toy piano, as well as cello & trombone.
There's also music from the collaborative composer's project based in Montreal known as The Sevens Project, who make largely instrumental and experimental creations involving a core group, augmented by  a string trio and a horn quartet. Listen to their "She Imagined Imposing Castles." Plus, a serene blend of jazz, folk, and classical in music by the Belgian trio, Massot-Florizoone-Horbaczewski, consisting of  Michael Massot on both trombone and tuba, Tuur Florizoone on accordion, and Marine Horbaczewski on cello. And more.
PROGRAM #3789 Cello & Trombone (First Aired 10-23-2015)
ARTIST: Blick Bassy
WORK: Tell me, excerpt [1:00]
RECORDING: Akö
SOURCE: Nø Førmat! NOF#28
INFO: noformat.net
ARTIST: Oddarrang
WORK: Self Portrait [5:34]
RECORDING: In Cinema
SOURCE:Edition Records EDN 1046
INFO: oddarrang.bandcamp.com
ARTIST: Flod
WORK: Joki [6:46]
RECORDING: Kurs
SOURCE/INFO: http://flod.bandcamp.com/#_=
ARTIST: Flo
WORK: Ça ne tient pas la route [3:39]
RECORDING: D'amore e di altre cose irreversibili
SOURCE/INFO: agualocarecords.com
ARTIST: Blick Bassy
WORK: Ndjè Yèm [3:16]
RECORDING: Akö
SOURCE: Nø Førmat! NOF#28
INFO: noformat.net
ARTIST: The Sevens Project
WORK: She Imagined Imposing Castles [3:58]
RECORDING: The Sevens Project
SOURCE: Dare To Care Records
INFO: daretocarerecords.com | sevensproject.bandcamp.com
ARTIST: Blick Bassy
WORK: Tell me [4:19]
RECORDING: Akö
SOURCE: Nø Førmat! NOF#28
INFO: noformat.net
ARTIST: Massot-Florizoone-Horbaczewski
WORK: Propiac [6:24]
RECORDING: Balades Ephémères
SOURCE/INFO: tuurflorizoone.be | aventuramusica.bandcamp.com
ARTIST: Jacob Szekely Trio
WORK: Diana's Lullaby, excerpt [1:00]
RECORDING: JSIII
SOURCE/INFO: jacobszekely.com
ARTIST: trom-bown (Miles Anderson & Erica Sharp)
WORK: Martin Wesley-Smith: White Knight And Beaver  [8:58]
RECORDING: Music recorded, but never released
SOURCE: trom-bown.com 
INFO: MP3 is here: trom-bown.com/mp3