New Sounds
#3783: Music from Central Asia With Ustatshakirt Plus, Live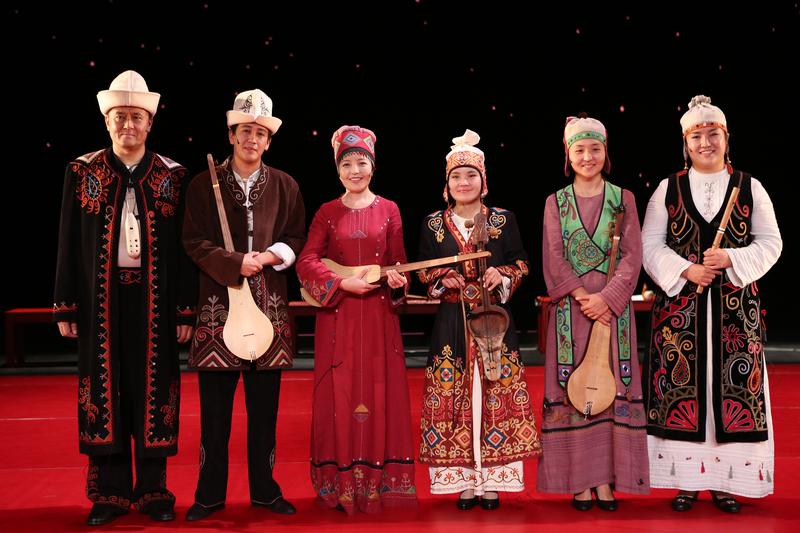 Take a musical tour of Central Asia, with a long stopover in the mountains of Kyrgyzstan. For the first time ever on New Sounds, hear a traditional Kyrgyz music ensemble  - Nurlanbek Nishanov & Ustatshakirt Plus (their name means "Master Apprentice")  - who are here as part of a collaboration with the Seán Curran Dance Company running at Brooklyn Academy of Music. Also, meet Betsy Coker, the co-artistic director of and a dancer in the Seán Curran Company. The musicians and dance company met at a private concert in Bishkek, Kyrgyz Republic, while the Seán Curran Company was on their State Department cultural exchange tour in 2012,  DanceMotion USASM.  
Listen to the Kyrgyz folk singing and traditional instruments: springy jaw harps called timur komuz, the ocarina flute-like choor, the lute-like komuz, and the two-stringed upright bowed fiddle, the kyl kiak. Ustatshakirt Plus plays some of their tunes from the collaborative production, "Dream'd in a Dream" which tells the story of the Seán Curran Company's travels throughout Central Asia.
Then, listen to more music from Central Asia, including music from Xinjiang province of the Turkic Uyghur people. Listen to Afghan rubâb virtuoso Homayun Sakhi's luminous "Rainbow," featuring Kronos Quartet, tabla, and Central Asian percussion, and spirited arrangements of Azerbaijani songs. Also, there's music by Betty Anne Wong and the Phoenix Spring Ensemble, a group of intrepid musical travelers from San Francisco. Their music draws on folk music of Tajikistan, Kazhakstan, Turkey and Iran. Plus, more music from along the Silk Road from Chinese pipa master Wu Man, Tajik musicians Abduvali Abdurashidov on sato-tanbur and Sirojiddin Juraev, on dutar.
PROGRAM #3783 Music from Central Asia feat. Ustatshakirt Plus from Kyrgyzstan, live;  (First Aired 10-07-2015)
ARTIST: Nurlanbek Nishanov & Ustatshakirt Plus (Master Apprentice)
WORK: Spoiled Boy, excerpt [1:30]
RECORDING: Private recording
SOURCE/INFO: This performance not commercially available.
ARTIST: Kronos Quartet & Homayun Sakhi
WORK: Rangin Kaman (Rainbow), excerpt [12:29]
RECORDING: Music of Central Asia, Vol. 8: Rainbow
SOURCE: Smithsonian Folkways SFW40527
INFO: folkways.si.edu 
ARTIST: Nurlanbek Nishanov & Ustatshakirt Plus (Master Apprentice)
WORK:Novelty [3:09], I Remember [5:21], Spoiled Boy [4:11]
RECORDING: Live, WNYC October 7, 2015
SOURCE: This performance not commercially available.
INFO: Nurlanbek Nishanov appears on Music of Central Asia Vol. 1: Tengir-Too: Mountain Music from Kyrgyzstan, Smithsonian Folkways SFW40520
folkways.si.edu. He has also been recorded as part Silk Road: A Musical Caravan SFW40438_210 folkways.si.edu
ARTIST: Betty Anne Wong & Phoenix Spring Ensemble
WORK: Pamir Trance [6:25]
RECORDING: In Xinjiang Time
SOURCE/INFO: cdbaby.com
ARTIST: Wu Man and Master Musicians from the Silk Route
WORK: Improvisation for 3 1/2 Instruments [6:50]
RECORDING: Music of Central Asia Vol. 10 -  Borderlands
SOURCE: Smithsonian Folkways SFW40529
INFO: folkways.si.edu