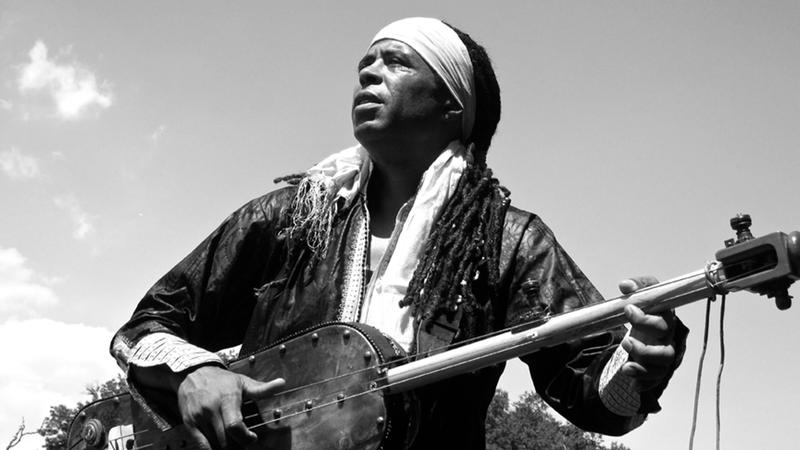 Gnawa is both a religious/spiritual order of a traditionally Black Muslim group who came from sub-Saharan & West Africa to Morocco by way of migration, both voluntary and forced as slaves, and a music – which stems from their ancestral culture. The Gnawa bridge two worlds between man and spirits, and through musical ceremonies and trances claim to access and appease the spirits with songs, dances and chants.
For this New Sounds, explore some of this traditional Gnawa ritual healing music Morocco, from the late Moroccan Maalem Mahmoud Guinia (Maalem means "master"), who plays the bass lute, or guembre/gimbri, together with Floating Points (aka producer/dj/composer Sam Shepherd.) Then, sample hard-grooving music by Moroccan-born, New York-based singer/composer/sintir (bass lute) player Hassan Hakmoun from his recent, "Unity."  
Hear the groove of this Gnawa music by way of Washington DC in the world music-inflected band Les Rhinocéros, who happen to incorporate Jewish themes. There's also music by Cuban pianist Roberto Fonseca with underlying Gnawa rhythms, along with something from Swiss jazz trio Podjama and les Gnawa de Marrakech. Then, listen to music from the founder of Orchestre national de Barbès, singer, lute player & former partner of Joe Zawinul, Aziz Sahmaoui, & The University of Gnawa.  Plus, new music from Malian kora player Ballake Sissoko and French cellist Vincent Segal, on which Segal's cello imitates the Gnawa rhythms. 
PROGRAM #3771 Modern Gnawa Music (First Aired 09-10-2015)
ARTIST: Various Artist: Brahim Belkani
WORK: Sheshiyat Bambara, excerpt [3:00]
RECORDING: Ouled Bambara: Portraits of Gnawa
SOURCE: Twos & Fews #002/ Drag City 403 
INFO: dragcity.com
ARTIST: Maalem Mahmoud Guinia & Floating Points
WORK: Mimoun Marhaba [8:13]
RECORDING: Marhaba
SOURCE: Border Community 46BCD / or Eglo EGBC001 on 12" Vinyl
INFO: normanrecords.com OR Download from Amazon.co.uk 
ARTIST: Les Rhinocéros
WORK: Jacob (Scenic 6) [3:27]
RECORDING: Les Rhinocéros III
SOURCE: Tzadik 7812
INFO: tzadik.com
ARTIST: Hassan Hakmoun
WORK: Dima Dima (Always) [5:55]
RECORDING: Unity
SOURCE: Healing Records
INFO: Available at Amazon.com
ARTIST: Aziz Sahmaoui & The University of Gnawa
WORK: Daw Daw [4:00]
RECORDING: Mazal
SOURCE: World Village 479099
INFO: worldvillagemusic.com
ARTIST: Hassan Hakmoun
WORK: Boudarbalayi (Saint) [6:52]
RECORDING: Unity
SOURCE: Healing Records
INFO: Available at Amazon.com

ARTIST: Podjama & les Gnawa
WORK: A corps perdu/ Allah Moulana [7:36]
RECORDING: Podjama & les Gnawa de Marrakech
SOURCE: Altrisuoni #070
INFO: Out of print, but download from jphz.bandcamp.com
ARTIST: Roberto Fonseca
WORK: Gnawa Stop [5:18]
RECORDING: Yo!
SOURCE: Concord Jazz PRO-CJ-0575
INFO: concordmusicgroup.com | robertofonseca.com
ARTIST: Ballake Sissoko & Vincent Segal
WORK: Balazando [6:26]
RECORDING: Musique de Nuit
SOURCE: Six Degrees Records
INFO: sixdegreesrecords.com