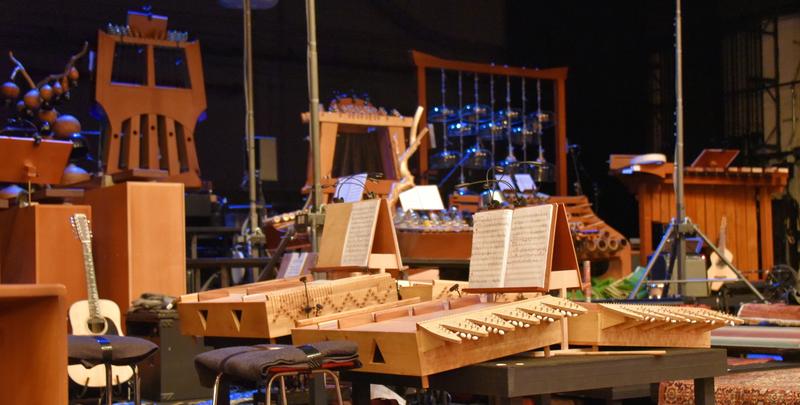 In this edition of New Sounds, we focus on music that seems to be tied irrevocably to one person. Composers and performers who created music so unique that only they could make it. And yet, the music turns out to be not-so-sui-generis: hear these distinct performers' works, as performed by other people.
Start with Conlon Nancarrow, whose music was thought to be too hard to play and so was performed only by a player piano, played on real instruments by the Bang on a Can All-Stars. Also Harry Partch's music, only played on the set of instruments he invented and created, is now being played on a new set of his instruments created by the Ensemble Musikfabrik. His compositions use a scale that has 43 notes in an octave, as opposed to the 12 most Western music uses.
Moondog, the blind New York composer and musician, has unexpectedly been covered by many ensembles, including rock bands, new music ensembles, and jazz bands. Here we listen to Sylvain Rifflet, Jon Irabagon's version of his famous song "My Tiny Butterfly."And the late saxophonist and composer Fred Ho's music lives on through the Eco-Music Big Band. Plus Meredith Monk's unique vocal music reimagined by Björk, and Aphex Twin's electronic music played by the ensemble Alarm Will Sound.
PROGRAM #3766, Sui-Generis Music – Or not (First Aired 8-24-2015)
ARTIST: Conlon Nancarrow
WORK: Study No. 11 (excerpt) [3:17]
RECORDING: Studies for Player Piano
SOURCE/INFO: nancarrow.de
ARTIST: Bang on A Can All-Stars
WORK: Conlon Nancarrow arr Evan Ziporyn: Study 11  [3:27]
RECORDING:  Big Beautiful Dark and Scary
SOURCE: Cantaloupe Music CA21074
INFO: bangonacan.org/store | cantaloupemusic.bandcamp.com
ARTIST: Bang on A Can All-Stars
WORK: Conlon Nancarrow arr Evan Ziporyn: Study 2a [3:58]
RECORDING:  Big Beautiful Dark and Scary
SOURCE: Cantaloupe Music CA21074
INFO: bangonacan.org/store | cantaloupemusic.bandcamp.com
ARTIST: Sylvain Rifflet, Jon Irabagon
WORK: My Tiny Butterfly [3:45]
RECORDING: Perpetual Motion A Celebration
SOURCE: Jazz Village 
INFO: sylvainrifflet.com, Available for download at iTunes, eMusic.com, Amazon.com
ARTIST: Eco-Music Big Band
WORK: Fred Ho: Things Have Got to Change [5:20]
RECORDING: Things Have Got to Change
SOURCE/INFO:  cdbaby.com
ARTIST: Partch
WORK: Castor and Pollux [14:52]
RECORDING: Harry Partch: Plectra and Percussion Dances
SOURCE: BRIDGE 9432
INFO: bridgerecords.com
ARTIST: Björk with the Brodsky Quartet
WORK: Meredith Monk: Gotham Lullabye [5:28]
RECORDING: Monk Mix
SOURCE/INFO: meredithmonk.org
ARTIST: Alarm Will Sound
WORK: Aphex Twin: Logon Rock Witch arr. Jonathan Newman [3:35]
RECORDING: Acoustica: Alarm Will Sound Performs Aphex Twin
SOURCE: Cantaloupe #21028  
INFO: cantaloupemusic.com