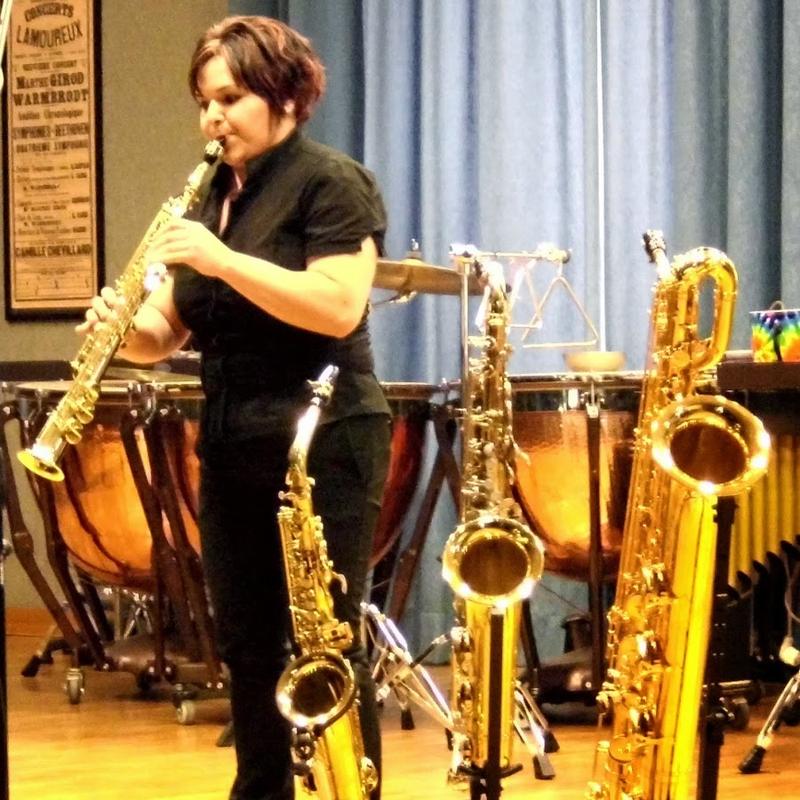 Listen to some electronic music on this New Sounds, including works for sax and electronics, trumpet and electronics, and cascading layers of percussion instruments with electronics. Hear Italian sax player & composer Laura Venditti playing Wayne Siegel's work, "Jackdaw," from her record, "ElectroSax"-a collection of electronic pieces that call for one or more saxophones. 
Hear the "anti-newage music" which falls squarely between electronic music and modern classical music from New Yorker Kenneth Kirschner. This particular piece, named only by date, "April 16, 2013," is made of dense and intricate layers of tuned percussion instruments (bells, glockenspiels, xylophones) played with constantly shifting, irregular meters, in highly melodious webs.
Then, there's hybrid electro-acoustic music for trumpet and electronics from trumpeter Dave Douglas featuring Michigan-based laptop artist, Shigeto – from the quartet record, "High Risk." Plus, hear electronic music which veers towards guitar-based shoegazey atmospherics from Flying Saucer Attack (aka Dave Pearce) & more. 
PROGRAM #3760 Electronic Music (First Aired 8-5-2015)
ARTIST: Dave Douglas featuring Shigeto
WORK: Tied Together, excerpt [1:00]
RECORDING: High Risk
SOURCE/INFO: music.davedouglas.com
ARTIST: Laura Venditti
WORK: Wayne Siegel: Jackdaw [10:25]
RECORDING: ElectroSax
SOURCE: 4Tay CD4044
INFO: Available at Amazon.com & iTunes
ARTIST: Dave Douglas featuring Shigeto
WORK: Tied Together [6:36]
RECORDING: High Risk
SOURCE/INFO: music.davedouglas.com
ARTIST: Kenneth Kirschner
WORK: April 16 2013, excerpt [14:29]
RECORDING: Compressions & Rarefactions
SOURCE: 12K 1083
INFO: 12k.com
ARTIST: Karen Power
WORK: Forever Ricefields (tape) [8:15]
RECORDING: Is It Raining While You Listen
SOURCE: Far Point Recordings 
INFO: farpointrecordings.com | karenpower.ie
ARTIST: Flying Saucer Attack
WORK: Instrumental 14 [7:40]
RECORDING: Instrumentals 2015
SOURCE: Domino Records WIGCD 351/ Drag City DC 489CD
INFO: dominorecordco.com