New Sounds
#3752: New Music for European Instruments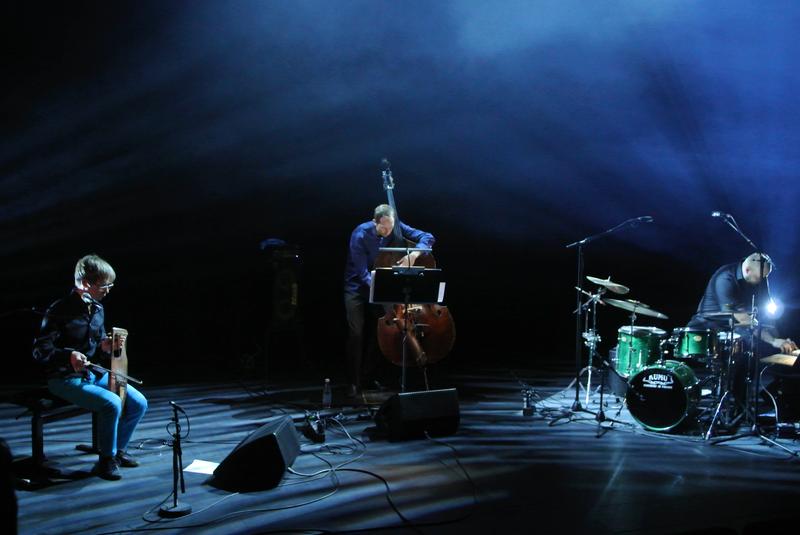 Listen to music featuring unusual instruments from Belgium and Poland, Italy and Finland, Lithuania and Estonia. Hear new music for the traditional Finnish jouhikko, combined with double bass, drums, and electronics in music by the Ilkka Heinonen Trio.  The jouhikko is a traditional 2 or 3-stringed bowed lyre found in Finland and Estonia, and is played by holding the instrument in a slightly off-vertical position between the knees, whilst bowing its three strings.  Then, hear music by the Torupilli Jussi Trio for Estonian bagpipes, the fiddle, and the talharpa, a four-stringed Estonian bowed instrument without a fingerboard, related to the jouhikko. There's also newly composed folk music involving the hurdy-gurdy, accordion, and guitar by a trio of Belgian brothers, the Trio Dhoore, who draw on music of the southern Low Countries, Flemish rhythms and the traditions of central France.
Plus, listen to new music for harpsichord written in 1980 by the Polish composer Henryk Gorecki. It's a concerto in just two fast post-minimalist movements, and is part of the latest recording by Iranian pianist, Mahan Esfahani, with Concerto Köln.  Also, hear an Italian quartet squeeze the blues out of a tune by Sun Ra, and more. 
PROGRAM #3752– Unusual European Stringed Instruments (First aired on 07/16/2015)
ARTIST: Mahan Esfahani, harpsichord & Concerto Köln
WORK: Henryk Gorecki: Harpsichord Concerto, op. 40 – Vivace, excerpt [1:00]
RECORDING: Time Present and Time Past
SOURCE: ARCHIV Produktion 479 4481 2
INFO: deutschegrammophon.com
ARTIST: Ilkka Heinonen Trio
WORK: Minus 23[4:52]
RECORDING: Savu
SOURCE: ROCKADILLO RECORDS ZENCD 2160 
INFO: levykauppax.fi
ARTIST: Torupilli Jussi Trio
WORK: Moose hunting song [3:53]
RECORDING: Soundcloud
SOURCE: https://soundcloud.com/torupilli-jussi-trio/p6dralugu-moose-hunting-song 
INFO: http://catlin.ee/torupilli-jussi-trio
ARTIST: Ilkka Heinonen Trio
WORK: Erlkönig [4:26]
RECORDING: Savu
SOURCE: ROCKADILLO RECORDS ZENCD 2160 
INFO: levykauppax.fi
ARTIST: Trio Dhoore
WORK: Al Smith/Phil May: Parachute [3:24]
RECORDING: Parachute
SOURCE/INFO: triodhoore.be
ARTIST: Solo & Indre
WORK: Leliumoj – Bamba [4:19]
RECORDING: Solo & Indre
SOURCE/INFO: onerootmusic.com | onerootmusic.bandcamp.com

ARTIST: Roots Magic
WORK: Sun Ra: A Call for all Demons  [5:25]
RECORDING: Hoodoo Blues & Roots Magic
SOURCE: Clean Feed CF337
INFO: cleanfeed-records.com
ARTIST: Orchestra of the 8th Day
WORK: Shadow [6:54]
RECORDING: Music 4 the End
SOURCE: Flying Fish #292 LP
INFO: Out of print.
ARTIST: Mahan Esfahani, harpsichord & Concerto Köln
WORK: Henryk Gorecki: Harpsichord Concerto, op. 40, Allegro molto & Vivace [8:29]
RECORDING: Time Present and Time Past
SOURCE: ARCHIV Produktion 479 4481 2
INFO: deutschegrammophon.com
ARTIST: Various: Annbjorg Lien
WORK: Cantabile, excerpt [1:31]
RECORDING: Northern Nights - Music From the top of the World
SOURCE: Six Degrees Records 657036
INFO: Out of print, but try Amazon.com