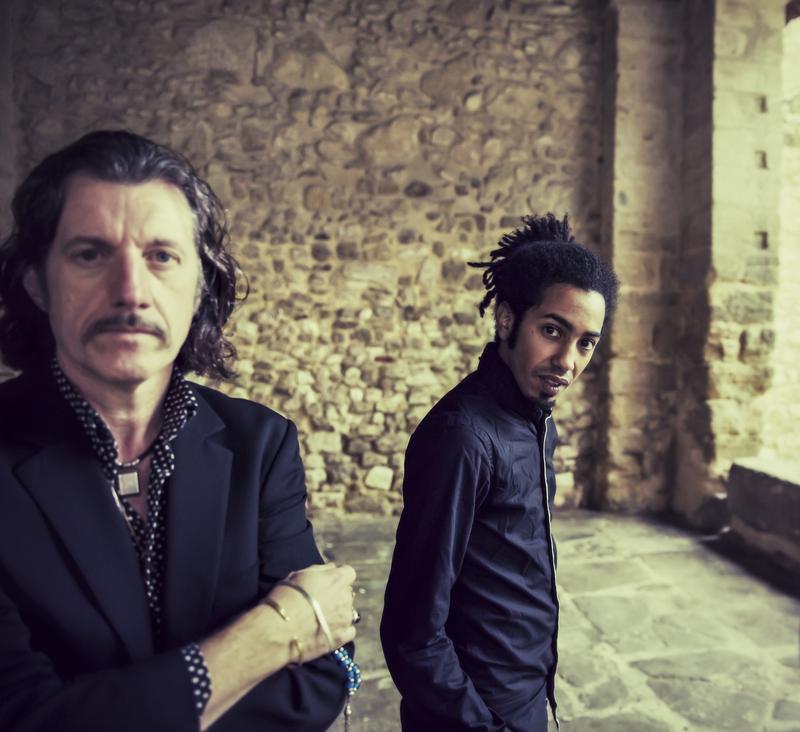 North meets South, largely Europe meets Africa in music by French guitarist Titi Robin and Moroccan musician Mehdi Nassouli, the group Monoswezi, and the collaborative group MaLithuanie. Listen to music from Taziri, a record by French guitarist "Titi" (Thierry) Robin and the young Gnawa musician El Mehdi Nassouli, who is also heir to a strong South-Moroccan Berber culture. In 'Flamenhijaz," a work which combines flamenco and the classical Arab scale, Hijaz, the two are joined by Francis Varis  on accordion, and percussionist Ze Luis Nascimento.
Then, Senegalese kora player Solo Cissoko and Lithuanian singer / kanklės (Baltic psaltery) player Indrė Jurgelevičiūtė blend folk song traditions and trade melodies from West Africa and Eastern Europe. Also, hear the Scandinavian- southern African collaboration called Monoswezi, which features musicians from Mozambique, Norway, Sweden & Zimbabwe. Get a preview listen to Julia Easterlin & Vieux Farka Toure from their forthcoming release, due out in September 2015, of American and Malian songs. Hear Julia Easterlin's new words and melody set atop the classic "Kaira," or "Peace." Plus, a trio of musicians from Mali, who formed to collaborate with the Kronos Quartet, Trio Da Kali. The Trio—Hawa Kasse Mady Diabaté (voice), daughter of legendary Kasse Mady Diabaté; Lassana Diabaté (balafon), formerly of AfroCubism and Toumani Diabaté's Symmetric Orchestra; and Mamadou Kouyaté (ngoni), eldest son of Bassekou Kouyaté—brings a contemporary twist to ancient and neglected repertoires, on their first self-titled record.  
Rounding out the show is a bit of music shared between Mali and Lithuania, along with an excerpt from the grand collaboration, Africa Express presents Terry Riley's "In C" Mali, where top musicians from Mali and Damon Albarn (Gorillaz, Blur), Nick Zinner (Yeah Yeah Yeahs) and Brian Eno use West African instruments in their interpretation of of the now 50-year old "In C" by Terry Riley.
PROGRAM #3750– North Meets South (First aired on 07/14/2015)             
ARTIST: Malituanie
WORK: Yele, excerpt [1:00]
RECORDING: Malituanie
SOURCE: onerootmusic.com
INFO: onerootmusic.bandcamp.com
ARTIST: Titi Robin with Mehdi Nassouli
WORK: Flamenhijaz (rosée pour Nargis) [8:10]
RECORDING: Taziri
SOURCE: World Village 479108
INFO: worldvillagemusic.com

ARTIST: Solo & Indre
WORK: Damma – Gerve [7:25]
RECORDING: Solo & Indre
SOURCE: onerootmusic.com 
INFO: onerootmusic.bandcamp.com

ARTIST: Trio Da Kali
WORK: Yirimadjo [5:08]
RECORDING: Trio Da Kali
SOURCE: World Circuit / Nonesuch 549202
INFO: nonesuch.com

ARTIST: Julia Easterlin & Vieux Farka Toure
WORK: Little Things (Kaira) [3:23]
RECORDING: Touristes
SOURCE: Six Degrees Records
INFO: sixdegreesrecords.com

ARTIST: Monoswezi
WORK: Matatya [6:50]
RECORDING: Monoswezi Yanga
SOURCE: TUGCD 1090
INFO: worldmusic.net | monoswezi.com

ARTIST: Malituanie
WORK: Yele [7:26]
RECORDING: Malituanie
SOURCE: onerootmusic.com
INFO: onerootmusic.bandcamp.com
ARTIST: Africa Express
WORK: Terry Riley: In C Mali, excerpt [6:22]
RECORDING: presents Terry Riley In C
SOURCE/INFO: shop.transgressiverecords.com