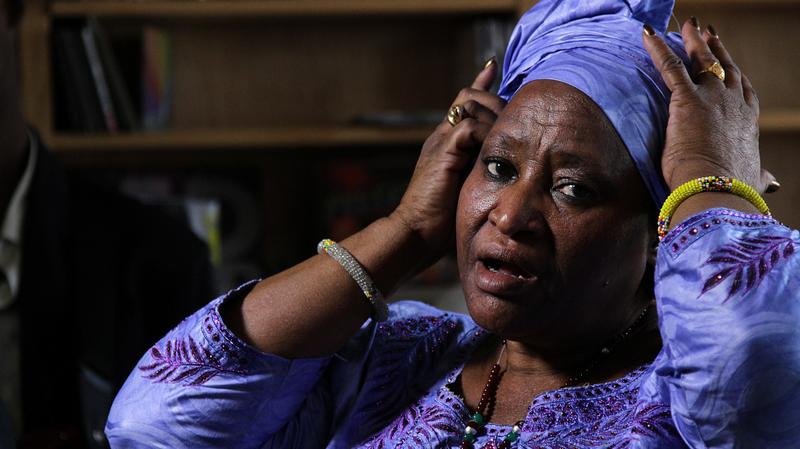 Hear Afropop and Afrobeat music from West Africa and elsewhere on this New Sounds, including new music from Malian desert-blues queen Khaira Arby, recent music from Afrobeat band Antibalas, and Mandinka pop from the re-united Malian supergroup from the 1960's and 1970's, Les Ambassadeurs.
Afrobeat music is a complex combination of Nigerian and Ghanaian highlife music, jazz and funk, some psychedelic rock, and traditional West African rhythms, usually played by a larger band with interlocking multiples of instruments in its service. It's also highly danceable. Listen to music by Fela Kuti, the father of the style known as "Afrobeat" music, who repeatedly gave credit to his drummer, Tony Allen as well, for his work in creating the style. 
Then, listen to music from the Antibalas Afrobeat Orchestra, Brooklyn's Afrobeat experts; their members served as Musical Director and Assistant Musical Director — in Fela!, Bill T. Jones' musical based on the life of Fela Kuti. There's also buoyant Mandinka pop from the re-united 1970's trailblazers, Les Ambassadeurs, featuring Salif Keita. This outfit combined Griot music with Cuban rhythms, and infused it with a bit of American-style James Brown & the JB's funk & soul. Les Ambassadeurs  have just released a four-song collection, "Rebirth," reworkings of some of their biggest hits from years past. Sample new music by legendary desert blues diva of Timbuktu, Khaira Arby, who was one of the first women to break onto the music scene in Mali in the late 1970s. From her most recent record, "Gossip," which she partially recorded while on tour from 2010-2012, hear "Chris," in honor of Chris Nolan, Arby's tour manager and the man who self-released her debut international CD.   
Also, hear selections from the Amsterdam-based nine-piece Afrofunk band, Jungle By Night, from their record, "The Hunt."  Plus, music by both Femi Kuti, oldest son of Fela Kuti, and by Seun Kuti, his youngest son, who now leads his father's former band, Egypt 80; Fela's band was called Africa '70. 
PROGRAM #3744– Afrobeat & Afropop (First aired on 06/26/2015)
ARTIST: Fela Kuti
WORK: Water No Get Enemy [9:52]
RECORDING: The Best Of The Black President
SOURCE: Wrasse Records 158
INFO: wrasserecords.com
ARTIST: Les Ambassadeurs
WORK: Mali Denou [4:40]
RECORDING: Rebirth
SOURCE: World Village - #479113
INFO: available at Amazon.com & iTunes

ARTIST: Femi Kuti
WORK: Dem Bobo [4:39]
RECORDING: Africa for Africa
SOURCE: Knitting Factory Records - #KFR1113CD
INFO: shop.knittingfactoryrecords.com
ARTIST: Antibalas Afrobeat Orchestra
WORK: Beaten Metal [5:53]
RECORDING: Security
SOURCE: Anti/Epitaph Daptone Records - #68482
INFO: antibalas.com
ARTIST: Jungle By Night
WORK: Empire [4:14]
RECORDING: The Hunt
SOURCE: Kudos Records KS 045
INFO: kudosrecords.co.uk
ARTIST: Khaira Arby
WORK: Chris [4:48]
RECORDING: Gossip
SOURCE: Clermont Records CLE 011
INFO: forcedexposure.com
ARTIST: Seun Anikulapo Kuti & Egypt 80
WORK: Rise [7:47]
RECORDING: From Africa With Fury: Rise
SOURCE: Knitting Factory Records - #1110
INFO: shop.knittingfactoryrecords.com
ARTIST: Les Ambassadeurs
WORK: 4V [5:15]
RECORDING: Rebirth
SOURCE: World Village - #479113
INFO: available at Amazon.com & iTunes