New Sounds
#3687: Alt-Marching Bands & Other Brass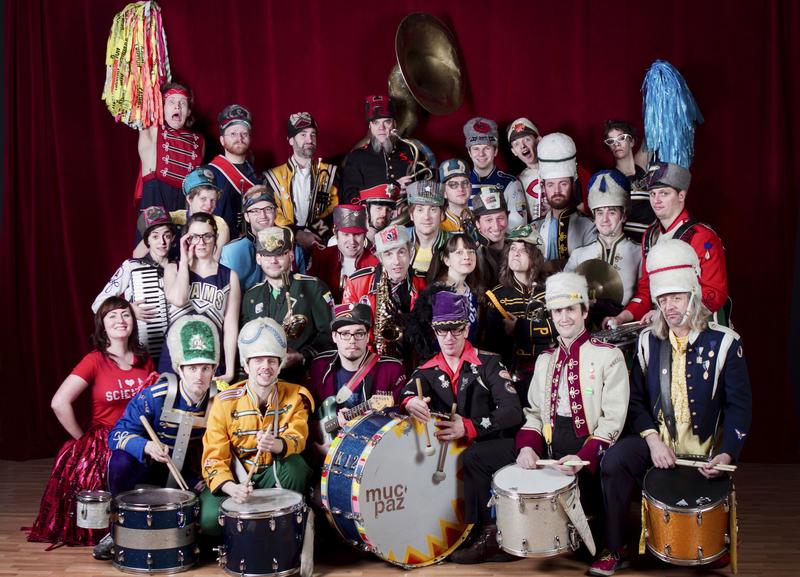 There's brass band music, marching band music, and "freak" marching band on this show - an anytime party. New Sounds is treated to a session recorded with the Chicago-based circus punk beast, Mucca Pazza. "The hardest smelling band in show business, Mucca Pazza ("mad cow") is a sight to be heard." (Seriously, their Bandcamp says!) They are truly a spectacle. Listen to their set performed in our studio that Soundcheck couldn't fit on that podcast.
Also, listen to music from the Brooklyn-based Punjabi brass dance band, Red Baraat, who just tore it up at Brooklyn Bowl the other night. (There's another show at Brooklyn Bowl, Monday May 16th with Mariachi Flor de Toloache.) Always infectious, and ever-evolving, there's traces of Qawwali trance, brass funk, jazz, go-go, and hip-hop. Another sight to be heard!
Not to be outdone, there's music from the French klezmer Balkan swing band La Fanfare Couche-Tard, whose name translates to "Night Owl Band" or literally "goes-to-bed-late band." Plus, hear from the Brooklyn outfit, Breakdown Brass Band, who bring the Afro-funk and Balkan Brass party, and share members with Antibalas, Sharon Jones & the Dap-Kings, & Slavic Soul Party, among others. That, and more!
PROGRAM #3687 Alt-Marching Bands and other Brass (First aired on 1/22/2015)  
ARTIST: Extra Action Marching Band & David Byrne
WORK: Burning Down the House, excerpt [1:22]
RECORDING: Davies Symphony Hall October 6, 2008
SOURCE: Youtube
ARTIST: Mucca Pazza
WORK: J'Accuse (Dave Smith) [2:58]
RECORDING: LYA
SOURCE: store.muccapazza.com

ARTIST: Extra Action Marching Band
WORK: A K S [2:43]
RECORDING: extra-action.com (Music)

ARTIST: Mucca Pazza
WORK: Holiday on Ice [4:41] 
RECORDING: Live, WNYC
SOURCE: This performance not commercially available. 
INFO: This track appears on LYA. 
store.muccapazza.com
ARTIST: Mucca Pazza
WORK: Sit Down Smarch [3:31]
RECORDING: Live, WNYC
SOURCE: This performance not commercially available. 
INFO: This track appears on LYA. 
store.muccapazza.com
ARTIST: Mucca Pazza
WORK: Fox Hunt [3:09]
RECORDING: Live, WNYC
SOURCE: This performance not commercially available. 
INFO: This track appears on LYA. 
store.muccapazza.com
ARTIST: Breakdown Brass
WORK: The Horseman [4:30]
RECORDING: The Horseman (single)
SOURCE: breakdownbrass.bandcamp.com

ARTIST: La Fanfare Couche-Tard
WORK: Coupe Mulet [4:20]
RECORDING: Balkanize Me
SOURCE: Available at Amazon.com or iTunes.
INFO: Soundcloud or Facebook
ARTIST: MarchFourth Marching Band
WORK: Delhi Belly [5:52]
RECORDING: Magnificent Beast
SOURCE: Burnside / Marchfourth Marching Band - #M4MB 004
INFO: CDbaby.com, also available at Amazon.com, iTunes, or Emusic.com
ARTIST: Red Baraat
WORK: Horizon Line [3:58]
RECORDING: Gaadi of Truth
SOURCE: Sinj Records - #SIN-CD-12015
INFO: redbaraat.bandcamp.com
ARTIST: My Brightest Diamond & Detroit Marching Band
WORK: Pressure [3:57]
RECORDING: This Is My Hand
SOURCE: Asthmatic Kitty - #56103
INFO: asthmatickitty.com
ARTIST: Kenny Wollesen & the Himalayas Marching Band
WORK: Bear Away Yankee [5:35]
RECORDING: Son of Rogue's Gallery: Pirate ballads, Sea Songs & Chanteys
SOURCE: Anti 86904
INFO: anti.com