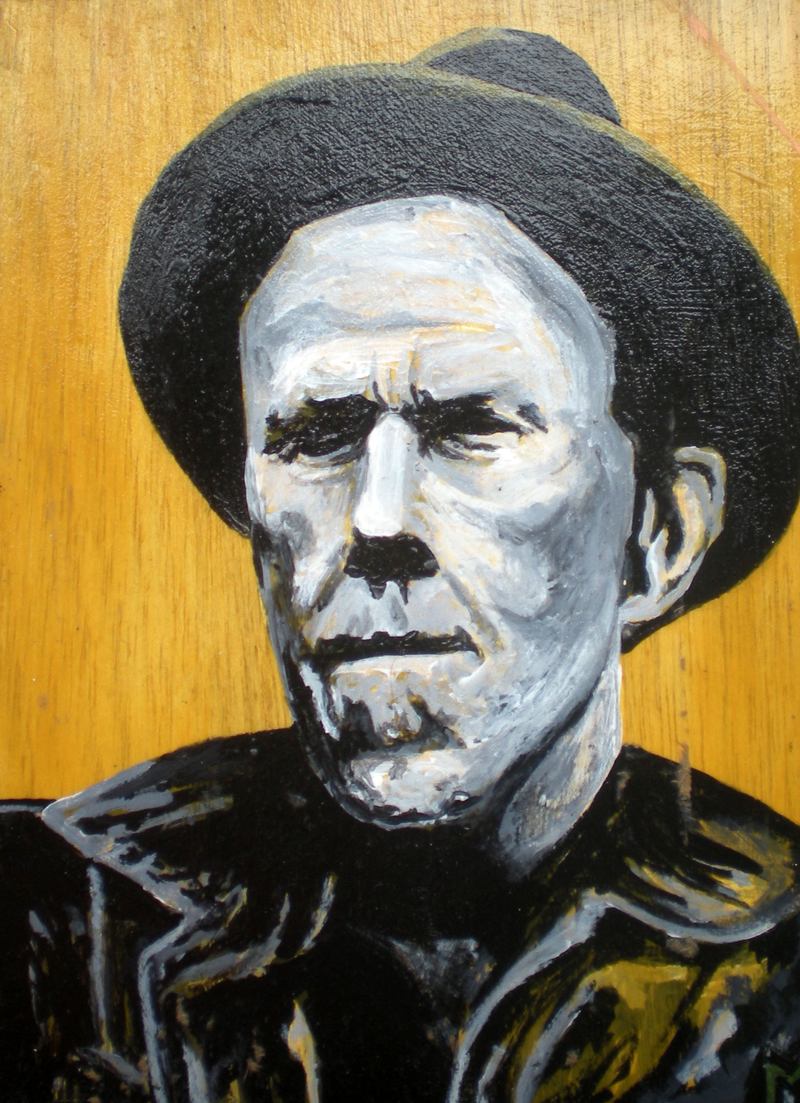 On this program, we devote an hour to the music of Tom Waits, sampling his distinctive voice and musical soundworld. The American singer/songwriter/multi-instrumentalist and actor falls neatly into the New Sounds wheelhouse where carnival music, cocktail bar music, the stuff of children's nightmares, art song, jazz, and rock intersect. From the unmistakable version of his song, "Way Down in the Hole"- covers of which ran during the title sequences of each season of HBO's "The Wire"- to his singing along to Gavin Bryars' hypnotic lament in "Jesus' Blood Never Failed Me Yet," to musical plays co-written with Kathleen Brennan, and even Disney songs, listen to an hour of music from Tom Waits.
Hear the Tom Waits version of the work song, "Heigh Ho!" from Disney's Snow White, a few excerpts from his early recording, "Closing Time," as well as highlights from his Faustian musical stage work The Black Rider – a collaboration with director Robert Wilson and librettist William Burroughs. There's also music from a collaboration by the English composer Gavin Bryars and the mezzo-soprano Jess Walker, "Mercy and Grand," a project exploring music of Tom Waits. Plus, listen to Waits render his raspy "Innocent When You Dream," the almost cookie-monster throaty drunk-like voice combined with pump organ, bass, banjo, and piano from a collection of live recordings - the Bridge School's Benefit Concerts. Then jazzers Aaron Shragge, Brandon Bernstein, and Matt Otto (featuring Greg Leisz on pedal steel guitar) take on Waits' "Innocent When You Dream," and musician Taylor Haskins takes on "Take It With Me" on melodica. And more.
PROGRAM #3682 The Art of Tom Waits (First aired on 1/13/2015)  
ARTIST: Tom Waits
WORK: Way Down in the Hole, excerpt [1:00]
RECORDING: Franks Wild Years
SOURCE: Universal/Island - #2404
INFO: kingsroadmerch.com
ARTIST: Tom Waits
WORK: The Black Rider [3:17]
RECORDING: The Black Rider
SOURCE: Island - #CID 8021 (Universal)
INFO: Available at Amazon.com (Auto-Rip) or iTunes
ARTIST: Blind Boys of Alabama
WORK: Way Down in the Hole (Tom Waits) [2:56]
RECORDING: Spirit of the Century
SOURCE: RealWorld/CEMA / Real World Records - #CDRW 95
INFO: realworldrecords.com
ARTIST: Various Artists: Tom Waits
WORK: Heigh Ho! [3:31]
RECORDING: Stay Awake: Various Interpretations of Music from Vintage Disney Films
SOURCE: A&M #CD-3918
INFO: available for purchase at Amazon.com
ARTIST: Gavin Bryars, ft. Tom Waits
WORK: Jesus' Blood Never Failed Me Yet, radio edit [3:50]
RECORDING: Bryars: Jesus' Blood Never Failed Me Yet
SOURCE: Point 438-823. Amazon.com
INFO: Also, visit gavinbryars.com for info.
ARTIST: Tom Waits
WORK: Ol' 55, excerpt [:15]
RECORDING: Closing Time
SOURCE: Elektra - #755960836
INFO: kingsroadmerch.com
ARTIST: Tom Waits
WORK: Ice Cream Man, excerpt [:30]
RECORDING: Closing Time
SOURCE: Elektra - #7559608362 
INFO: kingsroadmerch.com
ARTIST: Jess Walker
WORK: Tom Waits, arr. Gavin Bryars: Broken Bicycles [4:00]
RECORDING: Mercy and Grand
SOURCE: GB Records BCGBCD18
INFO: Available at Amazon.com | Info at: gavinbryars.com
ARTIST: Tom Waits
WORK: the Briar and the Rose [3:50]
RECORDING: Black Rider
SOURCE: Island - #CID 8021 (Universal)
INFO: Available at Amazon.com (Auto-Rip) or iTunes
ARTIST: Jess Walker
WORK: Barbara Allen [3:31]
RECORDING: Mercy and Grand
SOURCE: GB Records BCGBCD18
INFO: Available at Amazon.com | Info at: gavinbryars.com
ARTIST: Jess Walker
WORK: Tom Waits, arr. Gavin Bryars: the Briar and the Rose [3:31]
RECORDING: Mercy and Grand
SOURCE: GB Records BCGBCD18
INFO: Available at Amazon.com | Info at: gavinbryars.com
ARTIST: Brandon Bernstein, Aaron Shragge & Matt Otto
WORK: Blue Valentine (Tom Waits), excerpt [:47]
RECORDING: Innocent When You Dream
SOURCE: Jazz Collective
INFO: cdbaby.com
ARTIST: Various Artists: Tom Waits
WORK: Innocent When You Dream (Live) [5:04]
RECORDING: Bridge School Collection, Vol. 1 (the 80-song collection)
SOURCE: Digital only Available at iTunes
ARTIST: Brandon Bernstein, Aaron Shragge & Matt Otto
WORK: Innocent When You Dream (Tom Waits) [2:49]
RECORDING: Innocent When You Dream
SOURCE: Jazz Collective
INFO: cdbaby.com
ARTIST: Taylor Haskins
WORK: Take It With Me (Tom Waits) [3:04]
RECORDING: Fuzzy Logic
SOURCE: Sunnyside - #SSD-CD-1296
INFO: sunnysiderecords.com