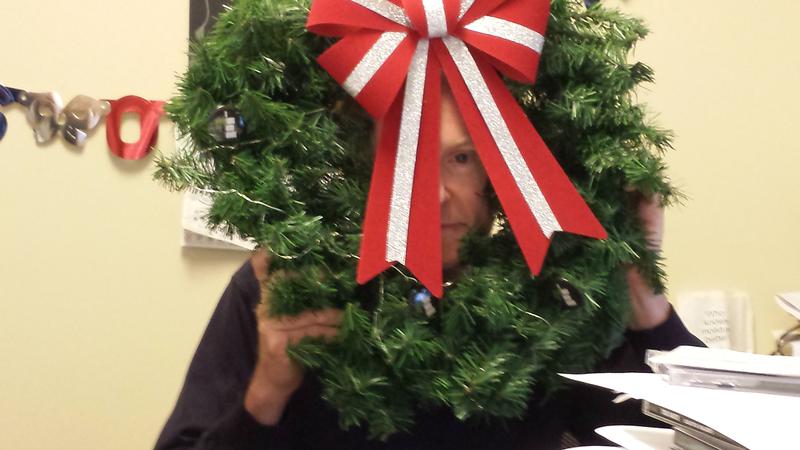 Listen to music of the season this Christmas, New-Sounds Style, with banjo, zither and theremin, piano insides, plus viola and electronics...in the service of some holiday classics. 
To be sure, there will be a few "Jingle Bells", "Silent Nights", and other Christmas carols from the likes of Tony Trischka, Tribecastan, Joshua Bell and Friends. Listen to conflicted holiday song from the jokesters violinist Aleksey Igudesman, pianist Hyung-ki Joo, and violinist Joshua Bell, titled "Christmas Confusion," which mixes both Jewish and Christmas traditions. It's a clever mashup of "Silent Night" with "Jingle Bells," "Hava Nagila" and even "The Dreidel Song."
Hear "Good King What's His Name" from the world-inflected downtown musicians known as Tribecastan. Plus, banjo player Tony Trischka and Turtle Island String Quartet take on "Angels We Have Heard On High." Then listen to our Q2 Music colleagues violist Nadia Sirota with composer/producer Alex Overington quote another carol from their "Golden Hours." There's also an arrangement by London group Mediæval Bæbes of a Swedish-Finnish Christmas carol from the 16th Century. Then, sample a seasonal work from Irish composer/guitarist Dave Flynn – his "Winter Snowflakes ," dedicated to Kate Bush. And more.
PROGRAM #3677 New Music for Christmas (First aired on 12/24/2014) 
Artists: Joshua Bell, violin; Aleksey Igudesman, violin; Hyung-ki Joo, piano
Christmas Confusion [4:07]
Recording: Musical Gifts | Joshua Bell and Friends
Source: Masterworks - #88883762832 joshuabell.com

Artist: Tribecastan
Title: Good King What's His Name [3:15]
Recording: Coal, Again
Source: evergreene.bandcamp.com
Artists: Tony Trischka & Turtle Island String Quartet
Title: Angels We Have Heard on High [3:46]
Recording: Glory Shone Around: A Christmas Collection
Source: Rounder - #ROUCD 0354
Info: Out of print, but available as a download, Amazon.com OR Amazon.com will burn you a CDR.
Artist: Mediaeval Baebes
Title: Gaudete [2:23]
Recording: Of Kings & Angels: A Christmas Carol Collection
Source: mediaevalbaebes.com
Artist: Dave Flynn
Title: Winter Snowflakes, dedicated to Kate Bush [8:46]
Recording: Winter Variations
Source/Info: daveflynn.bandcamp.com

Artists: Nadia Sirota, viola & Alex Overington
Title: Golden Hours [5:22]
Recording: Bedroom Community Gold Yule 2014
Source/Info: bedroomcommunity.bandcamp.com
Artist: Lambert Orkis
Title: George Crumb: Canticle of the Holy Night (Little Suite for Xmas AD1979)
Recording: Songs, Drones and Refrains of Death
Source/Info: Bridge Records 9028 bridgerecords.com
Artists: Nadia Sirota & Alex Overington
Title: In Christmas [:47]
Recording: Q2 Advent Calendar
Source: Q2music.org
Artists: Curtis MacDonald, Nadia Sirota & Alex Overington
Title: Christmas Phase [1:29]
Recording: Q2 Advent Calendar
Source: Q2music.org
Artist: Tribecastan
Title: Jingle Bells [9:09]
Recording: Coal, Again
Source: evergreene.bandcamp.com
Artist: Dave Flynn
Title: Winter Storm, dedicated to Brian Eno, excerpt [1:00]
Recording: Winter Variations
Source/Info: daveflynn.bandcamp.com