Last Chance Foods: Wild Edibles
Foraging may seem like a foreign skill to urbanites, but that's not the case for some intrepid cooks. Foodies Marc Matsumoto and Jonathan Landau are leading a small group of New Yorkers up to a Bronx park this weekend to forage for tender young fiddlehead ferns, stinging nettles, and ramps, the popular spring onion.
Matsumoto and Landau stopped by WNYC before their trip to chat with Amy Eddings about what wild edibles are in season now, how to find them — and how to make sure you don't get poisoned in the process.
"The one thing you have to be really careful about [with ramps is that] there is a similar looking leaf called a daylily, which is toxic," says Matsumoto, whose blog, No Recipes, encourages cooking using local ingredients. "The way you can tell them apart is the smell. When foraging, that's often a great way to be able to tell the good ones from the bad ones. The ramps have a very distinct garlicy-onion smell and you're not going to get that with the daylily."

Landau, who founded Lab 24/7, a nonprofit community event group, enlisted Matsumoto last year to help lead "Forage and Feast," the scavenge and cooking event that is now in its second year. The lifelong food-focused Matsumoto grew up in Califonia, where he would regularly pick morrell mushrooms.

Both Landau and Matsumoto dismiss concerns about pesticide use, and point out that they forage in a relatively untamed portion of parkland, an undisclosed location along a river. They do make sure everything they gather is washed thoroughly and cooked. They also advise wearing gloves to gather stinging nettles, which have an acid in the leaves that can cause a vicious rash. The toxic needles fall out when cooked, though, and the greens are particularly healthful, says Matsumoto.

While this weekend Forage and Feast is booked full, Lab 24/7 will be holding another culinary event, Cooklyn Improv, on May 15.

Matsumoto's recipe for sunchoke ramp and nettle soup is below.

Sunchoke Ramp and Nettle Soup Recipe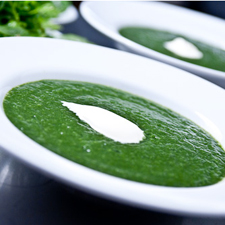 by Marc Matsumoto, No Recipes
1 lbs sunchokes  peeled and roughly chopped
2 1/2 C low sodium vegetable or chicken stock
1 lbs ramps  roughly chopped
5 oz cleaned and blanched stinging nettles
salt to taste
creme fraiche

1. Add the sunchokes and stock to a stockpot. Cover and simmer over low heat for about an hour, or until the sunchokes are very tender.
2. Add the ramps and nettles and cook for another minute or two until the ramps are a bright green in color and the nettles are warmed through.
3. Transfer to a glass blender and blend the nettle soup until smooth and bright green. Salt to taste then pour the green soup into 4 small soup bowls.
4. Top with a dollop of creme fraiche per bowl and serve with some crusty bread, toasted and rubbed with a raw clove of garlic.