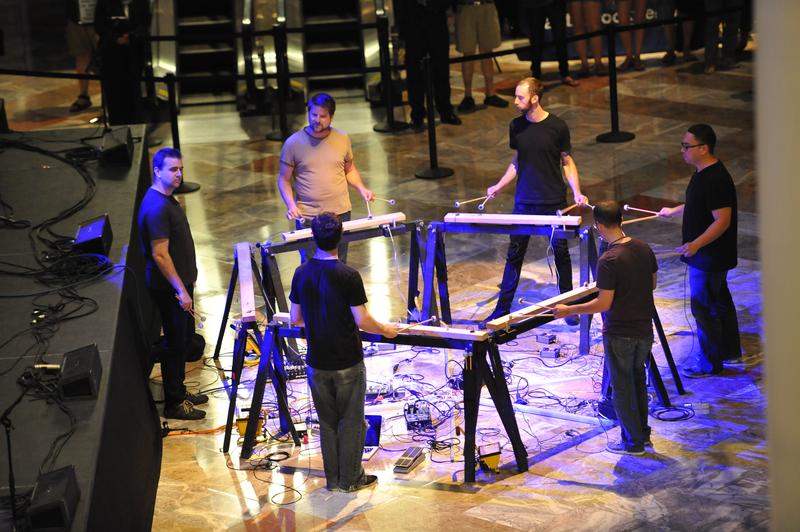 New Sounds takes a beating tonight with music from Mantra Percussion, a superhuman group committed to pounding out new works and expanding the percussion repertoire. Listen to "Science is Only a Sometime Friend," a ringing chiming work for percussion and organ by Aaron Siegel. Then hear something new from percussionist/composer David Van Tieghem, who has worked with Steve Reich, Laurie Anderson, Brian Eno, Talking Heads, and the Love of Life Orchestra, to name a few. His latest venture was based on recorded improvisations on a series of objects, which he then distributed to ten musicians. They, in turn, manipulated the recordings and returned them to Van Tieghem, who then finished them into compositions. Have a look-see, below.
Also, hear music from Steve Schick, the remarkable San Diego-based percussionist playing music by John Luther Adams from a New Sounds Live concert. Plus, listen to a new work from drummer/composer David T. Little, written for and commissioned by Third Coast Percussion, which looks to a tragic 1981 massacre at El Mozote, El Salvador. And more.
PROGRAM #3557– Percussion Plus  (First aired on 1/24/2014) 
ARTIST: Steven Schick
WORK: John Luther Adams: The Mathematics of Resonant Bodies, Shimmer [9:04]
RECORDING: New Sounds Live, 2004
SOURCE: This recording not commercially available. 
INFO: Cantaloupe Music released the work in 2006:
CA21034 cantaloupemusic.com
ARTIST: Mantra Percussion
WORK: Aaron Siegel: Science is Only a Sometime Friend, excerpt [8:23]
RECORDING: Science is Only a Sometime Friend
SOURCE/INFO: locksteprecords.com

ARTIST: Bwazan
WORK: An Ka Foli Ke [0:13]
RECORDING: Lost in Mali
SOURCE: Riverboat Records
INFO: allmusic.com and found on Amazon
ARTIST: Third Coast Percussion
WORK: VI. ...and there was morning - the Second Day [6:15]
RECORDING: Haunt of Last Nightfall
SOURCE: New Amsterdam Records 054
INFO: newamsterdamrecords.com
ARTIST: Steven Schick & Maya Beiser, cello
WORK: Nick Didkovsky: Caught by the Sky with Wire, excerpt  [3:21]
RECORDING: Caught by the Sky with Wire
SOURCE: OO Discs #0067
INFO: Out of print.  But try Amazon.com or auction sites.
ARTIST: Robin Schulkowsky, Frederic Rzewski, piano
WORK: Christian Wolff - For Morty [6:12]
RECORDING:  Christian Wolff: 8 Duos
SOURCE: New World Records 80734
INFO: newworldrecords.org

ARTIST: New Music Consort
WORK: John Cage and Lou Harrison: Double Music [6:37]
RECORDING: Pulse
SOURCE: New World Records #80405
INFO: newworldrecords.org

ARTIST: David Van Tieghem x Ten
WORK: Slippery Slope, excerpt [4:22]
RECORDING: Fits & Starts (FRKWYS Vol. 10)
SOURCE:   Rvng Intl  FRKWYS10
INFO: igetrvng.com or download from Emusic.com

ARTIST: Tigue
WORK: thank you mister z [6:12]
RECORDING: Soundcloud
SOURCE: soundcloud.com/tiguemusic
INFO: tiguemusic.com