For this week's food segment, we sit down with our friend Kim Severson, food writer for our partner The New York Times, and star of such past Takeaway cooking segments as "The Girl Scout Cookie Smackdown" and "Food Writers Compete to Feed Six for Fifty Dollars."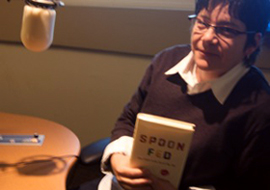 But while regular listeners know Kim as wacky and inventive, readers of her new memoir, "Spoon Fed: How Eight Cooks Saved My Life," will find that she's also incredibly introspective and brutally honest about everying from her struggles with addiction to the battles she's waged with self-acceptance. Kim shares some of the life lessons she's learned through her love of food, and some recipes as well.
My mother's spaghetti and meatballs (with some tweaks from her know-it-all daughter)
FOR THE MEATBALLS:
2 pounds ground beef
1 cup fresh breadcrumbs made from two or three slices of dense, course bread, crusts removed
1/2 cup finely grated Parmesan cheese
1 heaping tablespoon fresh chopped basil
1 heaping tablespoon fresh chopped parsley
1 teaspoon kosher salt
1/2 teaspoon black pepper
1/8 teaspoon ground cayenne pepper
2 cloves garlic, minced
2 eggs
2 tablespoons olive oil
Mix all ingredients except olive oil by hand in a large bowl, using a light touch.
Take about 2 1/2 ounces of meat in hand and roll between palms to form a ball that is firmly packed but not compressed. Each should be about two inches—bigger than a golf ball but smaller than a tennis ball.
Heat the olive oil over medium-high in a large, heavy pot that will be later used for sauce. When it shimmers, add the meatballs in batches. Don't crowd the meatballs. Allow them to brown well on the bottoms before turning or meatballs will break apart.
Continue cooking until browned all over. Don't over cook. Remove them to a plate as each batch is finished.
Allow meatballs to cool slightly, cover and refrigerate until sauce is ready.
Yield: About 16 meatballs. Recipe can be halved.
FOR THE SAUCE:
1 pound pork spareribs, neck bone or pork chop
1 pound chuck roast, blade steak or brisket
Salt and pepper for seasoning the meat
1 medium onion, chopped small, or about three quarters cup
2 cloves minced garlic
1 6-ounce can tomato paste
1 teaspoon dried oregano
1 tablespoon dried basil
1 teaspoon dried red pepper flakes
2 teaspoons kosher salt
1 bay leaf
1 28-ounce can crushed tomatoes, Italian if possible
1 28-ounce can tomato sauce or 1 26-ounce carton of Pomi strained tomatoes
1/2 teaspoon sugar
2 tablespoons fresh parsley, roughly chopped
4 small or 2 large jarred pepperoncini
Sprinkle salt and pepper all over the beef and pork.
Using the same pot and remaining fat from cooking the meatballs, brown the meat quickly and remove.
Turning heat to medium, add the onions and cook three minutes, stirring.
Add the garlic and cook another three minutes.
Add tomato paste and stir, cooking the paste for a couple of minutes until it absorbs the fat and deglazes the pan.
Add the oregano, basil, red pepper, salt and bay leaf, stirring to combine.
Add the cans of tomatoes and sauce, then fill each can with water and add to the sauce.
Stir in sugar and parsley and pepperoncini, add back the two meats and any accumulated juices, and bring sauce to a gentle boil.
Turn heat down to a simmer, partially cover and leave the sauce to simmer for two and a half hours or more, stirring regularly.
About 20 minutes before serving, add back meatballs and allow them to heat through.
To serve, boil one pound of spaghetti according to package directions. Drain pan, add spaghetti back to pan and add three cups of sauce, or enough so all the spaghetti is generously coated.
Toss pasta in the hot pan for a minute, then put the pasta on a large platter. Pour two more cups of sauce over the pasta, then arrange meat and two meatballs per person.
Serve with a bowl of sauce and a bowl of Parmesan cheese to pass.
NOTE: Remaining sauce and meatballs can be frozen.
Yield: 6 to 8 servings.
_______
California Dip
1 envelope onion soup mix (I prefer Lipton's but others will do)
16 ounces sour cream
Reduced fat wavy chips (I prefer Ruffles)
Mix the soup mix into sour cream. Make sure to mix with enough enthusiasm to incorporate all the powdery brown bits.
Refrigerate over night or at least 8 hours.
Serve with chips.