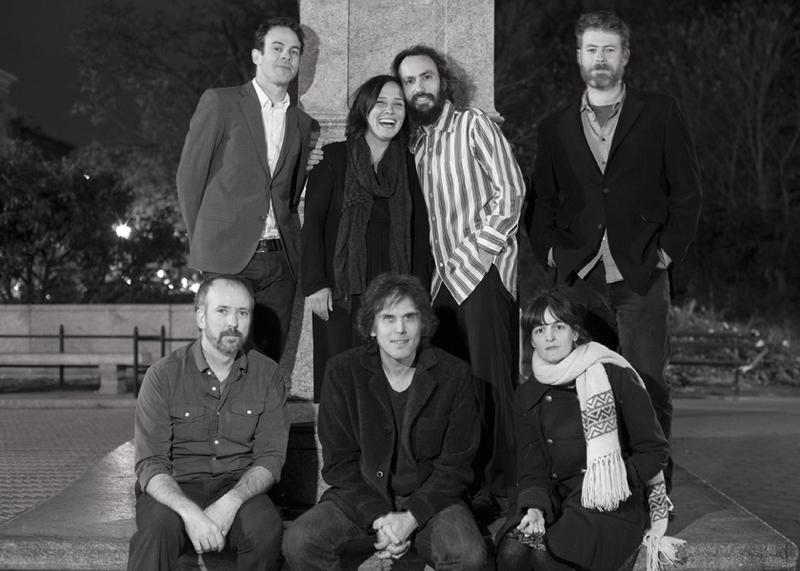 Listen to new music with old roots on this New Sounds program.  Hear from "Bella Ciao" by New York band Barbez, led by Dan Kaufman.  Inspired both by ancient Roman-Jewish melodies, Italian neorealist cinema,and more immediately, by the songs of resistance during the Nazi occupation of Rome by the Italian partisans of World War II.  The tunes weave European folksong, post-war classical, and experimental rock into heavy otherworldly protest cinema-scapes.
Also, listen to another bit of music with roots in WWII by the Kamikaze Ground Crew – a cover of music by Austrian composer Hans Eisler and German poet, playwright Bertolt Brecht, who were both banned by the Nazis in 1933.  Then, there's music from Sons of Kemet, a U.K. based quartet whose clarinet / saxophone play with Klezmer, while invoking the spirit of a second line meets Jamaica's nyabinghi drum cults. Also, klezmer-based music from clarinet virtuoso David Krakauer.  That, and so much more.
PROGRAM #3511– New Music, Old Roots (First aired on 9/19/2013)             
ARTIST: Various Artists: Synaulia
WORK: Baccus, excerpt [1:10]
RECORDING: Music From Ancient Rome, Vol. 1 Wind Instruments
SOURCE: Amiata Records ARNR 1396
INFO: Out of print.  But available as a download from iTunes & Amazon.com
ARTIST: Barbez
WORK: Yoshev Bester Elyon [5:07]
RECORDING: Bella Ciao
SOURCE: Tzadik 8180
INFO: tzadik.com
ARTIST: Kamikaze Ground Crew
WORK: Eastern Sunday 1935 [9:28]
RECORDING: Covers
SOURCE: Koch 7882
INFO: Out of print, but try Amazon.
ARTIST: David Krakauer
WORK: At The Rabbi's Table (Baym Rebns Sude) [5:14]
RECORDING: Klezmer Madness
SOURCE: Tzadik 7101
INFO: tzadik.com
ARTIST: Sons of Kemet
WORK:  Going Home [3:53]
RECORDING:   Burn
SOURCE: Naim Jazz naimcd195
INFO: naimlabel.com or download from Emusic.com, iTunes or Amazon
ARTIST: Kocani Orkestar
WORK: L'Orient est Rouge [6:07]
RECORDING: L'Orient est Rouge
SOURCE: Crammed Discs #craw19
INFO: crammed.be
ARTIST: Terem Quartet
WORK: Molchanov, Kirill – Waltz [3:39]
RECORDING: Classical
SOURCE: Carol 2347 / Real World
INFO: realworldrecords.com, or download from iTunes or Emusic.com
ARTIST: Kaila Flexer & Gari Hegedus
WORK: Elk / High Tide / Yetierre [6:52]
RECORDING: Teslim
SOURCE: TKFGH001 
INFO: kailaflexer.com
ARTIST: Mike Marshall w. Mike Manring
WORK: Gostosinho [3:50]
RECORDING: Brazil Duets
SOURCE: Adventure Music AM1021
INFO: adventure-music.com