10 Questions that Count: Our Census Briefing Notes
As you may know, we here at the Brian Lehrer Show are planning to cover the 2010 census as only we can – with a crowdsourcing, interactive project. We call it "10 Questions that Count," and we'll soon roll out a new website for your stories: about being counted, why you're hard to count, and how you define your community.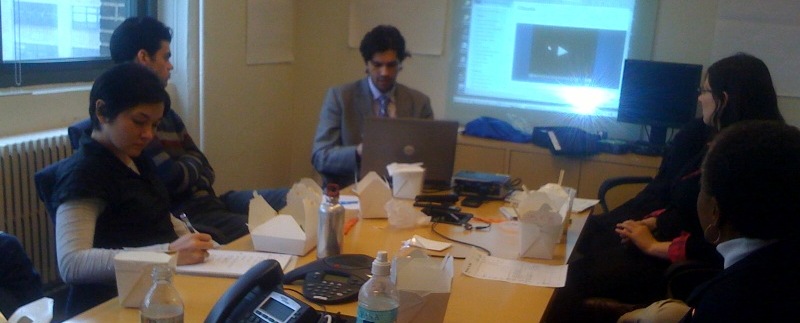 The Brian Lehrer Show team in the 9th floor conference room at the WNYC studios.
Earlier this week the BL Show staff received a briefing from a representative of the census bureau, to answer some questions and explain how the government is getting the word out about the 2010 census. We heard lots of interesting information, here are our miscellaneous takeaways:
Brian Lehrer, host: Deficit hawks take note: if you do not participate, it will cost you. Census estimates that for every one percent of the population that does not return the form, the government will have to spend $80-90 million on follow up.
Paige Cowett, producer: I'm really into the fact that the census is going 'on the road' in multiple ways. I like their literal road tour and the idea that they're interested in engaging people by gathering stories and images, not just numbers – as a way to get people excited about the count. I like that they're trying for culturally specific engagement – not just translation. And that they seem interested in pushing the idea that the process itself is pretty interesting – I love that they're going to do response rate maps in real time – so people can see the progress of the count. We'll see if it all works…
Chris Bannon, WNYC programming: I was intrigued by the various Be Counted sites around the country. As a show, we could get reports, live via phone, and perhaps establish some regulars we could check in with? Of course, New York area sites take precedence, but it would be nice to connect, say, the expat Chinese communities in NY and LA or Chicago and identify trends, etc. I was also struck by one of the web menu choices, Census on Campus. What are they doing on campus, and what can we do to highlight, explore, connect with our local campuses, BMCC, Queens College, etc.?
Jody Avirgan, producer: It's clear that the census bureau is taking outreach very seriously, and you have to admire how open they are about the process. That said, there is already legitimate pushback about perceived waste in the system, something we'll have to keep an eye on. But it also seems as if census outreach is about more than just raising awareness. This comes along at a moment where distrust of government is extremely high. The census folks will have to fight against that, and in some ways sell the very idea of government's role in order to get people to participate and support the efforts.
Lisa Allison, producer: I'd love to hear what bilingual listeners/readers think about the "culturally specific" outreach. We should look in to how it's different – and get stories of where is it sighted...
Kerry Donahue, WNYC programming: Two things related to how the Census team is reaching out to communities particularly interested me. First, the Census folks mentioned partnering with key, trusted figures in "Hard to Count" areas – at some point they said they had more than 6000 partnerships formed (which I think was national), with about 100 here in NYC. Second, they mentioned that there's a significant push toward "faith-based" organizations because of the pivotal role that many religious organizations play for immigrants or in "hard to reach" communities. Also interesting is that the form will NOT be available online because they could not guarantee security. However, they also made it clear they are not worried about fraud, specifically the possibility that someone would "game" an online form to over count certain populations.
What are your census briefing notes? What have you been hearing or reading that we should think about as we plan our coverage? Let us know!