Time Capsule Follow-Up – What will Obama actually change by 2012?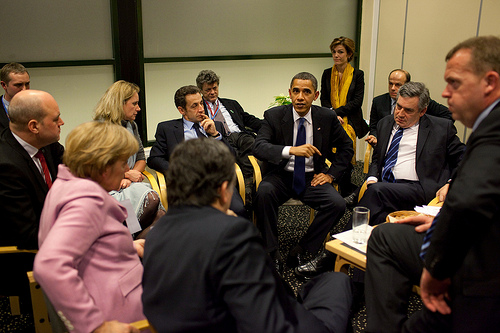 The day after the November 2008 Presidential Election, we asked you for your predictions of what President Obama will change by 2012. With the first year of his presidency behind us, we took a peek into the time capsule:
jeremy from NYC:
Close Gitmo! This can happen by February 2009, and will restore our international standing and restore the power of the rule of law.
One year in: President Obama issued a Presidential Memorandum on December 15, 2009 formally closing the detention center and ordering the transfer of prisoners to the Thomson Correctional Center in Illinois. However, as of January 2010 nearly 200 detainees still remain at the Guantanamo facility. Most of them have never been charged with a crime.
Antoinette from East Williamsburg wrote:
He'll end the Global Gag Rule.

One year in: Obama rescinded the Mexico City Policy, called the Global Gag Rule by critics, on January 23, 2009. This policy required non-governmental organizations in other countries that received U.S. federal funding to not perform or promote abortions.
Alan Robock from Manasquan, NJ wrote:
The number of nuclear weapons in the world will be reduced to about 1000, with the US and Russia each lowering their arsenals to about 200, the same as all the other nuclear powers. The possibility of nuclear winter will be forever prevented. A global agreement on nuclear disarmament will be under consideration and on its way to implementation
One year in: The Obama administration has started working on reducing nuclear stockpiles, but it's still early in the game. It started talks with Russia in May 2009 to renew the Strategic Arms Reduction Treaty of 1991. In a speech in Prague Obama has pledged to push for Senate ratification of an international treaty banning nuclear testing; work towards an agreement on halting production of weapons-grade uranium and plutonium; and strengthen the 1968 Non-Proliferation Treaty. The Nobel Committee cited Obama's nuclear agenda in its decision to award Obama the 2009 Nobel Peace Prize.
ralph from Morningside Heights wrote:
For the first time in 38 years, Amtrak will be taken seriously by both Houses of Congress under the stewardship of President Obama and Vice President Biden, and given the funds to provide services beyond what is offered today,

One year in: The federal stimulus package, formally called the American Recovery & Reinvestment Act included $8 billion for high speed passenger rail.
Jacqueline from Manhattan wrote:
A new, female, pro-choice, supreme court justice.
One year in: In May 2009 President Obama nominated Justice Sonia Sotomayor to the U.S. Supreme Court seat opened by Justice Souter's retirement. Upon confirmation by the Senate in August 2009, she became the Supreme Court's first Hispanic justice and its third female justice. Sotomayor's position on abortion isn't clear.
Come back tomorrow for more predictions!