Live Chat with Brian: President Obama's Afghanistan Speech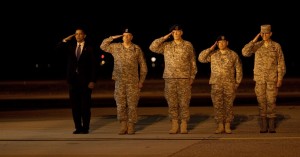 Tonight at 8pm, President Obama will give a major speech outlining a new strategy for the war in Afghanistan.

Listen to the speech on WNYC and WNYC.org (click on the Listen Live link to the left of this page), and join Brian Lehrer for a live chat below during and after the speech to share your reactions.

Special Panelists on tonight's chat include Steve Clemons of the New America Foundation and the Washington Note; Tony Karon, senior editor at Time.com and blogger at The Rootless Cosmopolitan; and YOU!

Chat goes live at 7:45pm EST on 11/01/09. Speech begins at 8. WNYC producers will moderate the chat, so be patient if you don't see your question/comment go up right away. If there is a high volume of comments, not all will be able to go live – thanks for understanding.