2009 30 Issues In 30 Days Nominating Process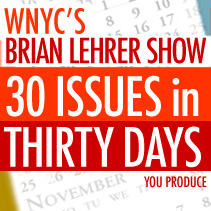 Note: The Nominating Process is Over. We're on to stage two: Voting!
Once again, we're asking you to help produce our election series 30 Issues in 30 Days, this time focusing on the New York Mayoral race and the New Jersey Gubernatorial contest.
Stage one is the nominating process. If you haven't nominated a topic for us to cover, do so here.
On this page, in true open-source fashion, we'll regularly update the topic submissions we receive for all to see. The nomination process ends September 8th, then it's on to the voting! Here's some of what we've received so far...
Issues for the NYC Mayoral Election
1. Sidewalk Sexual Harassment Nubia from Harlem:
Someone needs to get the message out to men that women don't want to hear their nasty comments when walking down the street to go to work or the grocery store or to hang out with friends or wherever. We live in a world where women are attacked, raped, beaten, and murdered by men everyday. Because women understand this reality very well sidewalk sexual harassment makes NYC a very frightening and hostile environment for women. I want my mayor to do something to make women feel more comfortable in this city. I've considered moving out of NYC because the sexual harassment here is so bad. Sexual harassment is a crime in the workplace, why isn't it a crime on the sidewalk?
2. Why Aren't Principals Hiring Teachers?
Erica from the Bronx:
I'm a parent, and know that there are great teachers that don't have jobs. But I read in the NYtimes that principals are not hiring teachers. Why not? What can parents do to help? Not hiring teachers, only increases unemployment in the city.
3. Development at what Cost?
Alan from TriBeCa:
Mayor Bloomberg has been an advocate of almost unfettered development in New York City. How important is continuing the building boom to the city's economy, and how much does development compromise the character and style of life of the city?
4. Out of Control Development
Will from Glendale:
During the housing boom/bubble, the city rezoned many blocks and neighborhoods to allow for gargantuan new luxury housing developments, but without adequate safeguards for the residents and other stakeholders in those neighborhoods in case the development went bust. Now we have half-finished building projects scattered all over the city, for example along the waterfronts of Williamsburg, Greenpoint, and Long Island City, with no resolution in sight for the sites. What will the next mayor do about these sites? Is there public authority and money to take them over and make them into affordable housing? Or even to secure them? And what about the next boom that we hit -- how do we prevent this from happening again? Can we force developers to post a bond with the city so that if projects are abandoned there are plans and funds in place for someone else to fix their mess?
5. Small businesses in NYC
Gloria from Ridgewood:
How many small businesses have shut their doors in the past year and how is the City Administration aiding those who are losing ground due to decrease demand, increased rents and layers of taxes and regulations?
6. Affordable Housing ... and Street Cleaning
Jeof from Astoria:
I live in Astoria and, seemingly, there is a new high-rise building being built every other month. The landscape of my neighborhood has changed greatly in the past 5 years. What is being done to ensure that most of these high rises, if not all, will allow affordable housing for the community. The demographics of Astoria has changed as well and I fear that most lower income citizens are being forced to, essentially, leave the neighborhood. Also, with all of these high-rises, can we get a break on street cleaning rules? On most blocks, there are FOUR days of street cleaning and makes it an issue for cars to find parking during these times. Construction materials and vehicles effect the space we have for months at a time, as well.
7. Term Limits
Anonymous from TriBeCa:
Absolute term limit for the city councilman and the mayor, I prefer a term limit of 3 terms for councilman and 2 terms for Mayors, and no loopholes, no way to vote again on it.
8. Affordable Housing
Tim from Fordham:
Rental housing that actual working people can afford. Billionaires don't have a clue. Where are new Mitchel-Lama-type (sp?) rentals being built to replace those being aged out (having fulfilled their contract). Instead allowing yet another luxury building because it has 10% 'affordable' apartments. (After all, aren't 90% of our residents - including teachers living in luxury?
Also note: After the Rent Guidelines Board allowed high increases due to the oil spike, how come rent stabilized apartments didn't get a decrease the next year? (I'm not joking.)
9. Eminent Domain
Matt from Forest Hills:
A city where the government takes someone's home and hands it over to a private developer is not the city I want to live in. This is a topic which everyone seems to agree on, yet we seem unwilling to hold our elected officials responsible.
10. Mayoral Control of City Schools/Privatization
Kate from the Lower East Side:
Has privatization/mayoral control been good or bad for city schools? My vote is that it has been very bad. Teachers are having a supremely difficult time teaching their students anything but how to study for standardized testing. This is terrible for education. Hands-on learning is disappearing.
11. Long Term Planning for Transportation Diversity
Mark from Queens:
After the failure of congestion pricing and the current MTA budget trouble, it's important we know what each mayoral candidate plans to do to implement a long term sustainable transit system in NYC. This is an important issue for many New Yorkers who depend on public transit. As it stands right now, fares will rise again in the next year or 2 and we will see little improvement in service. If commuters abandon public transit for cars, it will become more dangerous for bikers and pedestrians.
12. Policing Quality of Life Issues
Seth from Washington Heights:
NYC has seen a dramatic drop in serious crime over the past decade and beyond. See almost any COMPSTAT (NYPD stats report for each precinct) and their are improvements. There is though, an apparent rise in quality of life issues: loud music, traffic related to double parking, kids in the subways causing mischief, etc. These require a more sensitive approach on the part of the police force with many communities. How will/should the next mayoral term handle these challenges?
13. Biking as Transportation in NYC.
Jenna from Greenpoint:
I think that we need to discuss whether the city will encourage biking as transportation. If they want to do so, they must provide as much bike parking as there is car parking in the city. Bikes lanes, and legislation to mandate companies to allow bikes in buildings would help.

I think transportation is one of the biggest issues in the city. This could also be discussed under public transportation.

In a city where only the rich can drive cars, why do we privilege cars?
14. Issues Affecting People with Disabilities
PJ from Prospect Lefferts Gardens:
I work as an advocate for people with disabilities and it has made me aware of several problems in the city that are rarely discussed. There are many issues that people with disaiblities face every day in NYC that the Mayoral candidates need to address:
1) transportation-our subway system doesn't come close to being accessible for people with disabilities 2) Access-a-ride still needs some tweaking, but is also under attack due to it's high cost (the MTA had proposed to double the fares for this service during the fare hike discussions) 3) even the curb cuts aren't fixed in a timely manner and I see people with disabilities having to cross into traffic, just to get across the street because the curb cut is broken
4) there are only a few accessible taxis and now to get one, you're supposed to call 3-1-1 and people are waitng hours at a time to get a taxi. How does someone with a disaiblity get from the airport to their destination?

Housing: Affordable housing is in short supply for everyone, but affordable and ACCESSIBLE housing is the holy grail in nyc. Programs like the Disability Rent Increase Exemption (DRIE) help more people w/disaiblites stay in their accessible apartments, but the current income eligibility is very low and should be the same as the program for seniors (SCRIE) so that more people with disabilities stay where they are instead of becoming homeless or having to move to nursing homes simply because they can't get out of thier apartments.

I could go on about general building accessiblity, voting, employment, education... These are important issues that are rarely get any media coverage and should. The candidates for Mayor should address the concerns of people with disabilites and it would be fantastic if your show would take this on!
15. Mayor Bloomberg Channelling Poor Children to Prison
Bridget from Woodlawn:
Mayor Bloomberg removes the transparency for who is awarded contracts in NYC, then he gives Greenberg Traurig, one of the top lobbyists in the nation, a contract to operate Herbert G. Birch Family Services special education daycare centers for poor, Black, and Latino children who are on welfare. But Greenberg Traurig lobbies the government for George Zoley (The GEO Group) to operate America's prisons as private prisons, then George Zoley trades the prisoners on Wall Street. Therefore, because the majority of children in special education end up in prison, and because Greenberg Traurig owns the special education daycare centers and also lobbies for George Zoley's private prisons, Greenberg Traurig is channeling poor, Black, and Latino children to George Zoley's private prisons to trade them on Wall Street when they grown up and become criminals as juveniles and as adults. And because Mayor Bloomberg gives the contract to Greenberg Traurig to operate the special education daycare centers, Mayor Bloomberg is channeling poor, Black, and Latino children to prison. This is important to me because I owned a home daycare, and after I figured out what Mayor Bloomberg is doing, I wrote and outlined it to me in more detail. Bloomberg sends Carl Rockhead (4047 Baychester Ave, Bronx) to tell me that I need protection because it is the Illuminati who are operating the private prisons. When that did not scare me, he sends John Alpha Brown-1228 Vyse Avenue, Bronx (347) 301-3739-a member of the Seventh-day Adventist Church, and someone I know since childhood, to ask me what I wanted and Mr. Brown tells me that he (Mr. Brown) does not think everyone should pay for what one or two persons do. I did not 'want' anything, so Bloomberg captured and channeled me to Dr. Roger Wolfsohn at Gracie Square Hospital in Manhattan who took me to court for refusing to take Rispaldia because, according to Dr. Wolfsohn, I am 'delusional for saying Mayor Bloomberg...[is] channeling poor, Black, and Latino children to prison.' An independent psychiatrist and the judge allowed me to leave the hospital on my own because I am sane. This is important to me because everyone I have tried to tell dismisses it because Bloomberg is a billionaire and the most powerful man in NYC. Our children are at stake! It should be included in your series because Bloomberg keeps his hold on NYC's Cradle to Prison Pipeline by having mayoral control of the public schools in order to channel the children from special education in daycare through special education in the public schools to prison. If he is re-elected a third term, he will give the contracts to The GEO Group to operate NYC's prisons as private prisons, and Bloomberg, Greenberg Traurig, and George Zoley will trade our poor, Black, and Latino children as prisoners on Wall Street. Our children are on track for prison in daycare!!!....before they have a chance to learn anything!!!
16. Mayoral Control of Schools
Judith from Riverdale:
What has mayoral control of schools accomplished?

Joel Klein is not an educator. Is he anything more than a technocrat? Where is the child-centered vision for the schools? In what ways has the current approach of focusing on measurable but superficial items such as test scores or school-violence-incidents improved teaching and learning in the city? In what ways have abstract notions of small schools, central registration or high school admissions forms been better than actually improving local schools? Why have the mayor and chancellor been so condescending to parents and children?

What does the democratic candidate plan to do?
17. Oversize Housing
Eileen from Douglaston, Queens:
I want to know why the city is letting people tear down One family Homes to build Four Family Homes, and letting them concrete all the surrounding property, which in turn may be causing flooding because there will be no more grass, srubs, or flowers to absorb the rainfall anymore.
18. Moving the City towards Zero Waste
Maggie from Inwood:
New York City has been subpar when it comes to garbage/resources management, and much of this rests at the feet of Mayor Bloomberg. Numerous countries, states, and municipalities have goals (usually 10 or 20 years) to implement programs, legislation, incentives to move their jurisdictions towards Zero Waste (i.e., no incineration, no landfilling, no export of trash or recyclables). New York City collects only about 15% of its discards for recycling. The other 85% is exported. Meanwhile, since California cities have been required to recycle/compost at least 50% (state law) they do and some are over 60%. I was co-author of a Citizens' plan for zero waste in NYC a few years ago, co-authoring chapters on waste prevention and reuse. The City ignored this and has actually lost ground in its recycling rate since 2000 (it was close to 20% then). Despite being exemplary in some areas of environmental protection and enhancement, Mayor Bloomberg has failed to appoint visionary leadership at the Department of Sanitation or to even include any goal for improved prevention, reuse, recycling or composting in its PlaNYC for 2030. The link to the NYC citizens' Reaching for Zero plan is: http://geography.hunter.cuny.edu/~mclarke/ZeroReport2004.htm
19. Electronic Voting, Will my Vote Count?
William from the West Village:
Will my Vote Count?

During the rush to electronic voting I became very concerned about the integrity of electronic voting. I watched several demos of different voting machines including ballot marking devices (BMD)

At the last primary I decided to use the Ballot Marking Device. So I went to my un-crowded poling place and asked to use the BMD. The staff, republicans and democrats looked at me and said. "But you are not disabled just use the regular voting machines."

As I persisted they vigorously tried to dissuade me.
"Your vote won't be secret they said."
"Why is that, said I?"
"Well you are the only one who asked to use the BMD all day so we will know who you voted for."
"I really don't care said I."

So they finally took me to a poll staffer whose only job was to help with the BMD. It turned out that none of the three staffers really knew how to use the paper ballots that the machine would mark. So the four of us read the directions together, discussed and debated the process and finally they set up the machine and I voted, which was the easy part. Then they told me to fold the ballot and put it into a cardboard box with a slit on the top. And said at the end of the day my ballot would be counted. I did not leave with a high level of confidence that my vote would be properly handled and counted for my choices.

This year my postcard from the Board of Elections showed where I could vote and again noted there would be Ballot Marking Devices available.

There are many issues with electronic voting. Standards and methods not only change from State to State, but from county to county. Westchester does not vote as we do in New York City. Optically scanned paper ballots can work if proper universal procedures are in place, and the staff is well trained.

Banks know how to count and protect paper money, and electronic transfers, voting is at least as important. Talking about it will help to get it right.
 

Issues for the NJ Gubernatorial Race

 

1. Too Much Government
Joe from Somerville:
NJ has more governmental units per capita than any other state. As a result, we pay for a lot of unnecessary and duplicated services. Do the candidates want to fix this problem, or continue to pretend that it doesn't exist?
2. Too Many School Districts
Rachel from Matawan:
Why does almost every municipality and town in New Jersey have its own school district? This adds up to millions of unnecessary dollars being wasted on administrators rather than on students.
3. Public Transportation in Crisis
Laura from Nutley:
I live in NJ and work in NYC, but as a young working professional I also like to spend time in the city enjoying all that NY has to offer. Unfortunately public transportation is overcrowded during rush hour and limited during the weekend, and non-existant after midnight. Intra-NJ transportation is a joke. When will this issue be taken seriously. In Nutley where I live, we are a 15 minute traffic free drive into the city. But the traffic turns this trip into an hour or more, and it's a hassle to drive in the city. No one from NJ should feel like they don't have any option but to drive into NYC. We need to make it easier to access NYC via public transit at all hours and all days. It makes economical and environmental sense.
4. NJ Tax Structure
Joe from Somerville:
NJ has the worst tax system in the country: too much reliance on property taxes and wildly unfair differences in property tax rates between towns. I live in a (relatively)low-tax township, and even I think that the system should be fixed, even if it hurts me.
5. Education - Race to the Top
Anne from Chester:
Education spending is 1/3 of the state budget, in addition to the many millions provided to NJ through federal grants. The Obama administration has a discretionary Race to the Top fund available for the states, which they must compete for based on compliance with fed guidelines. What is each candidate's position on each of the four reform areas - standards and assessments, teacher quality and equity, data collection and use, and turning around failing schools? The US DOE has issued very specific proposed guidelines for the award of these discretionary grants. Will the candidates change state law/practices as necessary to compete?
6. Corruption
Joe from Asbury Park:
I would like to see a candidate address directly the relationship between corruption and bureaucracy in New Jersey. The plethora of townships and little islands of government (such as school districts and police forces) seems to manufacture irresistible opportunities for corruption. For the amount of taxes we pay in New Jersey, I would like to see the money used in social programs rather than being wasted through corrupt dealings.
7. Local Police Enforcing Immigration
Angeline from Passaic:
Different jurisdictions in NJ are currently engaged in 287g agreements with Immigration and Customs Enforcement (ICE). Under this program, local officials are trained to enforce federal immigration laws. This is bad policy for local law enforcement. It creates mistrust of police by communities of color, due to increased racial profiling (which NJ already has a history of), unfair extensions of detention time, and unnecessary deportations. I recently moved back to NJ from Alabama, where the state troopers have a 287g agreement. I saw the impact this had on the immigrant community there and was excited to move to a more progressive state with immigrant-friendly policies. The fact that this is happening in NJ, one of the top five states in terms of immigrant population, is an embarrassment to the entire state and the governor should seek every avenue available under the law to end these agreements.
 

Issues for NJ & NYC

 

1. Has American Politics become a Plutocracy?
Bruce from the Upper West Side:
'Plutocracy' is defined, according to dictionary.com, as 'the rule or power of wealth or the wealthy.' In NYC, we have twice elected pur richest citizen, who has poured 100s of millions of dollars into hos campaign. In NJ, the sitting governor is a wealthy Wall Street magnate. Have we become a plutocracy? Is it possible, or even beneficial, to control this sort of influence of private wealth in politics? As Fitzgerald has said, 'Let me tell you about the very rich. They are different from you and me.'' How are they different, and how has the viewpoint and experiences of billionaires like Bloomberg influenced their public policy decisions? (while this issue is germane to both races, it is more extreme in the NYC race, where there is a 'pipeline' back and forth between Bloomberg's private company, his foundation, and city government.)
2. Natural Gas Drilling in NYC/NJ Watersheds
John from Midtown, Manhattan:
The water supply of New York and NJ is at stake.
The process of hydraulic fracturing gas drilling is extremely dangerous and unregulated by the gov't due to loop holes drilled into EPA regulations by the oil industry interests of the last administration. As a former environmental engineer for the government this clever play by the energy industry (including T. Boone Pickens who has been meeting with local politicians of NYS & NYC this week) could very possibly end the protection of the supply of fresh drinking water feeding NY and NJ. This is possibly the biggest local story of our time and possibly of our children's if the water supply is damaged. The mayor and the governor may have the power to stop it. The short term financial reward, however may be to great. And, it will be great.
Is there an issue you think hasn't been represented? That's great, because you can still submit your issue here. The nomination process ends on September 8th, after which we'll put the topics up for voting. Until then, keep 'em coming!