WNYC-Listener collaboration wins Honorable Mention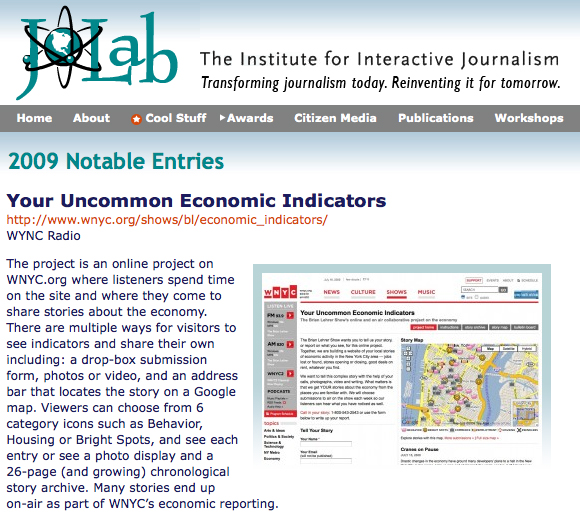 The cooperative effort between The Brian Lehrer Show and the WNYC audience over the past six months to gather anecdotes, photos, calls and videos and tell the less-reported story about the 2009 Recession, has been named a Notable Entry in the Knight-Batten Awards for 2009.  According to the J-Lab website:
The Knight-Batten Awards for Innovations in Journalism spotlight news and information providers who offer more than multimedia journalism. The awards honor novel efforts that seize and create opportunities to involve citizens in public issues and supply entry points that invite their participation or spark their imagination.
What we here at WNYC know is that, while we may have sparked the project, what gives it wings is the incredible thoughtfulness and interest of our listeners. Nearly 500 of you have contributed to Your Uncommon Economic Indicators so far. Thank you, and as we move through this difficult economic time, we look forward to working closely with you to tell this important story.
Sincerely,
Brian, Megan, Lisa, Jody, Paige and Annie