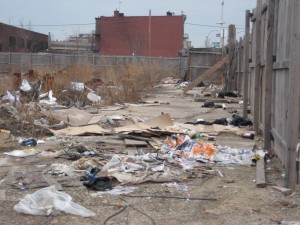 One of our recent contributors to the Uncommon Economic Indicators loves her view (see photo).
She writes, ' walking around my [Williamsburg] neighborhood, I see tons of empty lots that were formerly old factories and apartment buildings bulldozed to put more 'luxury condos' up. They were sprouting up like weeds until a few months ago. I am personally happy (as are many long time residents) to see open space with weeds and dirt rather than yet another glass box for rich kids to live in. '
That's truly a case of one person's trash being another's treasure. WNYC is going to take a closer look at this empty lot story and see just how widespread the halted construction projects are.
Once again, it's what you--our listeners--report back to us that helps create intelligent and thorough reporting. Thanks Jill!
Brian, Megan, Jody, Lisa, Paige and Annie