Confession of a Sugar Scammer
Dana sent this post to Your Uncommon Economic Indicators. We can only hope she feels better getting the news off her chest, but we have to wonder: is it really helping  anyone through this recession to save on sweetener?
Tell us what you think with a comment below, or add your own 'confessions of a penny-pincher' to Your Uncommon Economic Indicators project.
Recently I decided that purchasing Splenda for my at home use is a bit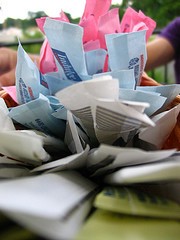 ridiculous.  Why do I need to do so when I spend $4 everyday at Starbucks and they give it out for free?
Therefore, I have begun to palm a few extra Splendas as I'm dressing my coffee.  My friend who works in food industry tells me the price of my loot is built into the coffee and urges me to stop self-flagellating.
Strangely enough,  I happened into a Sushi bar yesterday.  I ordered an iced tea and received some complimentary sweeteners.  All of the sweeteners were branded with  Dunkin Donuts on the back of each little pack.
I guess I'm not alone...