We recently received a call to our Uncommon Economic Indicators hotline (that's 1-800-543-2543 if you haven't already added it to your cell phone's speed dial) about a listener's shampoo bottle. Take a listen: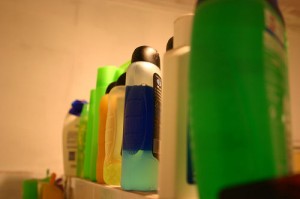 That's an uncommon (though unconfirmed) economic indicator if we ever heard one! So we followed up with a segment, asking for more stories of how product sizes and marketing were changing in the new economy. We got tons of great calls, posts to our comments page, and even a spirited discussion on our facebook page.
We also spoke with Tod Marks of Consumer Reports, also known as 'Tightwad Tod,' who confirmed that, yes, generally, companies are out to cut as many corners as you suspect they are. Take a listen to the discussion here:
Here's the on-air segment:
And, of course, keep your posts to the UEI homepage coming!