Your Uncommon Economic Immigration Indicators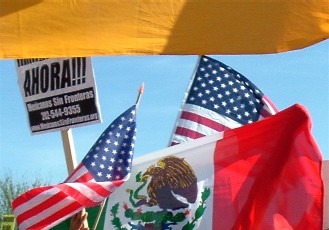 Listen to this segment from last week, when Brian opened the phones to callers who immigrated to the metro region. He asked them what kinds of changes they are seeing in this recession.
Gene is Columbian and he's considering moving back to Medellin.
Melini says more than half of H-1 workers she knows are laid off, but admits returning to India is not much of a better option.
Frimpon talked about how talk of returning to Ghana "is like a brush fire" but that going home empty-handed is humiliating, especially when remittances are a major source of income.
Rodrigo says Brazilians in his Mt. Vernon church have left and the congregation is half what it was a year ago.
Gabriella in Brooklyn is Argentinian. Her friends are buying land in New Jersey and southern states to start their own agricultural work.
Jimmy in Brooklyn came from Eastern Europe sees a lot of guys on the streets looking for work but hopes their determination will pay off like it did for him.
Add your voice and your story to our Uncommon Economic Indicators project. Write or call us, send us a photo or even send a video. We want to hear from you.