Your Uncommon Economic Indicators: Week 1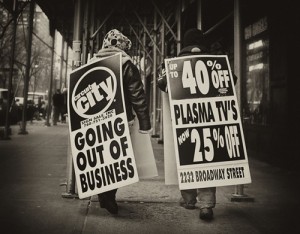 One week after the launch of our crowd sourcing project, we are happy to report that we received 132 submissions on everything from a surcharge on mayonnaise to very sobering news about layoffs of older, experienced employees. We asked listeners to take a look around and report back to us on how the economy is affecting them: and they delivered!
Browse our story map to see the range of submissions from the Jersey coast to the Catskills.
Many listeners responded right away with calls and posts on January 29th, the day we launched the project. Our guests that day were journalists from two New York City community papers: Charlotte Eichna of Our Town/ West Side Spirit and Matt Hampton from the Queens Chronicle. The two of them talked with Brian about what they have seen on the ground in the city since the financial crisis began.

Some of your stories gave us ideas for new segments on the Brian Lehrer Show.  Cathrine Ryan's post about a monster truck named 'The Broker' made us ask: Is 'Broker' a Dirty Word?

For the segment YUEI: Bright Spots, we invited Colin Young and Jane Kennedy to speak with us about the good economic indicators they have noticed. Colin reported that his Catskill rental home is booked as more New Yorkers take local ski vacations.  Jane reported seeing many more people in the Maplewood Library to take advantage of programs, the internet and, yes, free books.

Please keep the calls, posts, photos and videos coming! If you have any tips for surviving the slump, share them on our Bulletin Board. We look forward to hearing more about your Uncommon Economic Indicators.
Sincerely,
Brian, Nuala, Meg, Lisa, Jody, Paige and Annie