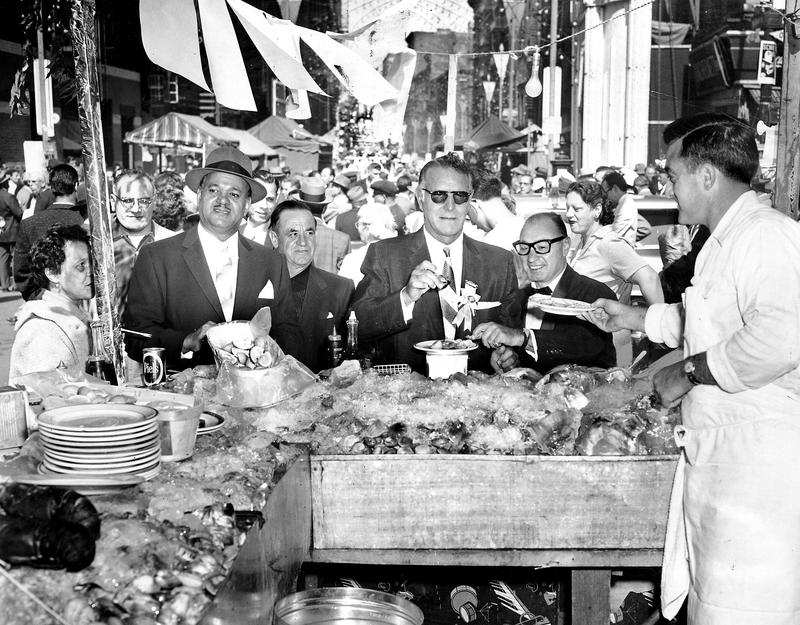 Summary
This episode is from the WNYC archives. It may contain language which is no longer politically or socially appropriate.
Carmine DeSapio, Secretary of New York State on the Mayoralty Campaign of November 1957.
DeSapio is first questioned about the Tammany Hall-lead "Permanent Personal Registration" process enacted for the first time this year. He speaks about a meeting between himself, Mayor Wagner, and other party leaders. He talks about ways the party has gotten word out regarding this new PPR process. Asked if they are "going after the Republicans too, or just Democrats" he counters that many Republicans support Mayor Wagner.

During the upcoming election DeSapio states that the only important theme for an election is what is important to voters: whether the elected officials represent the people. He clarifies the "actual achievements" of the Wagner administration, such as a greatly increased police force. He also speaks of efforts to improve traffic, parking, and street safety.

They go on to discuss the "crime and corruption" campaign being run by the Republican party. DeSapio denies that the Wagner administration is corrupt, though notes that no large party organization can be completely without some corrupt individuals. The Wagner administration is not mob run.

DeSapio is also asked about Brooklyn borough president John Cashmore and Lieutenant Governor George DeLuca.

Questions return to city issues, such as the decision to change transit fair to fifteen cents.

Finally, there is a discussion of political rumors regarding upcoming office changes, such as the prospect of Mayor Wagner running for governor in 1958.
Audio courtesy of the NYC Municipal Archives WNYC Collection
WNYC archives id: 33939
Municipal archives id: LT7676
Transcript
This is a machine-generated transcript. Text is unformatted and may contain errors.
Permanent registration or hurt the Democrats this fall what will be the Democratic theme in the next election for the answers to these and other questions listen out to your city stations campus press conference in this transcribed discussion the editors of college newspapers question a prominent personality in the News Marvin sleeper a columnist for The New York Journal American is the moderator to introduce the panel and tonight's guest Here's Mr sleeper. Good evening and welcome to another edition of campus press conference our guest tonight is the honorable Caroline to sap you know he's a very busy secretary of state leader of Tammany Hall a national Democratic committeeman But the primaries in September and Election Day two months later are tired of getting politically conscious That's why we asked but the sappier to be with us tonight and give us some ideas ideas of what we can expect in the mayoralty race coming up here that we're interviewing him our campus press conference reporters Jim Pharrell of the forum lexigram and Michael Steele one of the C.C.N.Y. campus and what about the first question from you Jim Well as it is I'll be over years your organization has fought for the establishment of permanent personal registration here in New York City how will the first year of P.P.R. affect the so-called automatic Democratic vote in this city. I don't I don't believe the. P.P.P. I don't believe that P.P. ought. To have any bearing other than helpful and then influential conclusion. With the voters in New York City it's a challenge to all the citizens of our city affording them the opportunity to avoid the inconveniences that they've experienced in their past and long delayed lines at polling places etc Now having the opportunity to command and register and be on the books permanently as long as they abide by the election or in that is the vote within a period of two years do you think the confusion of change will confuse the voter into such a state that he will stay away from a permanent registry No I believe to a very insignificant the gray but I believe that an educational program will be inaugurated for citizenry consumption by the press and by. Radio and Television to. Impress upon the voters the opportunities that have been afforded them for their own particular benefit. Early registration will just be achieved at county centers and not at local school board. Plans have now been. Organized and initiated and formulated to have in addition to central registration various locations in the Barros and those locations will be alternately changed in order to meet the convenience of the voters in all Barros I understood stand that about a couple of weeks ago Mayor Wagner and you and the rest were a little worried about this program personal registration that a meeting took place up at Gracie Mansion between the top of the ticket a stark Larry zero server yourself and three other county leaders and the topic of that conversation was P.P.R. and how to get out the vote is that correct Well specifically. Mob and the purpose of the meeting was to provide. Ways and means to familiarize and educate the voters. To the opportunity to take advantage of this program. Did you had you set any goal at that meeting of. How many registrants you wanted to get under the Democratic Party no man or no not for the Senate I know. For the fifty three campaign there were about a million six hundred six thousand Democratic registrants is that your goal for this. Getting you know in mob and into any specific figures other than the. Devise meant to plans to. Formulate a daughter door operation to apprise the voters of this facility that's been afforded them and to appeal of them to take advantage of this opportunity. Another word NO NO SET call line as far as figures are concerned but would as far as the election goes it wouldn't be sort of comfortable to know that you had as many people registered on the Democratic Party this year as you had in fifty three when he did well with over one hundred with over a million votes Well I'm sure that every effort will be made by the not only members of the Democratic Party in the five boroughs but other civic groups the League of Women Voters and the Citizens Union and other fraternal and veteran welfare organizations who see for the first time the opportunity to have the registration and. Conveniences afforded for public consumption are you going after the Republicans too or you just picking on Democrats to register I don't think we'll have to go after the Republicans too much mob and because I think generally it's conceded that there are many Republicans in the city of New York who have them openly advocated their enthusiasm and support for male Wagner and his administration on the basis of achievements and accomplishment question from Michael Spelman Well Mr disappear Let's get right into the election next fall what will be the key theme for the Democratic Party. I think the only thing that is important for a political party. Is what is important for the voters. And that is. The accomplishments and achievements of the administration that represents them presently and whether or not. The administration has lived up to its pledges in the carrying out the fulfillment of those pledges for the welfare of all the people in this city well a few weeks ago on campus press conference or one of the G.O.P. aspirants for the minority nominations to me Elaine pointed out that they were going has not come up with an achievement and not come up with an original idea in his four years in office what do you have doing well of course you must bear in mind that this is an election year and you must bear in mind also that. Our political opponents will make many reckless statements between now and election that they can back up the important thing in the public mind. As far as issues are concerned is factual accomplishments and I'm sure that the Wagner administration in the area of those. Issues that affect all of people the city of New York as far as the police department is concerned fire department sanitation education what are some of the sexuality Well that's the important thing that we Democrats prepared to. Clarify for public consumption when the Republicans talk about. The police department they don't mention the fact that since Wagner's ministration and six thousand more men have been added to patrol duty through increasing the pace and no quota by. Approximately three thousand or no high of twenty three thousand. And adding fifteen hundred school crossing guards under a new safety program and releasing eighteen hundred men from non police work for active police duties that specific accomplishments that are new and for the public benefit under the Wagner administration I believe Sam Lane talking about traffic said that we hadn't done very much was that So Jim Lee was very critical of the traffic is always been a problem for the past twenty years Marvin and this is the greatest Metropolis and in the world the city of New York with eight million people that naturally entails many problems and one of which is a traffic problem but there have been substantial gains in the area of traffic which have been acknowledged by many of the citizenry in addition to many of the business and professional men's groups who are out the. County and throughout the five boroughs and many of the civic minded organizations who are vitally concerned with traffic problems there some of the specifics that have been accomplished on the Wagner administration have been the conversion of major north south avenues to one way traffic and me speed at such traffic through the installation of progressive signals they've install E three colored lights in the walk and not walk signs safe the aisles they instituted alternate side truck unloading in congested areas they've increased the number of parking meters by one hundred percent to approximately forty five thousand they've completed four off new off street parking units with the capacity of approximately two thousand parking spaces and there are approximately several several hundred additional spaces under construction. Twenty five hundred in a design stage or two thousand and the planning stage this is accomplishment and he is the facts. Getting away from the accomplishments for a moment let's turn to the some of the charges that would seem to be coming up by the Republicans that they're going to be tossing at the Democrats saying it's going to be a crime and corruption campaign that the Republicans are going to be waging that's the thing that seems to be hitting the headlines Mostly when the Republicans start pitching their political hay or do you say that most Sappy in crime and corruption in the NE and I got the impression that the answer to that mob in is simply this that there isn't a citizen or a voter in the city of New York who would sincerely and conscientiously conclude that the Wagner administration has been corrupt now no political party has a monopoly on. A device so a virtue and when you're dealing with several hundred thousand people and ministration there are bound to be some misty that's committed somewhere along the line by individuals but basically in what is primarily important is whether or not the head of the government the standard bearer the chief magistrate of the city is a man of integrity who is. Acknowledged in the public mind not only by dissenters and me but by the press. And not a democratic press if you will acknowledging his accomplishments and his deeds and there is no major. Crime there is no mob rule under the Wagner administration in New York City during his administration crime and corruption will always be an issue in every election and every major city it's fashionable by the opposition always present something that's sensational but I don't think they're full of people of the city of New York who are keen and wise and they're interested in facts and issues and not just the very generic propaganda question Michael Spillman do you think the recent investigation of some of the city councilman will hurt the Democratic Party definitely not. Wiley these things happen. They have been handled in a manner by the council itself to indicate that where there was a conflict of interest. The matter was properly the councilman were given a fair opportunity to tell left side of the story the president of the city council Joe shocking in the the councilman took the proper action in a fair and democratic manner and in order not to smear anyone and took the proper action looking at the resignation of wrongs counseling tunning together with the existence of a new Republican organization and Ross County under Chairman Warner do you anticipate any fourth and democratic vote up in Ross County I believe that when. Votes are counted on election night. That the Bronx County organization will give to the Wagner administration not only the same player out of the as they have in the past but a larger one now let's turn to Brooklyn for a minute and John Cashmore I've heard some rumors around maybe you can confirm or deny them that there's a move on to have a Johnny Cash more resign and put in a younger man and he's been in office about thirty seven years now or city government put in some younger man to win the primaries and Mark Harris Kleinian seargent out have you heard any of these well mob and this is also the season for rumors as you know I paid no. Talk from any official quater on that score. John Cashmore has been one of the most. Distinguished and intelligent men in government I think he's done a great job for the people in his own borrow. He's wise and he's sage on the Board of Estimate and I think that he had lost to the Board of Estimate and I have every confidence that he will be once again reelected by the citizens of Brooklyn. Well how about some of the charges that Mr Klein making about Cashmore he speaks in particular about the bad roads situation in Brooklyn the high transit fares and so on. Do you think do you think that Klein has a leg to stand on as far as these charges are concerned well any candidate. Has a right of course to be critical providing he can support and substantiate his criticisms and to date there is nothing that I have seen or heard from Mr Klein to substantiate any criticism of Mr Cashman road seem to be a vulnerable point with any borough president with him to be their big weak spot and you just pointed out that the Bronx will carry for Wagner by a larger plurality than it did last time out do you think this is possible running a burger president which has been is steadily becoming unpopular due to if nothing else the road situation in the Bronx Well it all depends on who. Concludes that the bar president is becoming unpopular. As of the people that. Are opposed to and politically that the citizens of Bronx County. We're going to make this decision on the basis Mr Lines his accomplishments in the past and present like nobody fools anybody in this business of politics and you never fool of voters because their ultimate analysis is what as the individual done for us in terms of performance and service and that's usually the barometer on elections Jim before we went on the air we were discussing that question about Westchester in the Bronx and the look and it sounds very interesting I didn't know about it but few weeks ago when the Republican may see change. Governor the local was reported as having said to a Democratic county organization dinner in the Grand Isle and casino that he is so proud of his common heritage Bronx and Westchester he will sponsor legislation to have the vote two counties integrated and this was greeted by cries from the Westchester Democrat by the young man I can speak with authority on that subject because I sat alongside of lieutenant governor and a local when he made the comment and it was preceded by a remark that he summoned in Westchester County and. Made the remark in the very friendly joke in the fashion was the message change and I'd written in reporting that there were no those that I thought Well well let there was come and see from the floor but they also were in a friendly vein I can assure you this is not yet but it was placed on the tape but it was newsy it was something that was. Affective from the moment. Political speeches can get dull occasionally and when somebody makes a reference to something that's has a sentimental touch to it there's a human reaction but I can assure you because I witnessed the entire proceeding that everything was done on both sides from Deluca and from the audience in a very friendly jokingly fashion Mike Spillman Well how about these crafted fares Is it true that the breakeven point is twelve cents and that the fifteen cent fare was arrived at by tossing a coin as Harris Klein is charged Well Iris Klein is no longer a transit commissioner. And I never heard these remarks made by Harris Klein when he was in the trans of that was before the fifteenth and there Kamen. I can. Answer that because I don't know just what all the facts are I would doubt very much that there is any credence to the statement made by Harris Klein relative to the tossing of a current Mike you meant that the fifteen cent fair warning before Harris Klein became a member of the transfer authority he was there in the period when I was a fifteen right in fairness he wasn't there when the decision was made I know that he wasn't there when the Senate was changed since that's the point the independent volunteer for Stevenson during the fifty six campaign I've now gotten together as we all well know and accused your organization and other incumbent Democratic organizations of sitting it out in a Stevenson campaign do you think most of the many of the registered Democrats will take their leadership Well the report that. The Democratic party sat on its hands is wholly false and inaccurate. Many of the leaders in the Stevenson movement have testified to that fact. This emotional display by some enthusiasm. Was nothing. Just one of being critical but there was no substantiation or anything to back it up you think it will amount to anything particularly in the primary fight down in your own Greenwich Village district Well I've always been a. Great advocate of the primary law being taken advantage of by everybody I became a district leader myself via that same process and we welcome and anyone who participates in any district. Where they think that the issues is such that they would like to go before the people but your village organization has been accused by the always of the vi be diligent Senate Democrats as excluding women is this true. Well I would never want to admit to that because I think we have more women in the Democratic Party in your particular local organization I believe in my local logon as a sion then in any other comparable assembly district in the five bars of New York City to find women better workers than men politically I would have to frankly confess mob and that they are much more enthusiastic. Well that's a tip for the rest of the political clubs in the city and sticking with that. Your first lady there's a gentleman by the name of Richard Q The administrative assistant to Frank Hogan. Franco going to said that none of his assistant district attorneys can remain in their jobs if they're going to enter any leadership fight. Would you put Dick you in the same category as much as he's the sort of the spearhead behind the drive to oust you in your own district. Prank called in to my knowledge conducts a nonpolitical office he establishes whatever policy he thinks is best to run his office and as to how he treats with these individual matters mob and is something for Mr Hogan decide themselves the Democratic Party going before the people this fall with the same ticket that it presented last time out. On a city wide level in a city where I would say that the team of Wagner and terrorists are stark will again be recommended by the Democratic organizations and be presented to the voters for the in so in primaries do you think the presence of girls around the ticket will make the Liberal Party hesitate from a citywide endorsement of a three way tie I don't see why should you think that the Liberal Party conceivably will endorse I don't see why they should not. The only indication that they that they won't you know I don't have batteries I have every reason to believe on the basis of the performance and the accomplishments of the controller and I think that he's made an excellent controller on the basis of his training and his experience as a businessman I think he's done a wonderful job for the people of New York City and the Liberal Party not consigned I believe about personalities as much as they are about principle I brought up the question in the light of the fact that the New York Post which is about the only publisher mouthpiece of the Liberal Party in this city has taken to task on several occasions they even would go to extremes to do this well there are many other occasions where they applauded Mr Jerome for some of the things he's done is they've done with many other the public servants and both major parties you expect expect any endorsement or how much your interest would you expect from the press which was almost unanimous in its lack of support for me Wagner last time well I can only use as a yardstick and the barometer some of the comments that were made at the Tory otherwise by the press in the mail Wagner's race from the United States Senate as to the need so to speak for Wagner is staying in City Hall because of the good job that he was doing for the people of the city of New York I just hope the press remembers what they said when they're polite reasoning to support checked out. Do you think that was really praising Wagner whether it was just a political maneuver at the time of the election Well you would charge the press with political maneuvering. The Senate. The Senate campaign next year fifty seven. Fifty eight. There. There's been some talk and political rumors again that. Next year Governor Harmon is looking toward that international front would like to be the senator from New York and possibly Mayor Wagner would step out after a year to run for governor is there have you first have you heard that rumor combine Well again I say mob and this is the season for rumors the mayor has indicated very clearly that if reelected that he will say this time the governor has indicated very clearly that he's a candidate for reelection as governor and you think that's going to be that I have every reason to believe not going to change is that within the realm of possibility let's say for this where our land and anything can happen in politics. Mayor Wagner running for governor in fifty eight that's one of the things that anything could happen in politics Well I wouldn't I clarified. That statement by being very specific and adhering to what I believe male Wagner means when he says that every elected he'll say this time out and I believe that he means just that expression of organizational criticism with national chairman Paul Butler has been thrown around in the national press of late when he ran for election you opposed him by supporting spending in the last National Committee election. What would be your stand next time out do you think the Democratic Party needs a new national chairman at this time. I think Paul Butler is doing a good job for the Democratic Party I don't think that the defeat of the Democratic Party in the national election can be attributed to. His lack of leadership it's common knowledge what happened in the last election and why the president was reelected that they would keep the party together in the interim Yes I think I think he's done as good a job as anybody could under the circumstances I do think while we're talking about national politics and a question that's been going on in my mind that Stephenson is finished with politics do you think he still has any ambitions to be the president of the United States well you know you can only believe and take command of his word in this business mob and he has indicated that he is not interested in the presidency and now or in the future and I think he's going to stick to that. Is that within the realm of possibly I'm thinking of the fact that. Well in the next campaign presidential campaign who would we have who would the Democrats have well while we while we haven't got any specific candidate presently you can be sure thing the next president in the White House would be a Democrat. OK or so sappy all but our time is just about run out you've been listening to a little of you a car minder sappier secretary of state and leader of Tammany Hall in the real year where Jim Farrel of the for the lexigram and Michael Steele of the C.C.N.Y. campus really thanks for Charlie and in a very pleasant week to you all editors of college newspapers have just interviewed a prominent personality in the news on campus press conference Marvins labor award winning columnist for The New York Journal American is the moderator of this series the opinions expressed were those of the participants and do not necessarily represent the views of the station you are invited to join us next Sunday afternoon at three four capice press conference a transcribed public affairs feature of your city station.