Last Chance Foods: Maple Syrup
Warm temperatures have many of us dusting off our outdoor grills. But the mild spring weather is bad news for maple syrup producers. Maple trees need below freezing nights in addition to warm days for the sap to run well, according to M&M Maple Farm's Mike Broadwell. That fluctuation is what gets the sugary sap to rise up and, in a tapped tree, drain out.
Broadwell, whose farm is in Carlisle, New York, near Albany, spoke with WNYC's Amy Eddings for this week's segment of Last Chance Foods. "Right now — and I'm pretty sure, after this warm weather, our season will be done — we're at 30 percent below last year's production," he explained. "We won't have as much product to sell. That's been the same thing I've been hearing across the board in our area. So there could be a possible shortage of syrup in the [New York] area."

Ultimately, that won't affect prices, since Canada produces enough syrup to effectively control pricing around the world.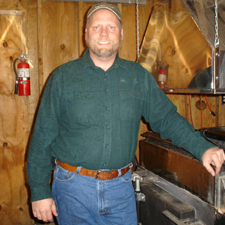 That does mean that local syrup will likely be of a lower quality. Broadwell gave a breakdown of the different grades, which are labeled differently in each state. Light, medium and dark amber are considered good choices to top off pancakes, but he noted that some people do prefer extra dark, or grade B, syrup for its intense flavor. "It basically boils down to personal preference," Broadwell said. "Your light amber is a lot like light beer and your dark amber is more like a Guinness stout — hearty, robust beer."

M&M Maple Farm will be selling syrup, candy and maple spread at this year's Schoharie County Maple Festival in Cobleskill, New York, which takes place on April 24.

Below is Broadwell's favorite recipe for maple butter, which he describes as "simple, but sweet."

Maple Butter
Yields about 3/4 cup
1/2 cup (1 stick) butter, softened
Pinch of salt
1/4 cup pure maple syrup

1. In a food processor, or with an electric mixer, whip the butter and salt until light and fluffy.

2. With the motor running, slowly pour the maple syrup through the feed tube of the food processor until syrup is well incorporated. (If using an electric mixer, dribble the syrup into the butter while beating constantly.) Adding the syrup slowly and beating constantly will prevent the mixture from separating. The spread may be refrigerated in a covered container for up to three weeks.