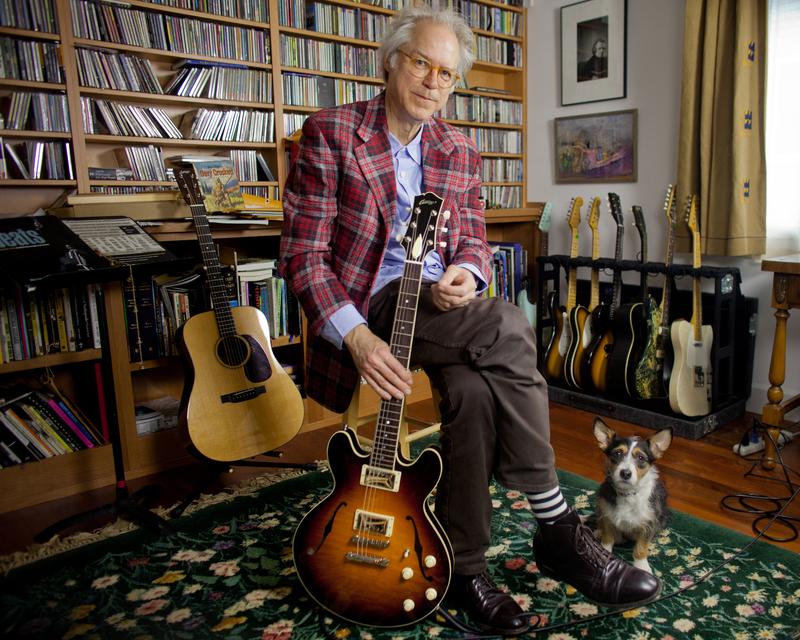 We'll hear musical tributes aplenty on this New Sounds program, many of them by guitarists heaping their thanks to other artists.  We'll hear notes of appreciation from Michael Hedges to Pierre Bensusan, from Bill Frisell to Boubacar Traoré, from trumpeter Dave Douglas to Bill Frisell, and a little exchange between Stefan Grossman and John Fahey.  Plus, tributes to Angelique Kidjo, Leo Kottke, and Philip Glass, and a few others.
PROGRAM #3185, Musical Tributes (First aired on 3-23-11)           
ARTIST: MGMT
WORK: Brian Eno, excerpt [:30]
RECORDING: Congratulations
SOURCE: Columbia 45335
INFO: Available at iTunes, Amazon.com, or Emusic.com
ARTIST: Ben Allison
WORK: Green Al [6:14]
RECORDING: Buzz
SOURCE: Palmetto Records PM 2101
INFO: palmetto-records.com
ARTIST: John Danley
WORK: Philip's Glasses [3:19]
RECORDING: Drifting Into Oblivion
SOURCE: A Priori Records
INFO: Available at CDBaby.com
ARTIST: John Fahey
WORK: The Assassination of Stephan [sic] Grossman [2:12]
RECORDING: The Best of John Fahey 2 1964-1983
SOURCE: Takoma /Fantasy 8916
INFO: Available at Amazon.com, iTunes, or Emusic.com
ARTIST: Stefan Grossman
WORK: The Assassination of John Fahey [4:07]
RECORDING: John Renbourn & Stefan Grossman In Concert
SOURCE: Stefan Grossman's Guitar Workshop 135
INFO: Available at guitarvideos.com or Emusic.com
ARTIST: Bill Frisell
WORK: Greg Leisz [6:14]
RECORDING: Blues Dream
SOURCE: Nonesuch 79615
INFO: nonesuch.com
ARTIST: Dave Douglas
WORK: the Frisell Dream [3:57]
RECORDING: Strange Liberation
SOURCE: RCA 50818
INFO: Available at Emusic.com, iTunes, or Amazon.com
ARTIST: Bill Frisell
WORK: Boubacar [6:13]
RECORDING: The Intercontinentals
SOURCE: Nonesuch 79661
INFO: nonesuch.com
ARTIST: Jienat
WORK: Angelique [3:54]
RECORDING: Mira
SOURCE: JNCD002
INFO: jienat.com
ARTIST: Don Ross
WORK: Obrigado (Egberto) [3:52]
RECORDING: Breakfast for Dogs
SOURCE: Candyrat Records
INFO: candyrat.com
ARTIST: Michael Hedges
WORK: Bensusan [2:26]
RECORDING: Aerial Boundaries
SOURCE: Windham Hill 1032
INFO: Out of print, but try Amazon.com OR download from Emusic.com or iTunes.
ARTIST: Jean-Christophe
WORK: Leo Kottke [3:50]
RECORDING: Eclectique
SOURCE: Jean-Christophe
INFO: Available for download at iTunes OR via Amazon.co.uk