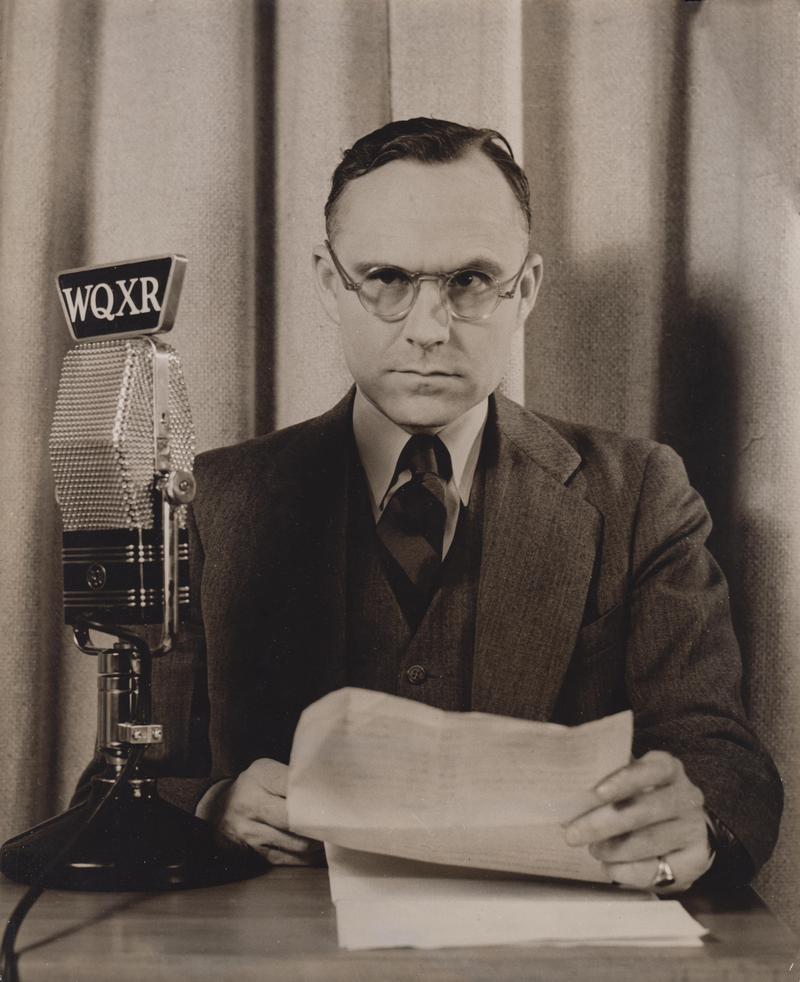 Pioneering news commentator Quincy Howe (1900-1977) was on WQXR between August, 1939 and June, 1942. His essay for the September, 1941 WQXR Program Guide was introduced this way:
Mr. Howe needs no introduction to the WQXR audience for he has been the station's news commentator since the outbreak of World War II. In addition to his radio duties, he is Editor-in-Chief of Simon & Schuster, and is the author of numerous books, the latest being "The News and How to Understand It."
Eddie Cantor once said that there are two businesses everybody thinks he understands -- his own and radio. But I wonder if even the news commentators understand that branch of radio which has to do with commenting on the news over the air. Lecturers, actors and singers can attend schools, read text-books, and draw on generations of experience. The news commentator can learn from nobody except himself and his colleagues, to whom he seldom has time to listen to anyway.
To this almost limitless and quite unexplored field, I have little to contribute; barely enough, in fact, to fill the allotted space in this program booklet. However, somebody has got to begin somewhere, sometime. I therefore submit the following decalogue for commentators. If it has no other virtue, at least it has the merit of novelty. If it has no other result, at least it may lead somebody else to draw up something better.
1. Be yourself. On this one commandment hang all of the laws and most of the profits of the successful news commentator. If you assume over the air a personality that is not your own, your listeners will see through your pose. If you are yourself, somebody will like you.
2. Never prophesy. The disease of prediction is fatal. Listeners have memories. They recall your errors as well as your hits. And you need a better than .500 average to get by.
3. Name your sources. The commentator cannot compete with world-wide news services in gathering information. He cannot pit his knowledge and judgement against experts. Moreover, if you credit the source of your information and interpretation, you can often get further cooperation. And your listeners will respect you more.
4. Develop a rounded and consistent point of view. This means spending more time reading basic books, less time reading superficial newspaper stories, magazine articles, and newsletters. But pick certain news sources that have proved dependable and follow them.
5. Stick to one main theme in each broadcast. Don't confuse your listeners and yourself by rattling off ten-point programs, point by point. Don't try to cover the whole world each time you speak. It can wait -- which is more than your listeners will do if you bewilder them.
6. Converse, don't elocute or argue. No matter how large your audience, you are talking to countless small groups, not to a mass meeting. And respect other people's prejudices. Otherwise you will end up preaching only to those who agree with you anyway.
7. Never listen to other commentators. One of two things will happen if you do. Either you will spend all your time arguing with those you disagree with, or you will not say what you want to say because somebody else has said it, probably much better than you could. Act as if you were the only commentator on the air.
8. Speak naturally. If you try to correct certain fixed habits of speech you will make a worse mistake correcting the original one, and besides,
your nervous system will suffer. If you talk fast, it can't be helped. A rapid, interested talker holds the attention better than a slow, bored one. Moreover, you can always pause to let your listeners catch up with you. Also you can say the same things in more than one way. A corollary to this commandment is to summarize the gist of your talk in a concluding paragraph.
9. Admit your mistakes. You will make plenty of them and you might as well acknowledge them from time to time. Nobody expects perfection, even from a news commentator. Therefore take your listeners into your confidence occasionally and show where and why you went wrong. But don't spend more than ten percent of any one broadcast alibiing yourself on the one hand or confessing on the other.
10. Never draw up a list of commandments for commentators.
                                                                              Harold Stein Photo, WQXR Archive Collections
____________________________________________
Editors Note: Quincy Howe was the Director of the American Civil Liberties Union (1932-1940) and the chief book editor at Simon and Schuster (1935-1942). He was first heard on Mutual Radio in 1938 during the Czechoslovakian crisis and started at WQXR in the summer of 1939. At that time his program was Propaganda Behind the News airing on Thursday evenings and done with radio personality Maurice C. Dreicer. By the end of the year he was doing a solo fifteen minute news commentary three times a week at 9 p.m. Before he left the station in June, 1942, he was heard every weeknight.
Following the publication of his book, The News and How to Understand It, Howe was described in Time magazine as "a cultured, loquacious, birdlike, Bostonian...with a shrewd editorial sense." And, until the fall of France in 1940, he had been an isolationist producing a weekly newsletter called Uncensored. Howe left WQXR for CBS and then joined ABC in 1947. He was the moderator for the fourth Kennedy/Nixon debate in 1961. Howe retired in 1974 and died in 1977.