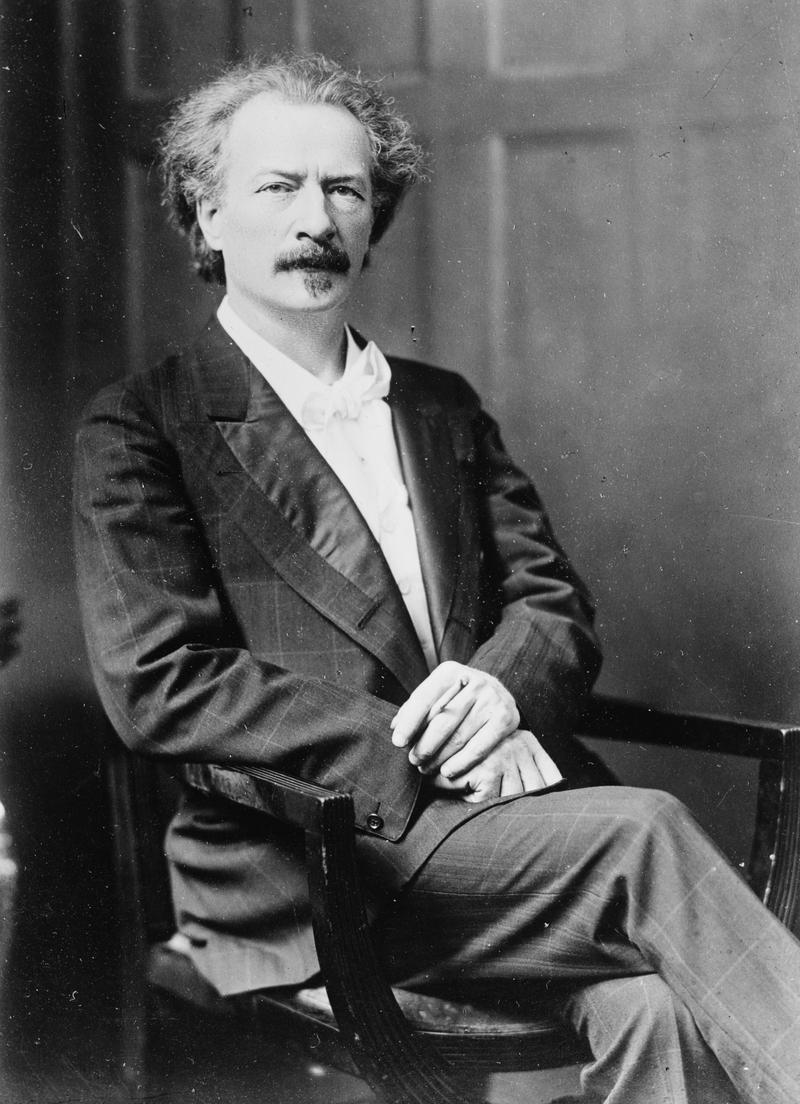 Polish composer, pianist and statesman Ignacy Jan Paderewski died June 29, 1941. The following tribute was published in the August, 1941 WQXR Program Guide.

Mr. Steinway, President of Steinway & Sons, was an intimate friend of Paderewski. The following is based on a talk he gave over WQXR on the evening of July 1st, 1941 during the broadcast of a program honoring the memory of the great pianist-composer.
A bitter and ruthless world pauses for a moment to note the passing of one of its great ones. One can hardly realize that Paderewski is no more.
I am privileged to write about Paderewski, perhaps because of the long and intimate friendship that existed between him and my family. From 1890 on, when first he came to this country at my father's invitation, there has existed a close and precious association between him and us.
It is unnecessary to speak of his greatness as an artist and musician and him eminence as a pianist. All that is so well known and so thoroughly understood by a now sorrowing world. His statesmanship, his devotion to the cause of world peace, and above all, his untiring and constant labor for the liberty and security of his beloved homeland, Poland, have given him a rare place, not only in the hearts of his countrymen, but of all right-thinking people in the world. And this world will long remember and honor him for these attainments.
But it is as a man that I would like him to be remembered, as I shall remember him--as a great soul, a true friend, and a man whose walk through life was clothed with dignity and beauty. In his life he went through almost every variety of human experience, from the glamorous excitement of the greatest possible personal triumph on the concert platform to the most severe depths of personal and private sorrow. He faced them all with dignity and nobility; the successes could not turn him from the simplicity and purpose of his life, nor could the sorrows destroy his faith in and his love of mankind.
If ever there lived a man who had that faith in abundance, it was Paderewski. His every move in life personally, socially and economically was for the benefit and improvement of his fellow men.
I could tell you a great many things about him, personal things, remembrances of hours spent in his company, memories of great and stirring days through which he lived. Perhaps one incident will suffice. I was privileged to represent a large group of artists and citizens of New York who desired to send him an engrossed birthday greeting on the occasion of his seventieth birthday, just ten years ago. He was at the moment in the Toronto giving a recital. I went there and was invited to dine with him on his private car after the concert. So after the concert I went out to the railroad yards where his car was parked. We dined at one o'clock in the morning, and after dinner I rose and with halting words and much emotion tried to convey to him the deep love and devotion that accompanied the birthday scroll. I
had been told to tell him how much he meant to us all here and how greatly his genius and musicianship had influenced our musical lives. The master listened in silence and then rose and delivered to me one of those magnificent and stirring speeches for which he was was famous. He completely turned the tables on me. How much had meant to us here? Nonsense! How much had we here meant to him and how deeply grateful he was to us for great love and appreciation for him, and would I please go back and tell that to New York? It was typical of the man. When I left him in the early morning I had a vision I shall never forget: the private car of the master silently pulling out of the station in the softly falling snow, bound for who knows what future triumphs.
His passing is the end of an epoch in music, but in passing he has left with us something that neither time, nor distance, nor that human frailty, forgetfulness, can altogether destroy. He has left us with the precious thought that even in this much troubled world the goodness of mankind still exists, and that decency, nobility and greatness in the human being can still live. Therefore in the midst of our sorrow we rejoice because we have not lost him, Poland has not lost him, and the world has not lost him.
(Photo courtesy of NYPL Digital)