Music of Caroline Shaw with Roomful of Teeth & ACME (American Contemporary Music Ensemble)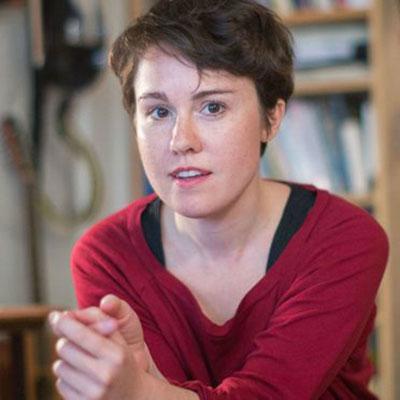 This fall's New Sounds Live events in October represent the first-ever survey of the music of Pulitzer Prize winner Caroline Shaw, "a musician of many sorts." Shaw performs as a violinist with the American Contemporary Music Ensemble (ACME) and as a vocalist with Roomful of Teeth. Earlier this year, the composer/vocalist/violist/violinist became, at the age of 30, the youngest-ever recipient of the Pulitzer Prize in Music for her work "Partita for 8 Voices." Hear Shaw's remarkable music in a two-part series, featuring both of the ensembles she plays in and her interactive film/music piece called "Ritornello." That's Roomful of Teeth on Tuesday, October 15, 2013 at 7PM and ACME on Wednesday, October 16, 2013 at 7PM at the Winter Garden of Brookfield Place (formerly World Financial Center.) Both performances will be taped for later broadcast on WNYC, and streamed live at Q2 Music.  Admission is FREE.

Caroline Shaw's "Ritornello" is a multimedia installation and live performance piece for voices or for strings. The film was inspired by architecture, the notions of return and memory, and by the tale of Rip Van Winkle just before his waking from an accidental twenty-year slumber in the Catskills. The accompanying music includes elements of American hymnody, Baroque music, and viola looping, with fragments of text, adapted from T.S. Eliot's Four Quartets and from the original Washington Irving story, "Rip van Winkle" (1819).
Shaw says that "Ritornello," with its shots of New York bridges and a stop-motion animation sequence of paper folding and unfolding, "tries to evoke the notion of time folding in on itself, repeating and forgetting and unfolding again." 
The world premiere of Caroline Shaw's new vocal version of "Ritornello" will be performed by Roomful of Teeth on the first night, October 15, alongside several parts of Shaw's award-winning "Partita for 8 Voices".  Then, on October 16, ACME gives the world premiere of Shaw's "Ritornello" in a new version for strings; the program will also include her "Entr'acte" for string quartet, "Limestone & Felt" for cello and viola, and "In Manus Tuas" for cello.
Tuesday, October 15rd at 7PM
The Music of Caroline Shaw: Roomful of Teeth

A Roomful of Teeth concert feels less like a classical new music performance and more like a world music rock concert high wire act.

About Roomful of Teeth: Founded in 2009 by Brad Wells, Roomful of Teeth is a vocal project dedicated to mining the expressive potential of the human voice. Through study with masters from non-classical traditions the world over, the eight voice ensemble continually expands its vocabulary of singing techniques and, through an on-going commissioning project, invites today's brightest composers to create a repertoire without borders. ommissioned composers include Rinde Eckert, Judd Greenstein, Caleb Burhans, Merrill Garbus (of tUnE-yArDs), William Brittelle, Sarah Kirkland Snider and Missy Mazzoli. Upcoming collaborators include Holly Herndon and Sam Amidon.
Wednesday, October 16th at 7PM
The Music of Caroline Shaw: ACME (American Contemporary Music Ensemble)

ACME's performances span compositions of "incessant rhythm and repetition, or gorgeous tonal structure and expanse" and the group doesn't "subscribe to one type or style of music, our tastes and passions are exceedingly eclectic." (Clarice Jensen, Connection Newspapers March 2013)

About ACME: Led by artistic director and cellist Clarice Jensen, the American Contemporary Music Ensemble (ACME) is dedicated to the outstanding performance of masterworks from the 20th and 21st centuries, primarily the work of American composers. The ensemble presents cutting-edge literature by living composers alongside the "classics" of the contemporary. ACME's dedication to new music extends across genres, and has earned the group a reputation among both classical and rock crowds. Time Out New York calls the group "one of New York's brightest new music indie-bands," while The New York Times describes ACME's performances as "vital," "brilliant," and "electrifying."
About Caroline Shaw: "she likes short bios. Or no bios."

Caroline Shaw, originally from North Carolina, is a musician of many sorts. She has performed, as violinist or singer, with the American Contemporary Music Ensemble (ACME), Roomful of Teeth, the Trinity Wall Street Choir, the Mark Morris Dance Group Ensemble, Alarm Will Sound, Wordless Music, Signal, The Yehudim, Victoire, Opera Cabal, and the Yale Baroque Ensemble.

Additionally,  here is a FILM from her site:

instead.