SchoolBook
First Week Back: Is School Starting Off On the Right Foot?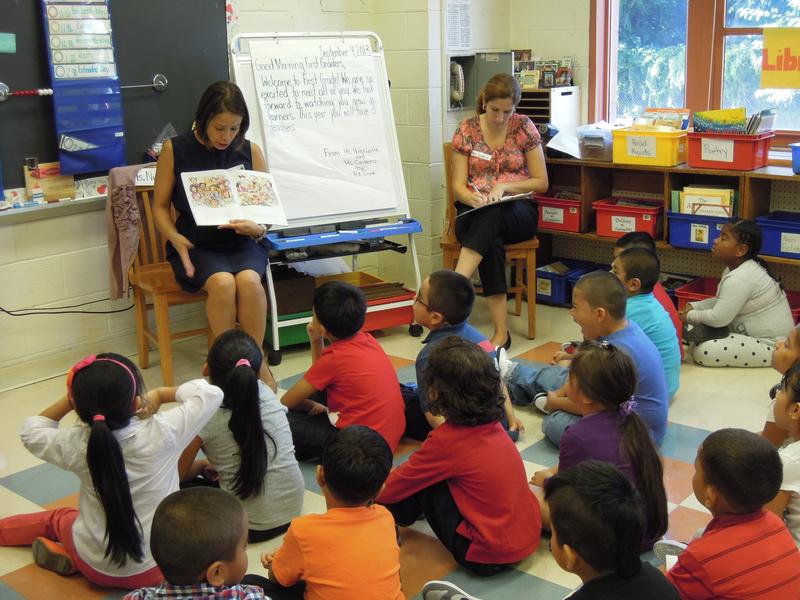 The first week of public school in New York City has come to a close and, considering school actually started on a Monday (when was the last time that happened?), it's been a meaty week.
Do you feel like the school year is off to a good start? Share your thoughts below.
SchoolBook kicked off the year on the chancellor's tour and with P.S. 24 in Sunset Park, Brooklyn. The atmosphere at the dual-language school was warm and welcoming as students arrived for the first day of school. Click play below to hear the excitement.
We also got to see new duds and first-day smiles from all over the city, thanks to the families who submitted pictures to our photo project with the Daily News. Brace yourself for ridiculous cuteness and browse the whole collection. Here's a taste:
Monday's first day back was followed by primary day, and the question of whether or not we'll be headed to a run-off election between Democrats Bill de Blasio, who captured just over 40 percent of the vote in unofficial tallies, and Bill Thompson, who stands at just over 26 percent. 
Thompson, backed by the United Federation of Teachers, has refused to concede. He said he would wait until the Board of Elections counted the votes from machines this weekend before making a decision.  The teachers' union has stayed quiet since Tuesday night. In contrast, Thompson's campaign chairwoman, State Board of Regents Chancellor Merryl Tisch strayed from the campaign script and called de Blasio's win "convincing."
In other education news, there have been a few school-related transportation stories this week.
First, WNYC introduced listeners to Jennifer Arenas, a high school senior in Queens, who was learning to take public transportation on her own. Jennifer is on the autism spectrum and, at 19, has never left the house by herself before. So learning to take the bus independently was a big deal.
Click here to listen to Jennifer's story. And check out her illustration below, which she sketched for her journal of travel training.

In other transportation news, WNYC mined the traffic data and looked for patterns involving crashes that injured schoolchildren. About 1,800 children are hit by cars and trucks in New York City each year, according to state Department of Motor Vehicle data.
WNYC found that time of day mattered: Before and after school, children made up almost a third of all pedestrian accidents in New York City.
Sadly, just days after WNYC charted out the story, a car struck a group of children near their school, I.S. 73 in Queens, on Thursday morning. The Daily News reported that three of the students were critically injured, and another two students suffered minor injuries. Click here for more details from the News.
Schools Chancellor Dennis Walcott said he was able to visit some of the students at the hospital after the accident on Thursday.
"I did talk to several of the families and I talked to several of the children, and they're progressing," he said. "Each one has a different condition."
He spoke to reporters about the accident after making an announcement on Thursday about changes to the kindergarten application process.
Starting in January, families will be able to apply for kindergarten online or over the phone. We expect that the announcement comes as welcome news for the many parents who would prefer to complete a single application over the internet than physically go from school to school filling out paperwork for each one.
And finally, the Department of Education said on Thursday that, finally, all deliveries of the new Common Core-aligned curriculum materials had been delivered to schools. But it seems that the new materials have not necessarily made it into the hands of school staff.
The U.F.T. tweeted from a meeting with school chapter leaders on Thursday:
"Raise your hand if you didn't get curriculum." Chapter leaders respond at citywide mtg this pm #CommonCore pic.twitter.com/mkncmNmri8

— UFT (@UFT) September 13, 2013
Union president Michael Mulgrew criticized the Department of Education for the late deliveries even earlier in the week.
"I cannot believe after all the public discourse on curriculum and proper support for schools that were entering the school year in the same shape we did last year," he said on Monday.
Walcott acknowledged the lateness of some deliveries, but emphasized that the delay happened in only a minority of cases. "We delivered 1,500,000 new textbooks to our schools," he said. "So, it's a tremendous amount of deliveries that took place."
He went on to say that, regardless of any late textbooks, schools were thriving and teaching at a high level. Which prompts us to ask: do agree with the chancellor?
Let us know if your school year, so far, is getting off on the right foot.