Fire Destroys Boardwalk Ravaged by Sandy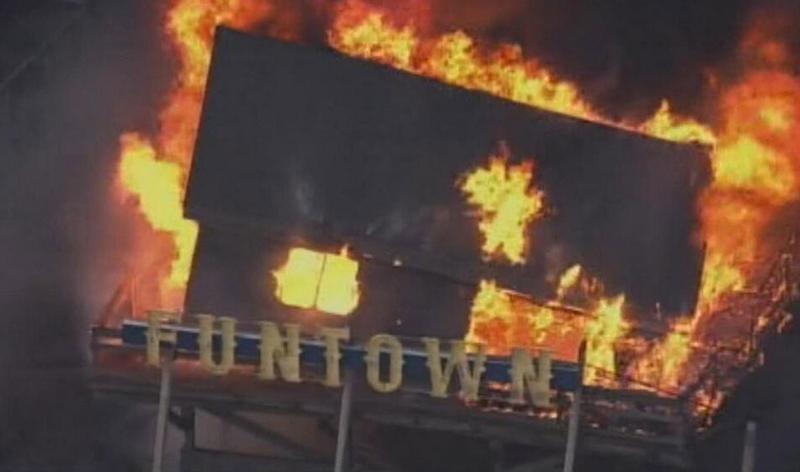 A raging fire has destroyed more than 50 local businesses and caused millions of dollars in damage in two Jersey shore resort towns
    
The fire destroyed the newly-rebuilt Seaside Park section of the boardwalk Thursday, but makeshift sand dunes saved the northern portion in neighboring Seaside Heights.


Governor Christie last night said strong winds contributed to the spread of the 6-alarm blaze and urged residents to stay away from the scene.

"My advice to you, in fact my admonition to you is Do Not Come Here. Do not travel. Stay away."

Justin Auciello of Jersey Shore Hurricane News is a lifelong Seaside Park resident. He spoke with several boardwalk business owners whose shops weren't in the fire's path. He says they understand what the owners are going through. "They just feel for their fellow business owners on the boardwalk because many people are saying that this is - obviously, after Sandy - another tragedy."
The fire affected Auciello on a personal level. "Ya know, I'm watching my childhood go up in flames right now, literally. I mean, I grew up two miles down the road. It was always, 'can we please go to the boardwalk? Can we please get ice cream?' And that's - I'm watching it right in front of me. Right here. Just go up. It's been very very tough for me."

New Jersey Public Radio's Terri Langford attended a briefing in Seaside Park this morning. She says 80-90 percent of the fire is contained and that fire fighters are continuing to pour water on hotspots that are still smoldering. She described business owners as "shell-shocked" and compared Seaside Park to a movie set. After the sun came up, she described the scene - "a propped up facade. We see a wall of the businesses, but we can see through pane-less windows tendrils of smoke. They're just working on these small smoldering embers right now."

She says investigators today begin the task of trying to determine what sparked the blaze. "Investigators from the prosecutor's office are here - and investigators from the Ocean County Fire Department, they're here also - to try to determine what the cause of the fire is. There's no word on the that the fire department won't comment one way or the other until the investigation is complete."

Authorities say there is no immediate indication whether the fire was suspicious or accidental. No serious injuries were reported.

Governor Christie will be holding a briefing in the community at 10:30 this morning.