Thompson Says All 'Votes Should Be Counted'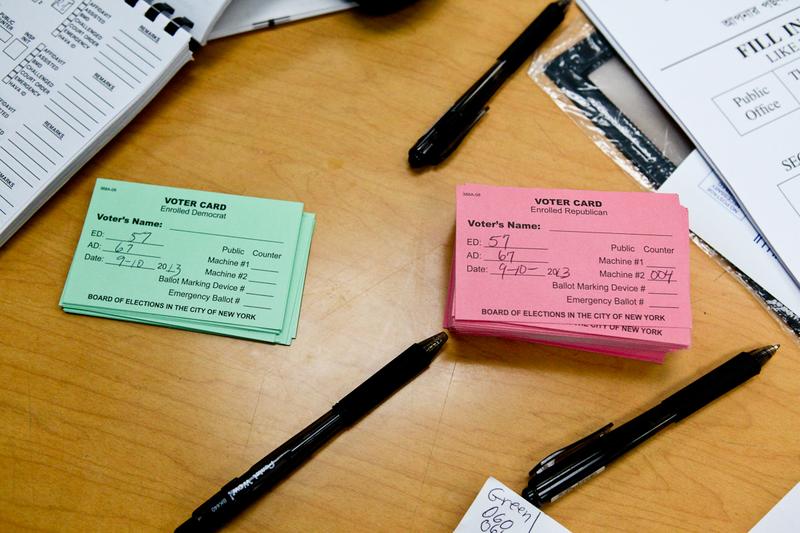 UPDATE: Democratic mayoral primary runner-up Bill Thompson emerged from a closed-door meeting Thursday night not prepared to concede the race.
"It continues to become clearer and clearer that there are tens of thousands of votes out there," Thompson said. "We believe that the votes should be counted. So the first step in that is the machine canvass on Friday and Saturday. And then we'll go from there. But that's the first step. We believe that the votes should be counted. We believe that people should be heard. That's it."

According to state election law, if Thompson doesn't drop out of the race by midnight on Friday, his name will be on the runoff ballot, even if he chooses not to run a campaign.
The New York City Board of Elections released a preliminary report on Thursday evening that said there were nearly 80,000 paper ballots yet to be counted, including emergency, affidavit, and absentee. That number makes up close to 10 percent of the votes cast in the mayoral primary. It's also more than four times the number of paper ballots cast in 2009.
Of those 80,000 ballots, more than 10,000 are emergency ballots. Gene Russianoff of the New York Public Interest Research Group said those votes should already be included in the unofficial total.
Earlier in the day, Bill de Blasio, who received just over 40 percent in the unofficial vote count, continued to ignore the possibility of a runoff and look toward the general election, showing off a new list of endorsers and union backers at a big rally in Brooklyn.
WNYC's Brigid Bergin attended the rally, and said de Blasio's messaging has remained consistent. "You would think if you're trying to appeal to a general election audience, maybe you'd scale back some of that rhetoric," she said. "But de Blasio's putting out a plan calling for 200,000 units of affordable housing and he wasn't dialing any of that back."
Since Tuesday's primary, de Blasio has picked up support from several unions that once backed City Council Speaker Christine Quinn including 32BJ SEIU, the building service workers, the Retail, Wholesale and Department Store Union (RWDSU), and the Hotel Trades Council. The Working Families Party, Congressman Jerry Nadler, and Planned Parenthood of NYC Political Committee also attended the rally.
But it wasn't just former Quinn supporters. Brooklyn Assemblyman Karim Camara, who had backed Bill Thompson, also stood at Borough Hall to show his new found support for de Blasio saying that he was the man, "to be the leader of the Democratic party."
"So we stand here united today to say we don't want four more years of a Giuliani administration in the form of their candidate," Camara to the crowd, making reference to Republican nominee Joe Lhota, a former deputy mayor under Rudy Giuliani.
Meanwhile, the Republican candidate, Joe Lhota, continued to steam ahead. "Joe Lhota has already moved to his general election talking points, while the Democrats are still trying to figure out exactly who their nominee is," said WNYC's Anna Sale. 
Some supporters of Thompson called for him to stay in the race, and wait until every vote is counted. Others said Tuesday's vote was a referendum, and he should consider conceding the race.

To listen to Host Amy Eddings' full conversation with Bergin and Sale, click on the audio above.